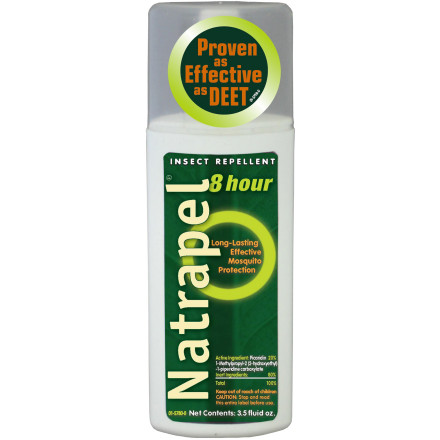 The second that the sun sets and the temperature cools off, you are going to be bug chow. It's a good thing that you packed the Adventure Medical Natrapel 8 Hour Pump Spray. The hands-free pump makes it easy to apply, and the eight hours of protection mean you can actually sleep without feeling like a human buffet. Plus, it's as effective as DEET but without the possible liver damage.
AMAZING!
Familiarity:

I've used it several times
This stuff is ALL POWERFUL!



Keeps the squiters off and no deet either. ALL AROUND GREAT PRODUCT.



After side by side comparisons I feel this works better than products containing poisons.
The jury is still out...but certainly doesn't keep the bugs away
Tried these out for the first time on a short 7 mile hike through the Falls trail at Ricketts Glen state park in PA on a humid/rainy Memorial day weekend. I didn't get any bug bites that I could identify, but I had tons of small flying insects flying right in front of my face for the first hour or so of my hike (right after I applied the spray). But at the same time, my girlfriend, who was hiking right next to me didn't have the issue. So the efficacy may vary by person. I personally wouldn't recommend the product, and will be looking for an alternative.
AMK Marketing rep Katie Singleton takes you through the Natrapel 8-hour range of insect repellents. Natrapel 8-hour is a DEET-free formula that provides up to 8 hours of protection from bugs and is safe to use around outdoor and fishing gear.

Man. wherever this stuff got its claim "as effective as deet"...it sure wasn't in the uinta's or in southern utah, yikes. I suffered and learned the hard way. I want so bad to get off deet. but you know, I gotta have stuff that works too. And as much warning and nasty stuff found in deet, this bad boy sure has its fair share of label warnings and very specific usage directions of its own.
Get off the DEET train...
This is my bug spray of choice. I'm just not a fan of DEET, because as effective as it can be, I don't like all the warning labels, melted plastics, eroded synthetic clothing, and skin-burning sensations that can accompany it.

I used this in the Eastern Sierra last year, which was a banner year for mosquitoes (think thick black clouds), and had great results. I prefer the smaller size of the 1 ounce spray bottle, it doesn't take up much room or weigh a lot in my pack. This one is good for the trailhead applications, though, or if you are car camping.

If you are giving any thought to getting off of the DEET train, give this stuff a shot.