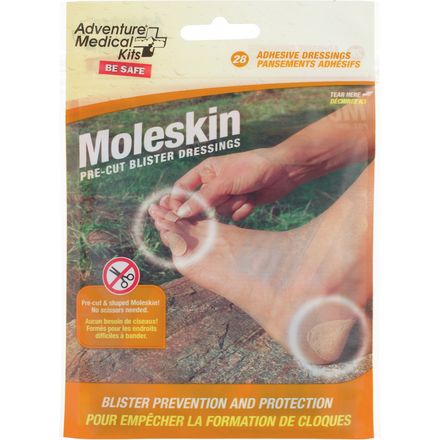 Description
"I've got blisters on me fingers!" Dude, get some moleskin and stop making solo albums.
Stick the Adventure Medical Kits' Moleskin Kit in your bag and set out a weekend on the trail. When your boots start to rub and you can feel that old nemesis the hot spot starting to form, take a break and protect your tootsies from painful blisters with Adventure Medical Kits' new super soft, super adhesive moleskin. Pre-cut shapes and sizes help you apply moleskin easily and get back on task quicker than you can say, "Scalopus aquaticus".
Medic!
Familiarity:

I've put it through the wringer
There's really nothing so minor yet so showstopping on the trail than getting blisters. No matter how well broken-in your boots are, no matter how many miles you've gone without incident, every backpacker should keep several of these in their med kits all the time. It only takes once, getting your feet wet crossing a creek 25 miles out, and having blisters start setting in as a result, to realize the magnitude of the mistake you've made if you forgot some moleskin. I've seen people heli-rescued at national parks before because they simply couldn't walk anymore from blisters.

Moleskin is about as basic as it gets, and basic is usually best. Just something to eliminate friction and get you home. A safety pin, bic lighter to sterilize it, and some athletic tape should be in your kit all the time with this stuff.
Saved my bacon...
Familiarity:

I've put it through the wringer
These are great. I always keep a few in my pack just in case. Thumbs up!
Holy moly!
Familiarity:

I've put it through the wringer
This is a must, for any first aid kit. We keep a pack in the car, and in the backpacks for sure. Blisters can sneak up at the worst times. But the mole skin is a sure fire win.
never leave home without it
Familiarity:

I've put it through the wringer
AMK's pre cut moleskin makes it very fast and easy to apply moleskin to hot spots and blisters. They have enough different shapes so you can easily find the one that will work best for any blister. I always carry a little tincture of benzoin with me so when the adhesive starts to get weak I add a little benzoin and it extends the life of the moleskin.
moleskin on your hike/backpacking trip is a must. i think it sticks pretty well for the most part, but the only thing i would say that sucks is that everything is already precut.
These are great, I haven't had any issues with the this moleskin kit. I feel like the adhesive preforms well, I love the pre-cut shapes and sizes, makes it super easy. I always keep this kit in my pack!
should always be in your pack
Familiarity:

I've used it once or twice and have initial impressions
This stuff is a trip saver. The pre cut pieces are a down side, but they will get the job done and get you through your trek/hike/climb.
I've never had a blister while hiking, but my son did get a hotspot on his pinky toe while hiking Mt. St. Helens. I applied one of these to his toe and he completed the hike up to the rim and back to the trailhead and the following day he reapplied a skin to the spot and hiked the entire length of the Ape Caves. I always keep a package in my pack, the day I stop carrying them will be the day I need them. Cheap insurance.
Average moleskin, pre-cut into pieces for convenience. Does what it claims.
As others have said... meh. It does the job adequately, but I'm not super impressed. There are definitely better performing moleskins out there.
Another product that promises greatness and falls short. Moleskin is just too thick and bulky to adequately function while in a boot or shoe. I'd recommend a good couple layers of Duct Tape (High thread count) over this any day.



Good only if you run out of Duct Tape...
Mehh!!!!!!
Gender:

Male

Familiarity:

I've put it through the wringer
People are giving this great reviews but in my opinion this stuff sucks! I am not a first time user of Moleskin either. This may work for cruising the trail but when I primarily use this stuff it is for hunting and there are no trails straight up bushwacking and lots of it. The pre-cut patterns are lame and the material it self is weak compared to others; i.e. Dr Scholl's. It is far more advantageous to cut your own patterns and buy the real deal. Do yourself a favor pass on this and get the good stuff.
This is one of those items that is crucial to have in your med kit but be careful as those less prepared will need to use it. this kit is an all in one kit. Add small alcohol wipes and plain cleansing wipes for a complete kit.
MUST HAVE
Familiarity:

I've put it through the wringer
If you backpack and don't have this in your first-aid kit... It's time to add them. Every backpacker knows how important your feet are and these little sucker let you "keep walking." Buy them once and you'll never not have them. Happy Hiking!
Savior After a Long Day Hike
Great buy for your feet. Took it as a precaution on a backpacking trip and became my best friend after ending up with three blisters. Nice price and the different sizes and shapes are nice.
What a relief - one of these medium patches saved my whole trip! I only bring a couple of these with me, not the whole pack, and between those and some Hydropel, my feet have never been happier.
Ed Viesturs Treating & Preventing Blisters
Adventure Medical Kits' Be Safe Tips: Blisters are the bane of every hiker's existence. Get tips on preventing and treating blisters from high altitude mountaineer Ed Viesturs.
Good to have...better to not need
The kit comes with all that you would need if you begin to have issues with bisters. Hopefully you will not need them, but good to have in first aid kit.
This item stashed in your pack can save your hiking trip. Put these on at the first hint of a hot spot or blister and save your feet for another day.
I tried wearing a new pair of boots right out of the box on a 14 mile hike, based on the claim that this particular boot required no break in period. After this claim didn't hold up after only a mile in, and hot spots started on my heels and ankles, I used this kit and finished the hike with no further problems.