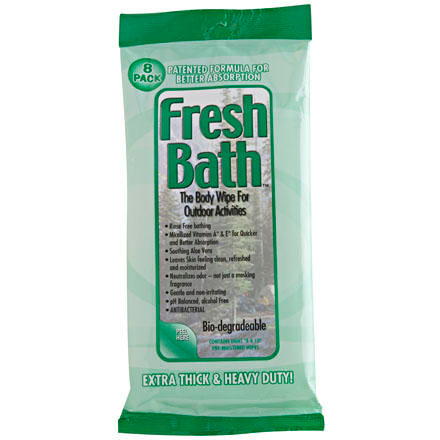 You've been in the woods for five days and man do you stink! Good thing you have some Adventure Medical Fresh Bath Wipes to clean yourself off before venturing back into society. When your hands and face start getting filthy or you just want to clean up before a meal, wipe the grime away with these easy-to-use wipes. Just make sure you don't leave these things laying all over the backcountry.
Fresh n clean
Familiarity:

I've used it several times
Nice to keep in your car for cleaning up after an extended period of time in the backcountry. No need to bring the stink into the car.
Perfect for cleaning up
Familiarity:

I've put it through the wringer
These wipes are great for taking a backcountry bath. The package says to use all of the wipes for one bath but you can easily get away with using one wipe per bath. They don't have a heavy scent and they clean well. You can also get some of that No Rinse body wash and add some of that to the wipes to help extend them a little. I always carry a pack of these and it looks like I am going to have to stock up since REI doesn't seem to carry them anymore,
used these while at a Scout camp in July with extreme heat. worked quite well to help clean your feet or face. these are NOT large towels but have quite a bit of solution soaked in.
I would like to know how long does an...
I would like to know how long does an unopened pack stays wet? I bought mine last Oct. and have been keeping it in my closet.
Since the packaged is unopened it should stay moist for at least a year or two. The key is storing it away from any heat sources and obviously not on your window sill. I scored a bunch of these a little over a year ago and I noticed no problems with them drying out after that length of time.
After a long day of climbing, hiking, paddling, or any other sport, it is great to clean up with one of these wipes! The large size is ample to clean up pretty well with a single wipe. Good for camping, adventure travel, or any situation where a shower is far away.
What is the solution that Adventure Medical...
What is the solution that Adventure Medical Fresh Bath Body Wipes uses?
It uses a patented cleansing formula containing micellized vitamins A and B with aloe vera for skin moisturization
Took these on my four day trek out on the Inca Trail. How refreshing after a full day of hiking and no showers to be had! They pack flat and left me feeling really clean. Great neutral scent.
Went camping for a weekend where taking a shower was not much of an option. However, having these wipes handy, I was able to feel refreshed before going to sleep after a day of fishing out on the lake. I recommend heating up the pack against your body heat for a bit before taking one out and applying on yourself. It reduces the
anxiety of the anticipation of how cold the initial contact can be. That is if your camping where it gets quite cold in the evenings/night.
This helped me a lot on my trip to Egypt! At times there was no place where I could freshen up, and these wipes made me feel human again!
I love these things. I usually struggle to stand the stink of myself after a few days. These are great. The solution on them is better than ordinary baby wipes at removing the grime you get from being outdoors for days. They are also bigger too. Bring along a pack for you and your tent mate. It makes for a much more enjoyable trip for everyone.
These were lifesavers on a recent camping trip. By the third day, when everyone else was hating life because of the dirt, I was perfectly clean. It like having a portable shower in your pack! I highly recommend these to campers who don't want to smell like a filthy hippie.
Not too smelly and biodegradable. What else do you want in a bath wipe? Oh ya, they're thick too.