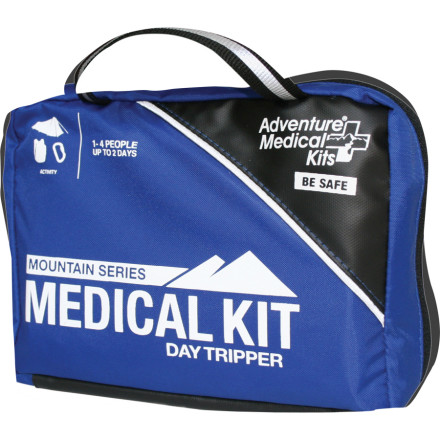 Detail Images

Community Images
Description
Experienced guides won't head into the backcountry without a first aid kit, and you shouldn't, either.
As the newest member of Adventure Medical Kits' Mountain Series, the Day Tripper First Aid Kit has you covered on short trips into the backcountry. Medications and treatments are organized by injury so you can easily and quickly find what you need. The Comprehensive Guide to Wilderness and Travel Medicine, which describes treatment for just about any injury you might encounter, is included in this kit; consider it the compact, lightweight equivalent of carrying a doctor in your backpack.
Tweezers = Precision Forceps
Familiarity:

I've used it several times
I keep a kit in both vehicles for general use. I had to use the tweezers last night to help out a toddler at the playground. The poor mom trying to help had these lousy plastic tweezers in her first aid kit that simply didn't work. The one in this kit is sturdy, precise and got the job done. Overall great quality and adequate assortment.
Day Trip worthy
Familiarity:

I've used it several times
Got one of these for my backcountry ski pack. It's a nice size and is not too heavy. I am slowly but surely adding a few extra personal touches but otherwise it has everything you need for first aid.
Does anyone know if outer container is...
Does anyone know if outer container is waterproof?
I wouldn't go so far as to say waterproof. Perhaps it is somewhat water resistant, but I wouldn't put heavy faith in it being impenetrable by any means. If you want to get it but are worried about it getting drenched, I would check out a dry sack to put the kit into
Best Answer
I use these in the field on the reg, the case is not super waterproof. James's dry sack suggestion is an excellent way to go if you'll be in heavy rains, if not just keep it stowed in your pack when you aren't saving lives.
This first aid kit is perfect to keep in your car or take in the outdoors for day trips. This kit has everything you would need for a small accident in a lightweight kit. The The book included, Comprehensive Guide to Wilderness and Travel Medicine is a very helpful ready!
Excellent kit, I've had to use it on a number of occassions for minor scrapes and such. You should try and familiarize yourself with the medications before you go out. They're not labeled by brand.
This first aid kit looks like it has everything. It even comes with a great book called the comprehensive guide to wilderness and travel medicine. I haven't had to use it yet, but when i do I'm sure it will have everything i need.
These First aid kit is just great for a day or two out on the rock, for hiking or for a camping night (any out door activity) it contains every thing that you need on any small accident, like cleaning wounds, stop bleedings, pains, or headaches, e.t.c. the only thing that is missing is a sam splint. every compartment is marked with the kind of injury to make your life easier, jut as an advice take a firs aid course at Nols or any other place so you can really take advantage off all the elements on these great kit in case of an emergency.
a fairly comprehensive first aid kit
I keep one of these in the back of the car; it is a fairly comprehensive first aid kit, but much too heavy to carry in my pack. I use it to resupply my smaller kit, which I carry on the trail, and in case of a need for a kit while travelling.
Perfect for a mountain emergency
Even thought fortunately i have never had any emergency while im in the Mountain, this kit has what ever you need to treat an emergency; and with the book included you can even know how to react and treat emergencies you have never confronted. The weight and size is also perfect for long trips. Totally recomend it for all mointain and rock climbers.