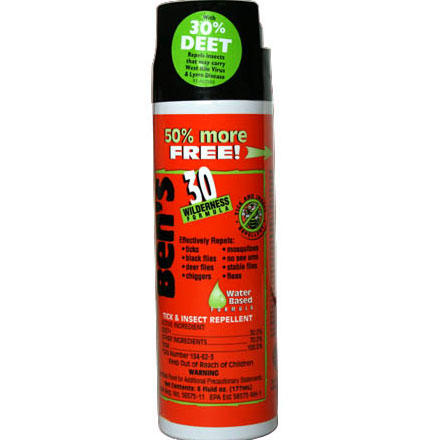 If you're tired of swatting mosquitoes and flies, then try Adventure Medical Ben's 30 Tick & Insect Repellent and actually enjoy your hike. Not only does this Adventure Medical spray keep the flying insects away, Ben's 30 Tick & Insect Repellent also reduces the chances that you'll get home to find a blood-filled tick buried in your scalp.
It does its job
Familiarity:

I've put it through the wringer
It keeps the bugs away which means I'm free to enjoy the great out doors without worrying about ticks crashing the party. Also I'm not a fan of deet, or most chemicals for that matter, being sprayed on me so I like to use the 30% as opposed to the 100%. The small size is another plus because it packs easier.
I used this for a week in Nicaragua, I only got 2 mosquito bites, and normally those bloodsuckers love me. I switched to a natural repellent for the 2nd week with equal success. I am not super stoked on using DEET since it's not awesome for the environment or your health. I would definitely use this again if I were traveling in a known Malaria zone, but if Malaria isn't an issue I will stick to using a DEET-free repellent in the future like Item # AMK0119, Adventure Medical Natruapel which provided similar results.
Does what it says. I've used this in Southern and Northern Utah.
AMK President Chris Gubera takes you through the Ben's 30 range of insect repellents, including which product is the right one for your favorite activities. Ben's 30's water-based formula lasts longer, offering protection up to 8 hours.

I grew up using Ben's and Muskol 100% DEET...
I grew up using Ben's and Muskol 100% DEET in Bush Alaska. I have used this product with success in HI and mellow parts of the lower 48, but question the efficacy in the most infested regions. Can anyone attest with experience in the Bush or 100 mile woods etc?
I use ben's 100% deet in the eastern minnesota area just off of the mississippi river. I stick with the 100 over the 30 here because the mosquitoes are thick. Last summer I went on an overnighter south of Lake City. It had rained the 2 previous nights and was 89F and extremely humid that day, no breeze. The mosquitoes and flies were horribly thick.. but the Ben's 100 did the job. It didn't last the full 10 hours like specified as I was sweating it off in about 3-4 hours.
Best Answer
The main difference between the 30 and the 100 is the length of time it works. With the 30, you'll have to reapply more often if your out in the bush all day.
This product is the best bug repellent I have ever used. Recently in Yellowknife, NWT Canada and the mosquitoes were in abundance. Applied Ben's when going outside and never experienced any bites what so ever. Applied on my feet when wearing flip flops in the garden and back yard-----bite free. The bottle I used was over a year old and it still worked. In Calgary I bought it at Wal Mart.
great product. perfect for a boundary waters trip...the stuff is powerful, but you dont have to lug around a giant can. i was on a 5 day trip and had some left over.
I finally used the repellent a few weeks ago at Petit Jean State Park in central Arkansas. First trip there, so don't know how bout the little bugers are. However, I covered myself twice during the course of the day, and don't recall a single bite or suprisingly a single tick. Extremely satisfied. Will be using again next weekend.
Just arrived back from a paddle/portage trip into Quetico Park Boundary Waters in Ontario, Cabada.

The flies weren't bad, but the mosquitos on the portages and at dusk were brutal...almost deafening at dusk. A few sprays of this on exposed areas prior to portaging amd at dusk kept the little critters at bay for the entire time.

Other members of our crew sustained numerous bites, but not after using this bug spray.

A keeper!
Highly Effective & Compact
This is some of the best bug spray I've ever used. I bought it in a panic when I found out that I was almost out of bug stuff before a weeklong trip, and I don't think I'll be buying anything else again. The spray has almost no odour, and lasts about twelve hours (without water - the spray is water soluable, making it easy to remove, but you'll have to reapply it after swimming or showering). I didn't get a single bite on that trip, and I was hiking through wet, marshy lowlands in late summer. You could barely see for the mosquitos in the air, there were twelve tick removals and three members of my group sustained multiple bites per night, despite using bug spray and closed sleeping bags. Also, it doesn't destroy plastic like some similar products.
I use the 4oz pump spray - much smaller, and fewer resources to make.
Unanswered Question
Do you carry any product that you can wash...
Do you carry any product that you can wash your sheets in to help with fleas, ticks and etc.- I will be traveling out of the country for a time and this may be an issue
Does this include Permethrin? or something...
Does this include Permethrin? or something like that that will work for fleas?

There's no permathrin in Ben's: the active ingredient is deet (N-N-dimethyl-toulamide), however, this is perfectly effective on ticks.
I'll be in Alaska in August. Is this product...
I'll be in Alaska in August. Is this product strong enough?
Absolutely. Just make sure to apply it regularity (but no more than is safe).