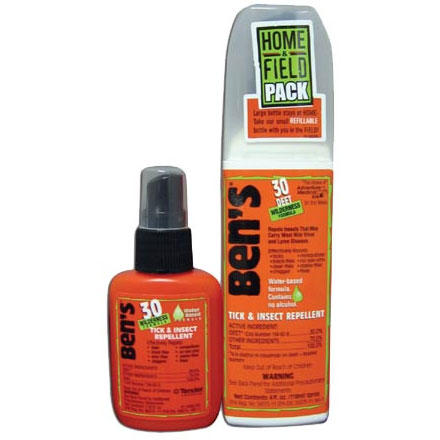 Adventure Medical Ben's 30% Deet Home & Field Pack Tick & Insect Repellant
View Larger Image
This stuff works really well but I have stopped buying it because of the Deet warnings. I still have a small bottle that I carry in my backpack just in case.
I'm a convert to Natrapel; just not a fan of DEET with all the warnings, and the issues with it eating plastics and polypro clothing. I've had good luck so far with the Natrapel, but if you like DEET this stuff is adequate, it's just not for me...
I stick the small bottle in my photo backpack for when I hit the trail on a random urge. Its saved me many times. It works very well and doesn't smell as bad as some other repellent out there.
Spent 2 days in the High Uintas bathing in this stuff and I could see the mosquitos hover and laugh at me... Either the bugs up there are all on steroids, or this stuff just wasn't cutting it. Go pick up a can of that 99 cent stuff on the corner and go crazy, save your money....
I'm taking a 10 day trip to rural Kenya....
I'm taking a 10 day trip to rural Kenya. Will this product last me the duration of my trip?
Best Answer
Yeah, it should last, unless you use it like a 15 year old boy going on a date thinking it's cologne.
This stuff works very good
I wish they would leave the price the same, I was going to buy more but the price was 5.49 on the sit when I put the amount of bottles in the price was 7.49. I did not buy.
Write your question here...Why does it say...
Write your question here...Why does it say it is on sale for 5.99 then charge me 7.49?
Its not on sale. atleast not anymore. sorry if you had any confusion.
Can the smaller bottle be carried onto an...
Can the smaller bottle be carried onto an airplane?
yes, most of them cut off the liquid amount at 3.8 ounces. so you should be fine with the small bottle.
Bens 30 is good for almost all occasions, but if you really go to serious mosquito country pack Bens 100, it's 95% vs 30% DEET. The 30 will be fine most of the time so don't fret, but I also suggest some mosquito nets, regardless of the DEET you have. The nets are a mechanical barrier that simply are better than any chemical and give the confidence the bugs cannot physically touch you or get in your eyes (the worst!). Buy this with confidence it is much better than anything you can get at your local drug store, OFF Deep Woods is 25% (readily available), but now OFF does make a 30% but most retailers do not carry it. A safe purchase.
Good product but also take mosquito nets.
I used enough DEET to kill a small village while in the Amazon, but still ended up with an incredible number of bites, including through the legs of my pants, which were soaked in DEET. I was suddenly very happy to have had the barrage of vaccinations that we had been subjected to prior to leaving for the jungle! The Ben's small bottle is a perfect size to carry in a pocket and is enough for one person for a couple of days. The larger bottle is handy to refill the small bottle from. I would recommend using both Ben's with DEET and clothing/nets that are sufficient to keep the mosquitos out if you will be ina location where mosquitos are a serious problem.
I have had great luck with Ben's 30. I usualy use the stronger version but this did a great job keeping the bugs off. Lasts a while if your not sweating much. the spray is great for applying.
Any idea how many applications the smaller...
Any idea how many applications the smaller bottle provides?
Best Answer
Hey Steve, I cannot give you an exact answer, but the small bottle has 37 mL, given the average spray is about 0.2 mL you should get at least 185 sprays. That should last for the duration of any weekend trip for you and some buddies. The larger container you can use to refill, I have still had my little bottle for some time without needing refilling. Bottom line, the small bottle will last a long time!