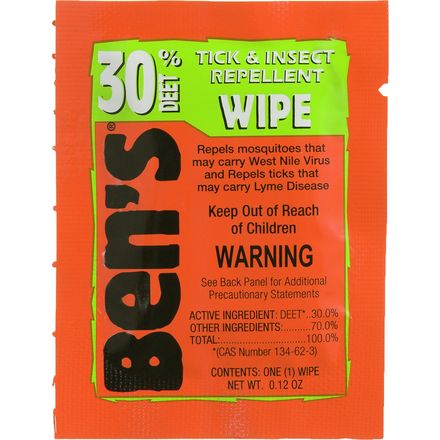 Adventure Medical Ben's 30 Deet Tick & Insect Repellent Field Wipe - 12 Pack
View Larger Image
Description
Ditch the spray, get the wipes.
Instead of engulfing yourself in a cloud of bug-spray haze, pull out the Ben's Deet Field Wipes and control where and how much repellent you apply. These DEET wipes keep away everything from mosquitoes to ticks to chiggers, and the water-based formula lasts longer than alcohol-based sprays. Throw a few in your pack, and be prepared for any insect incident.
Easy and functional
Familiarity:

I've used it several times
We bought a boat load of this for our older kids to use on our voyage to central america; aka: bugville.We didn't want to hassle with pump spray for them, we are a paranoid of inhalation of the deet cloud. Ha. One wipe does a pretty decent job at coverage on exposed arms and legs for your average 6-8 year old. There were a couple times where we felt it necessary to use two just to be extra thorough when we were venturing into certain spots where we new bugs would be a problem. All in all in, both kids came out of the 2 week trip fairly free from bug bites. I think they earns a few stripes, but nothing excessive.
Nice in a jam
Familiarity:

I've put it through the wringer
I find wipes wasteful, so I prefer to repellent directly from a bottle.



Still, I leave a couple of these wipes in each of my packs and in each set of 10 essentials that I keep on hand....



Good as an emergency backup but too wasteful to use as a primary method for applying repellent EXCEPT for small children: I find that wipes are a good way of applying repellent on little kids since it creates a very even and very light distribution.
Ben's wipes are awesome for keeping the bugs away. The wipes are handy to keep in a pocket, as they are individually packaged. They keep the bugs away while being ever ready in my pack without blowing up on other contents in my pack. I'm a fan.
kept most of the bugs away in costa rica! A ok for me
This is the best bug repellent ever!(except for the Bens 100) No bugs for hours...
This is the best bug repellent ever!(except for the Bens 100) No bugs for hours...