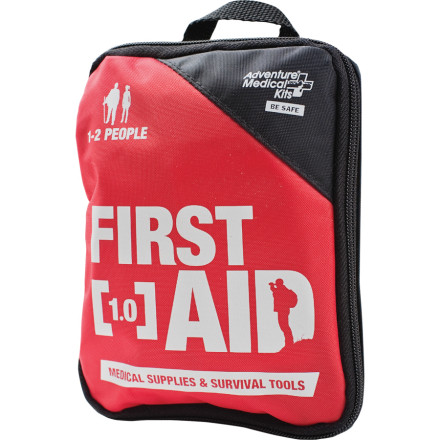 Detail Images
Description
Stuff happens, so it pays to be prepared.
The Adventure Medical Kits Adventure 1.0 First Aid Kit contains everything you need to treat most minor injuries on the spot, including cuts, scrapes, sprains, headaches, and bites. Adventure Medical organized the kit's supplies by injury and included Easy Care First Aid cards that help you quickly and confidently administer first aid.
Share your thoughts
What do you think of the
Adventure Medical
Adventure 1.0 First Aid Kit
? Share a...
The one MAJOR downfall of this kit is that there are no rubber gloves. If anybody else other than myself if bleeding the kit is pretty much useless in terms of proper first aid.
I bought this to take with us when we good camping. I haven't had to use it yet, but it seems to have the basics covered.
------2 days later------
Just got back from the local crag where the wind actually dislodged a boulder and sent it rolling down the slope right next to us and straight into a guy who was tied in and about to jump on the wall. He broke his leg and was bleeding pretty bad in a couple spots. His group didnt have a first aid kit amd this thing didn't have a ton in it, but I was sure glad I had it with since we were able to bandage up most of the open wounds before EMS arrived. After that we belayed him down the sketchy parts of the hill so they could carry him the rest of the way on a stretcher. The kit is spent now, but it was worth it, although this time I am buying a bigger one.
Adventure First Aid 1.0 Kit by Adventure Medical Kits
Posted on
AMK President Chris Gubera breaks down the Adventure First Aid 1.0, a mid-sized kit for low-risk activities with enough supplies for the whole family.