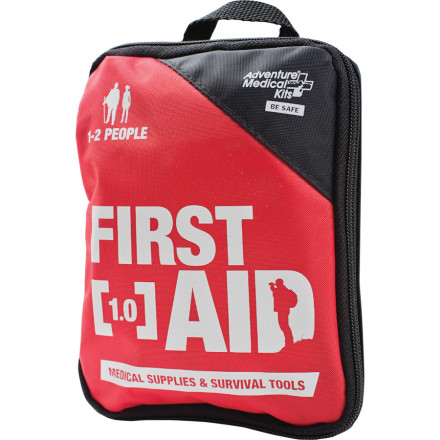 Detail Images
Description
Stuff happens, so it pays to be prepared.
The Adventure Medical Kits Adventure 1.0 First Aid Kit contains everything you need to treat most minor injuries on the spot, including cuts, scrapes, sprains, headaches, and bites. Adventure Medical organized the kit's supplies by injury and included Easy Care First Aid cards that help you quickly and confidently administer first aid.
Easy to Customize
Familiarity:

I've used it several times
As an avid amateur and outdoor enthusiast while pursuing a medical career, I take pride in my medical kits. I received this kit as a gift from a friend and on first impressions, I was impressed at how much came in a very slender pouch.



It is the perfect size for the daypack or mountain bike daypack. I opted to customize this one for MTB. I removed the info cards. I added two rolls of athletic tape (carabiner to the pouch exterior), 6 knee size band-aids, 2 large sterile gauze pads, extra ziplock, gloves, irrigation syringe, and an emergency energy gel. I swapped the medications out for 6 ibuprofen, 6 benadryl, and 6 aspirin. Same size when it was re-packed and stowed in my Shimano X-Wing Daypack.



I like the ability to use the pouch and have a basic kit. But I would recommend tailoring this kit for ONE activity and keeping it in a daypack. The kit isn't big enough to handle much more than a few diggers, so be sure to keep stock of items coming and going.
Good stuff, hard to find
Familiarity:

I've used it once or twice and have initial impressions
This first aid kit is full of typical emergency medical supplies, that are useful in even non urgent situations, but it is all stuffed into two pockets, so it takes a while to find what I need. It would be better if there were more pockets to organize the items.

It is also lacking scissors to cut the medical tape, but the problem is fixed in their 2.0 version!
TakE it everywhere
Familiarity:

I've used it several times
with 2 children (ages 5 and 7) that are most at home in the out of doors, we go through our fair share of scrapes, bumps, bruises, and bloody noses (my son had an altitude induced gusher in Grand Teton). This first aid kit is always in my daypack and adequately equipped to deal with the minor first aid situations we encounter.
The one MAJOR downfall of this kit is that there are no rubber gloves. If anybody else other than myself if bleeding the kit is pretty much useless in terms of proper first aid.
I bought this to take with us when we good camping. I haven't had to use it yet, but it seems to have the basics covered.

------2 days later------

Just got back from the local crag where the wind actually dislodged a boulder and sent it rolling down the slope right next to us and straight into a guy who was tied in and about to jump on the wall. He broke his leg and was bleeding pretty bad in a couple spots. His group didnt have a first aid kit amd this thing didn't have a ton in it, but I was sure glad I had it with since we were able to bandage up most of the open wounds before EMS arrived. After that we belayed him down the sketchy parts of the hill so they could carry him the rest of the way on a stretcher. The kit is spent now, but it was worth it, although this time I am buying a bigger one.
Adventure First Aid 1.0 Kit by Adventure Medical Kits
AMK President Chris Gubera breaks down the Adventure First Aid 1.0, a mid-sized kit for low-risk activities with enough supplies for the whole family.