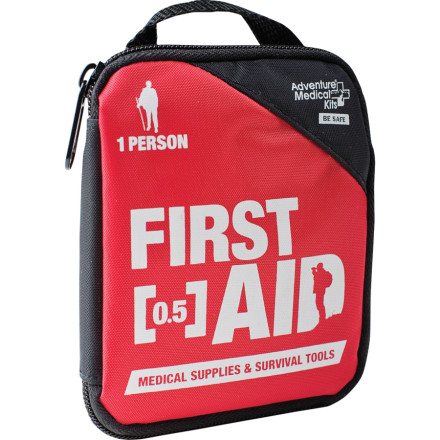 Detail Images
Description
Even a small injury can ruin your outing if you can't treat it.
Prevent a minor cut or blister from spoiling your outing when you have the Adventure Medical Adventure .5 First Aid Kit on hand. This compact, lightweight kit contains what you need to quickly patch up any small mishaps and keep you from having to cut an excursion short.
haven't used it yet...
Familiarity:

I've used it several times
I picked it up when I needed something free to get my total up over $50 to get free shipping...I haven't had to use it yet, but it seems like its got everything I will need, as it is I leave it in my glove box and take it when I go hiking, biking, or skiing...it gives me some peace of mind.
This kit does not have everything you will need for a serious wound or injury, but is great to have around to clean up small cuts and scrapes. Came in very handy on a backpacking trip in Central America.
I agree with the previous comments in that this kit is really only usable as a backup to a full kit.This product doesnt claim to be a full kit however and it is worth the money if you plan on supplementing it with Second-skins, lipbalm, and a mini tube of sunscreen. I was also able to fit a swiss army knife and some TP inside.
Adventure First Aid .5 Kit by Adventure Medical Kits
AMK President Chris Gubera breaks down the Adventure First Aid 0.5, a great starter kit for low-risk activities.
At three ounces, and for six bucks, it's a reasonable insurance policy
My buddy is a trained medic and carries a comprehensive first aid kit on the trail when we are backpacking, so I just keep this small version on me as a backup, or to help out someone else. At three ounces, and for six bucks, it's a reasonable insurance policy, but as Dan mentioned, you should really have something more complete for any serious backcountry excursion.
This kit is only good for minor scrapes and cuts. If you're going to spend any length of time in the woods, you better bring more than this.