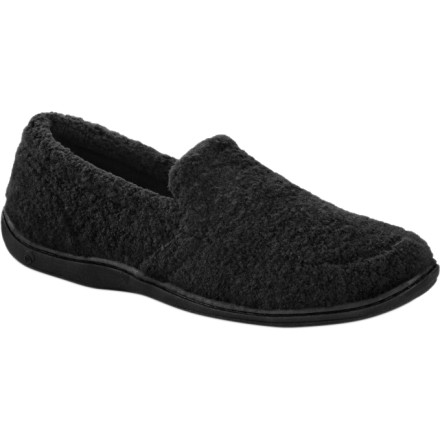 Detail Images
As you spend an hour mixing the fruit and grain alcohol concoction, your Acorn TLC Moc Slipper keeps your feet comfy until the guests arrive in their best PJ's. Aside from adding the final touch to your ultimate party pajamas, these moccasin-style slippers feature a soft foam midsole to ease the pain of meeting and greeting. Once everyone gets loose and starts dancing, the rubber tread outsole prevents slips on the kitchen floor so you don't fall down, shatter your pride, and break your Hefner-inspired pipe.
What do you think about this product?
Have questions about this product?
Acorn slippers are the best! I had to return these though for a smaller size. They seem to run a bit big. Otherwise, these are the best slippers my family has ever worn!
I received these slippers as a gift to replace my last pair of acorn slippers, which lasted over 8 years. They are very warm and comfortable. The only issue is the sole is very rigid and loud on hardwood floors. My wife keeps telling to take off my boots in the house. However, I suspect this make make them last longer. Other than that, I am sure in 8 years, I'll want another pair.