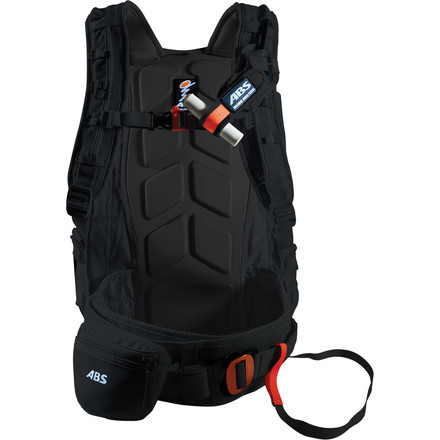 Colors
Description
Because avalanche safety is a backcountry basic.
Risk exists when you're traveling in snow-covered terrain, no matter what the forecast or your snow pit says; with the ABS Vario Base Unit Pack, you've always got backup in case of an emergency. The Vario has independent twin airbags, one on either side of your pack (zip-on packs sold separately), with a combined volume of 170L to help you rise to the top of the debris when caught in an avalanche. An included adjustable activation handle comes with a small, internal pressurized release capsule and can be set up on the left or right shoulder strap for easy access, and safety bracket zips into a compartment on either shoulder strap to prevent accidental releases. When pulled, the activation handle punctures the small internal trigger capsule, which in turn activates the piercing unit, puncturing the main canister (also included) to fill the airbags within seconds, helping to keep the wearer on the surface of the slide. The shoulder straps, waist belt, and secure leg strap work together to ensure that the pack stays securely attached and correctly oriented, even in the turmoil of a powerful slide.
Once you've deployed the airbags, you must replace the trigger handle and the airbag-inflating canister (replacement must be done through ABS). The other parts of the system are reusable—just fold up the airbags according to the instructions and re-pack them in the hook-and-loop side panel compartments, attach the new canister and trigger handle, and you're ready to ride.

The Vario Base Unit is purely an avalanche airbag system, which requires a zip-on outer pack cover (available in volumes ranging from 8 to 55 liters) to hold tons of gear or stay light-and-fast. The pack covers are easily swappable and replaceable, so you can always have the right size for your adventure and can update a worn-out pack without having to replace the expensive airbag system.
Please remember, an airbag system is NOT a guarantee that you will survive an avalanche; get educated, get the right tools, travel with partners, and be smart out there.
Dual airbags (combined 170L volume)
Nitrogen deployment (requires refill through ABS)
Replaceable trigger handles
Handle located on either side
Leg strap
Hip belt with pocket
Water-repellent and cushioned backplate
Share your thoughts
What do you think of the
ABS Avalanche Rescue Devices
Vario Base Unit Pack
? Share a...
Can these be shipped overseas with the canister?
No - HAZMAT items like this can only ship via Ground within the continental US.
Unanswered Question
I have an Osprey Packs Kode ABS-Compatible 22+10 in size M/L...
Does the bag size matter for the ABS size, or is that strictly based on my physical size? For what it's worth, I'm 5'8" 160lbs.
Do these come with the canister?