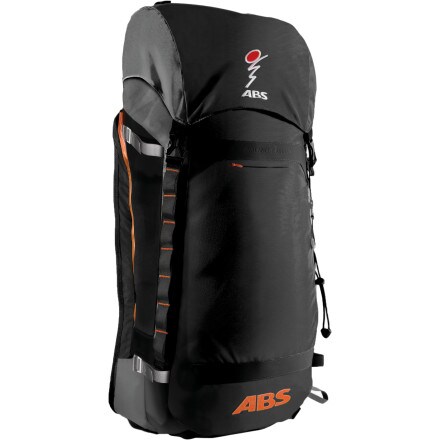 ABS Avalanche Rescue Devices Vario 40 Zip-On Cover Pack - 2441cu in
View Larger Image
Detail Images
Description
For the guide or those who go long and deep.
Whether you're on an extended tour or the guide in your group, the ABS Vario 40 Zip-On Cover Pack accommodates all your necessary gear and extra layers plus a few goodies. Zip it onto the ABS Vario Base Unit with dual-airbag system when traveling in avalanche-prone terrain. Or you can use it on its own during lightweight multi-day trips, too.
It has designated carriers or compartments for your skis (diagonally) or snowboard, hydration reservoir, and ice axes. Also, it has a stowaway helmet carrier for convenience and streamlined efficiency when not in use and an emergency avy tool compartment for your quick-access equipment, e.g., shovel, probe, etc. If you're snowshoeing up, it has a mount for securing them on the descent. Multiple pockets for other valuables round this out so you can take everything with you, and waterproof zips protect everything from wetness.

Zips onto ABS Vario base unit backpack
Top flap and side zip access
Extra emergency compartment for avy tools
Diagonal ski mount, snowboard and snowshoe mount
Fasteners for two ice axes, stowable helmet mount
Hydration compatible
Top-flap compartment
Multiple secure pockets
Waterproof zippers
SOS label with international emergency numbers