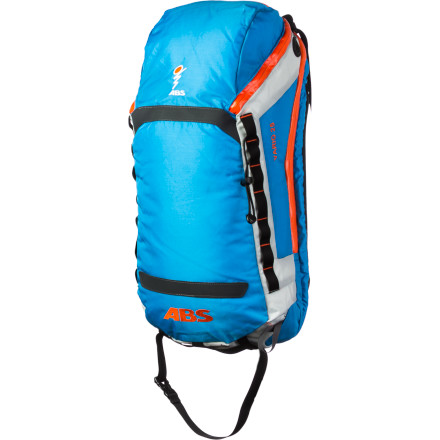 Don't squash your crusty baguette or bota bag or leave your expedition puffy at home. Instead, take them with you in the capacious ABS Vario 25 Cover that zips onto your ABS Vario Base Unit with dual-airbag system. With carrying straps for your board(s) and helmet and compartments for your shovel, probe, and hydration system, there's enough unclaimed space for gear needed on longer tours and other ʻessentials.'
Cushy harness system and hip-belt ensure carrying comfort
Height-adjustable sternum strap and leg strap make sure that the pack stays on under stress
Cushy harness system and hip-belt ensure carrying comfort
Height-adjustable sternum strap and leg strap make sure that the pack stays on under stress
Main compartment is top-accessible via convenient top-flap pocket
Volume capacity is 25L; carrying capacity with Vario Base Unit is 175lb
Weighs a mere 1lb 1oz
Nylon ripstop is tough, lightweight, and durable
Shovel and probe fit inside designated safety compartment
Ski and snowboard straps secure your board(s), and ice axe holder keeps the tool where you want it
Height-adjustable sternum strap and leg strap ensure the pack stays on under stress
Detachable helmet holder offers easy access when you need it
Hydration-compatible so you can use your own reservoir and stay quenched
Attaches securely to the Vario Base Unit with YKK zipper
What do you think about this product?
Have questions about this product?
Wasatch Tours with room to spare
Familiarity:

I've used it several times
Below is my review for the cover and the base unit. I'll add that I love the modular system of the Vario line. You can use the "0" cover for sidecountry use, the 18L for short yo-yo laps, the 25L for day trips, the 40L for hut trips, and with other manufacturers getting on board the possibilities keep expanding. The ease of attaachment and swapping is also really easy and I like the idea that if there is something wrong with the cover I can probably just swap that rather than the entire $1000+ pack.



After some use I find that it is indeed kind of heavy but not really that much heavier than my other pack (Black Diampond Covert Avalung) since I tend to bring the works with me when I tour (water, first aid kit, layers, repair kit, etc.). It carries really well and comfortably so it encourages me to wear it all of the time. As for hydration, there is a tube routing hole but I've just switched to drinking from a dromedary bag since it never freezes and is way more versatile.



I'm reviewing the base unit and the 25L cover. That is the perfect size for all day tours here in the Wasatch and it also comes with what some people call the "0" cover which basically will allow your avy gear and a light layer, perfect for sidecountry use.



Now for the cons...

-There are a ton of straps everywhere (which are removeable) which makes it feel like there are too many danlgies everywhere. You can remove them so it's not that big of a deal.

-The zippers so far are doing just fine but I think that they will likely be one of the failure points on the cover.

-The load lifter straps cross over the zippers for the avy tool pocket instead of staying clear. This seams as though it can be easily remedied by ABS by attaching them in the right place. I simply remember to keep the zipper pulls on the side so you can pull the pocket open without having to deal with the load lifter straps.