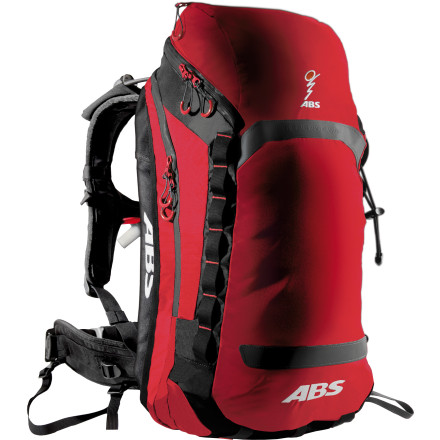 Detail Images
Put the question of your survival into your own hands and wear the Vario 25 Backpack by ABS Avalanche Rescue Devices during your backcountry adventures. The problem with avalanche beacons is that you're relying on someone else to find you and dig you out. This pack features airbags that will inflate to keep you at the surface of a slide as it rushes down the hill, so you can avoid complete burial. Even if you're not able to extricate yourself, the airbags make it easy for rescuers to spot you, so they can get to you quickly and have more time to search for others.
Includes a 25-liter excursion-ready backpack that zips on to the included base unit, where the airbags and activation unit live
Dual airbag system displace a combined 170 liters of space to push you to the surface of a slide
Easy-to-use pneumatic trigger quickly and reliably inflates bags
Height-adjustable sternum strap and leg strap ensure the pack stays on under stress
Dedicated compartment holds shovel and probe so you can help out the rest of your party
Detachable helmet holder makes more space in the interior
Hydration-compatible, so you can stay on top of your game and not get dehydrated in the high country
Ski- and snowboard-carry straps hold your plank(s) on the hike up
Base unit compatible with Vario packs of different sizes
Editor's Note: wearing this airbag system does NOT guarantee that you will survive an avalanche burial or a slide amidst avalanche debris; get educated, get the right tools, travel with partners, and be smart out there
*The Vario 25 can only be shipped via ground methods in the lower 48 states
How much does it weigh (in kilos, preferrably)?...
How much does it weigh (in kilos, preferrably)? And is this the largest backpack in the ABS line, i.e. no 39 litres a la the BCA Float?
That should be BCA Float 36, off course... ;-)


I cannot speak to the weight of the pack and ABS system. There are different packs that you can zip onto the ABS harness. Some by other manufacturers (North Face and Dakine). I suggest going to the ABS airbag website and taking a look.

I hope this helps
This clocks in at 3.1kilo for the Vario base unit and 25L zip on pack.
Does this bag come with the activation/release...
Does this bag come with the activation/release unit, or do you have to buy that separately? If it comes with the unit, is the carbon or steel version?
Day touring only - this pack or the Powder...
Day touring only - this pack or the Powder 15, and why?
Best Answer
I use the 25 Liter (DaKine) as main day ABS cover, for full day/multiday trips, I use a 40 Liter. I've had smaller packs in the past & I think 25 is the way to go.



You can store bc gear, skins, a small med pack, snow study kit, snow saw, some extra gloves, smith hard case (I keep replacement lens in), plus room for 2 or so canned beers for victory drinks.
A good pack.
Gender:

Male

Familiarity:

I've used it several times
I will start off by saying I am a huge fan of the base unit design, it is incredibly comfortable and the 97% survival rating is fantastic. That being said there are a few things I don't like about this design. The ski carry needs to be redone, I am planning on changing the diagonal carry a bit. I would like to see a way to compress the pack that does not cross the airbags. I also would prefer a from shovel pocket that is more easily accessible. I just purchased the Dakine Altitude 40L for longer tours and I am extremely happy with it. Over all I will always ski with an ABS pack for the safety it provides but this needs some minor tweaks.
The ABS vario base unit comes in both Small...
The ABS vario base unit comes in both Small and Large. Which size is for sale here?
The base unit is a Large.
Huge Improvements to the airbag pack. This pack is light, super comfortable to carry and great storage features. The Cadillac of airbags!