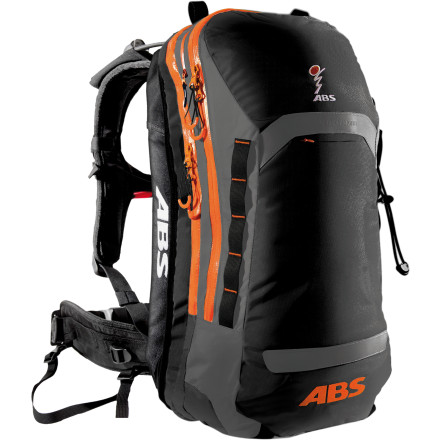 Detail Images
ABS gives you wings. This airbag avalanche pack has two massive inflatable side bags to give you 170 liters of additional volume that can help you float to the top in the event of a slide. These bags also help protect against trauma during impact. With separate closure and suction, if one bag is damaged, you have another large bag that will remain sufficiently inflated. Its deployment system features a height-adjustable handle so safety is always close at hand. The nitrogen-filled canister is refillable and replaceable. Avalanches are unpredictable, and preparedness can not only save your life but give you peace of mind as your travel. The survival rate with this system is extremely high, but this does not obviate the need for education, training, and the proper equipment.
An included adjustable activation handle comes with a small, internal pressurized release capsule and can be set up on the left or right shoulder strap for easy access, and safety bracket zips into a compartment on either shoulder strap to prevent accidental releases. When pulled, the activation handle punctures the small internal trigger capsule, which in turn activates the piercing unit, puncturing the main canister (also included) to fill the airbags within seconds.The shoulder straps, waist belt, and secure leg strap work together to ensure that the pack stays securely attached and correctly oriented, even in the turmoil of a powerful slide. Once you've deployed the airbags, you must replace the trigger handle and the airbag-inflating canister (replacement must be done through ABS). The other parts of the system are reusable—just fold up the airbags according to the instructions and re-pack them in the hook-and-loop side panel compartments, attach the new canister and trigger handle, and you're ready to ride.

This base unit comes with a 15-liter or 915 cubic-inch zip-on pack. There are mounts for your skis, snowboard, or snowshoes, plus an ice axe carrier and a stowable helmet attachment. An emergency compartment holds your shovel, probe, etc., for quick and easy access. A waterproof zipper and secure multiple inner pockets protect valuables. A water-repellent padded back panel, ergonomically shaped shoulder straps, height-adjustable chest strap, and padded hip-belt make carrying the pack easy. This is a great size for day touring and fast and light trips; other zip-on covers are available separately, so you can use the ABS system with all different size packs, for epic adventures or when guiding a group.
ABS TwinBags with buoyancy volume of 170 liters
Handle plate with height-adjustable activation handle
Water-repellent padded back section
Padded hip strap and integrated leg strap
Ergonomically shaped shoulder straps
Height-adjustable chest strap
Zip-on 15-liter pack cover
Extra emergency compartment for avy tools
Diagonal ski, snowboard, and snowshoe mount
Ice axe fastener and stowable helmet mount
Hydration compatible
Multiple secure pockets
Waterproof zippers
SOS label with international emergency numbers
Because the canister comes loaded with compressed nitrogen, the Vario Base Unit must ship via ground, and only within the continental US
What do you think about this product?
Have questions about this product?
6.9lbs (3.1kg) for the Vario Base Unit + 15L zip, according to ABS's site.
Im in Japan,Niseko. I want to buy one of...
Im in Japan,Niseko. I want to buy one of these. Where would I get one??
paul,

Well, I hope this isn't a silly question but... since you are already here, why not buy from us? We are able to ship this product to Japan. Why not chat in or call one of our customer service Gearheads at 1.800.409.4502 and we can explore the most affordable ways of getting this pack out to you. We want to make sure you are staying safe in Niseko's famously deep powder backcountry.
What is the difference between this model...
What is the difference between this model and the discontinued model on sale?
Best Answer
aapley,

ABS did make a couple of improvements over last years model (the discontinued bag). For example, they added some padding to the backpanel, which was already pretty cozy, and included a third top zippered compartment and a small front zippered compartment.
The diagonal carry works a bit better now and is better thought out. The venturi valves on the airbags themselves also now have mesh snow filters on there which will help in keeping them clear during inflation (not a huge issue to begin with but heck why not). The helmet carry hammock is much nicer now as well.