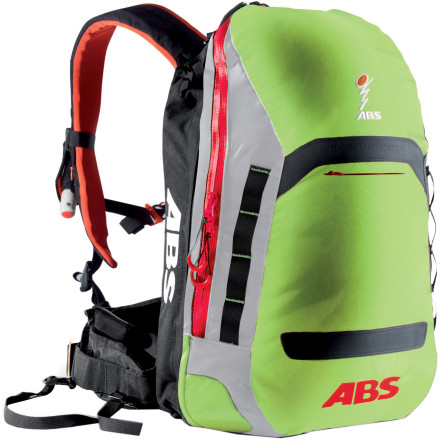 Detail Images

Community Images
There's white gold in them thar hills, but don't let the rush for treasure cloud your judgment. When you're mining for pow, always bring your best decision-making skills, avalanche tools, trusty friends, and an avalanche airbag like the ABS Powder 5 Airbag Backpack.
Like all ABS packs, the Powder 5 actually consists of two parts: the ABS Powder base unit and the zip-on Powder 5 cover. The Powder base unit (back panel, shoulder, straps, and ABS Twinbag airbags) is designed to be especially narrow, light and compact, for freeriders who are taking shorter trips or heading into the backcountry to ski big lines. If you feel the snow cut loose under your feet, activate the trigger handle, which can be attached to either shoulder strap, and two 85L airbags inflate within three seconds to help you stay on the surface of the slide. Once the airbags have been deployed, the trigger handle and pressurized canister must be replaced, but the airbags can simply be folded up, stashed, and reused.

In keeping with the Powder's freeride orientation, the waist belt is made of light, elastic neoprene, prioritizing an ergonomic fit over the ability to carry giant loads, and the height-adjustable chest strap and integrated leg strap work to keep the bag securely on your back, even in the turmoil of a slide. The back panel's padded and water-repellent, and the shoulder straps are also ergonomically designed, so you don't feel like you're lugging around an oompa loompa and hucking your meat at the same time, which would be seriously distracting.
The Powder 5 zip-on cover may be pint-sized, but cutting size doesn't mean ditching all the features by the side of the road. There are ski, snowboard, and snowshoe carry systems, a stowable helmet net, and internal mounts to hold your shovel and probe in place when you're sending. All the zippers are waterproof to keep your gear dry, and you can stay well-watered thanks to the Powder 5's hydration compatibility. You can even replace the Powder 5 cover with the Powder 15 cover (sold separately) for more space.

Please remember, an airbag system is NOT a guarantee that you will survive an avalanche; get educated, get the right tools, travel with partners, and be smart out there.

Included full steel canister and activation handle with release protection (both must be replaced after use)
Two independent, reusable 85L airbags with fill/outlet valves and piercing unit
Neoprene waist belt, height-adjustable chest strap, and safety leg strap
Diagonal ski carry and snowboard carry
Shovel/snow tool mounts
Hydration compatible
Gear loops
Compatible with Powder 15 and Powder 15 SB zip-on covers
Especially designed for freeriding, short tours, or smaller users
Because the canister comes loaded with compressed nitrogen, the Powder 5 must ship via ground, and only within the continental US
What do you think about this product?
Have questions about this product?
Ready to go in the Tordrillos, AK
Snowboarding with the 5L ABS pack in the Tordrillos (bottom of the Alaska Range).
Lifesaver, but pack itself ordinary
Familiarity:

I've used it several times
I've used this 'lightweight' 5L pack at a heli operation in Alaska and also a 50L ABS pack when touring.



I'm quite conflicted about the ABS airbags because they're such a fantastic backcountry safety device, but really let down by poor pack design and straps.



The airbag part of the pack is great, no doubt it's a potential lifesaver in avalanche terrain and that's fantastic. Having two airbags is a nice redundancy. The logistics of airline travel with the gas cylinders are a nightmare though.



My first beef is with the removable activation handle. IT'S WHITE FFS *&%#$!!!! Yes, that's right - it's the same colour as the snow. WTF? Did they run out of coloured plastic? Not such a problem if you're touring, but if you're heli skiing (you have to remove it from the pack to prevent accidental activation in the heli) and you drop it in powder as you're removing it, it's REALLY hard to see.



The straps, particularly the waist strap, on both packs I've used are substandard and loosen by themselves and I had to continually tighten them. I'd hate to see what happens in an avalanche.



The good news is you can buy the ABS base unit and get a zip-on pack from another manufacturer, which is what I'd recommend.



Some people complain about the extra weight. I can't say it's a problem for me - you can't have an omelette without breaking eggs.



Personally, I'm going to wait to see what the newer options e.g. black diamond jet force are like before I commit to buying an airbag pack.