gear expertise
So you're ready to leave the campground behind and make the leap to bona fide backpacker. No crowds, no nightly fees, and miles upon miles of wild, open country… What's not to love? Before you hit the trail, use these essential tips to plan and prepare for your next backpacking trip.

A reliable stove system is essential to your backpacking setup. After all, it's only befitting to eat a hot meal while you relax and soak up those well-earned million-dollar views. But with the dozens of stove models available today, it can be difficult to narrow down the options and choose the stove that is best suited to your needs.

Backpacking food has come a long way from the stuff we ate as scouts or hungry young campers with semi-sadistic parents, and much of it has earned five stars from foodies in the Backcountry.com community. Here are the top-rated meals, as chosen by the discerning palates of backpackers like you.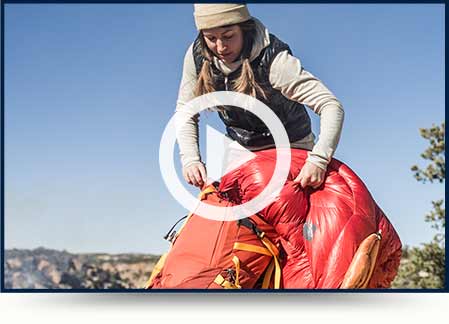 how to fit a backpack
Your backpack is your closest companion on the trail, so it's necessary to make sure it fits comfortably. Learn how to adjust your pack's harness and other details so everything feels just right.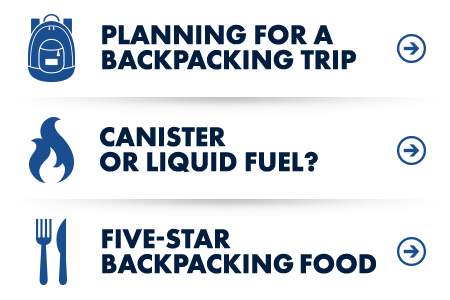 Access
Zippers create top access, front-panel access, side access, or some combination of those options.

Side Pockets
Easy-access storage for water bottles, sunscreen, or snacks.

Lid
Some lids are removable (to cut weight), some removable lids have built-in webbing belts that allow the lid to be used as a fanny pack.
Fabric
Typically polyester or nylon ripstop. Low-denier fabric weighs less but is less durable, high-denier fabric is more durable but also heavier.

Sleeping Bag Compartment
Stores the sleeping bag and has its own opening, also prevents heavier items from settling to the bottom of your pack.

Gear Loops
Used to secure trekking poles or ice axes or as lashing points for tying on additional gear.

Compression Straps
Adjustable, buckled straps that tighten the pack, bring the load closer to your center of gravity, and prevent items inside from sliding around.

Load Lifters
Adjustable webbing on top of the shoulder straps that transfers the load away from your shoulders and upper back and onto the frame.

Back Panel
Padded with foam, usually ergonomically shaped. Most will incorporate ventilated, wicking fabrics and built-in channels to increase airflow.

Torso Length & Adjustment
Some backpacks will have an adjustable torso length while some packs will come in different sizes based on torso length.

Shoulder Straps
Transfer a percentage of the load to your shoulders and upper back. Most are ergonomic and some have a women-specific design.

Hip Belt
As much as 80% of your pack's total weight comes through the hip belt to rest on to your hips.

Sternum Strap
Holds your shoulder straps in place so they don't slide too far off your shoulders.

Lumbar Pad
Thick foam padding that is the direct point of contact between the back of your hips and your pack.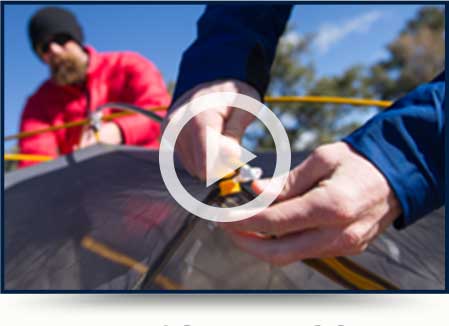 how to choose a backpacking tent
From ultralight tarps to four-season shelters, the vast array of tent options can feel overwhelming. This video compares the different types of shelters so you can choose the right one confidently.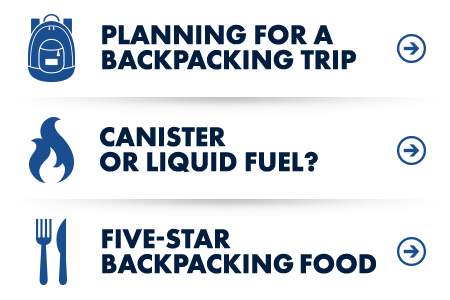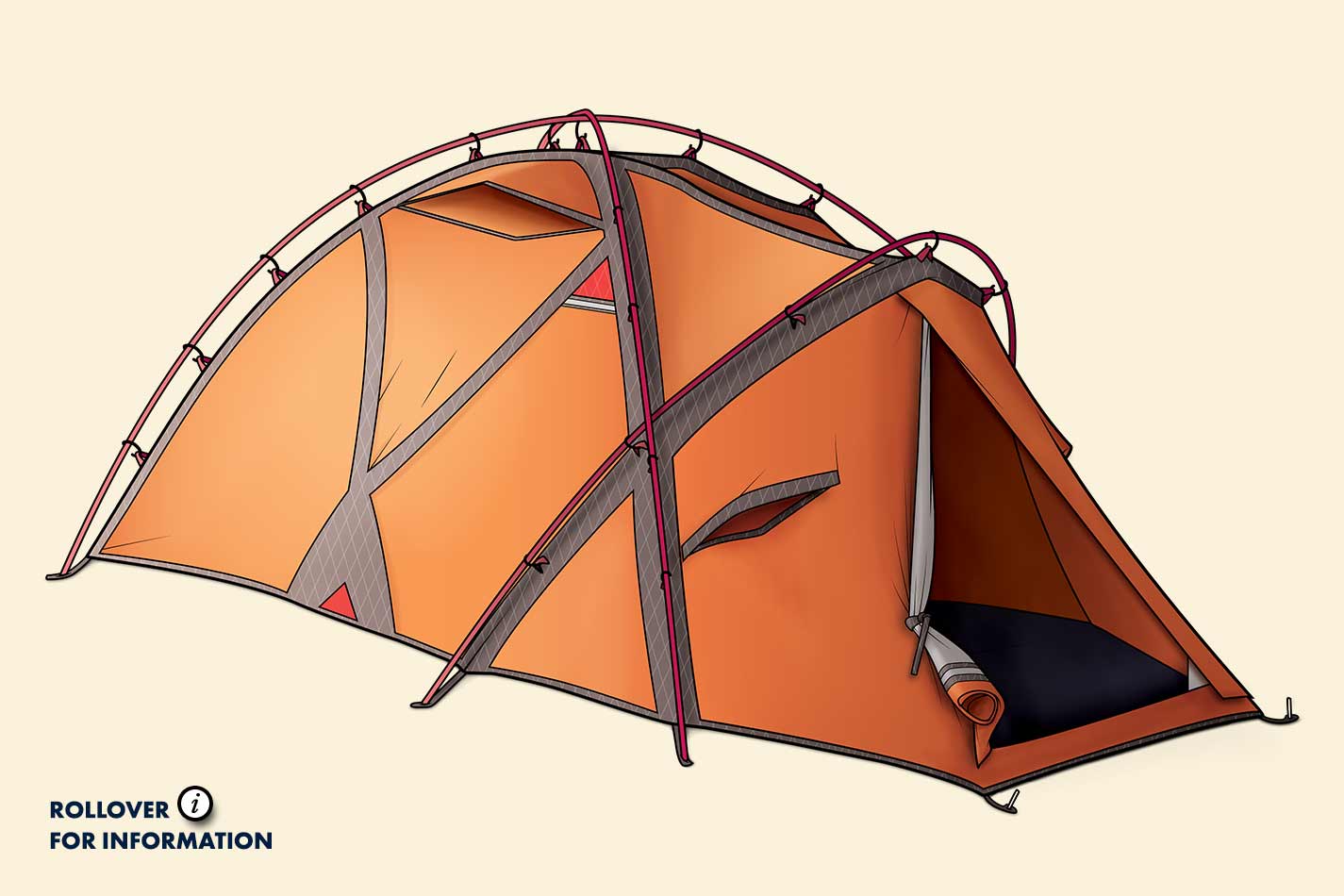 Walls
Double-wall tent walls are made from mesh or ripstop with mesh inserts. Single-wall tent walls are made with ripstop and vents.

Ventilation
Mesh panels or built-in vents prevent your constant breathing from creating condensation on the inside of the tent.

Doors
Doors let you in and out of the tent. Most have two-way zippered closures. Some ultralight tents utilize snaps or ties to secure the door.

Poles
The skeleton and supporting framework of your tent. For backpacking tents, poles are typically made of aluminum because it's strong and lightweight.
Clips/Sleeves
Clips are hooks that attach directly to the poles, and sleeves are sewn onto the outside of the tent for poles to slide through.

Grommets
Strong metal rings that act as anchor points for your tent's poles and serve as guy points on the sides of your fly.

Floor
Most tents use bathtub-style floors where the floor's water-resistant material extends up the walls several inches to prevent leaks from rainwater.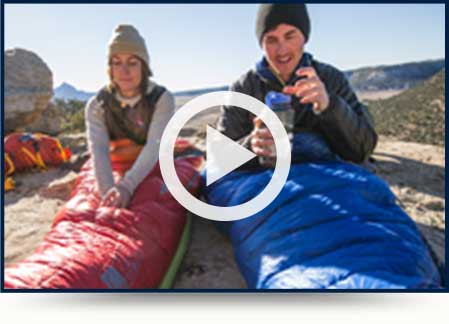 choosing the right sleeping bag
Learn about the differences between down and synthetic insulation, the benefits of each, and how to make an informed decision about which insulation is best for you.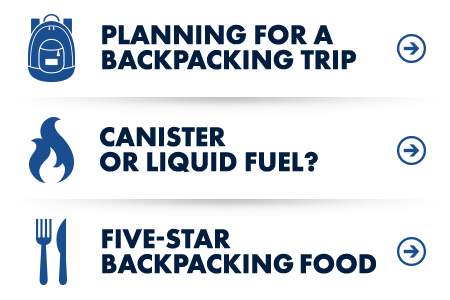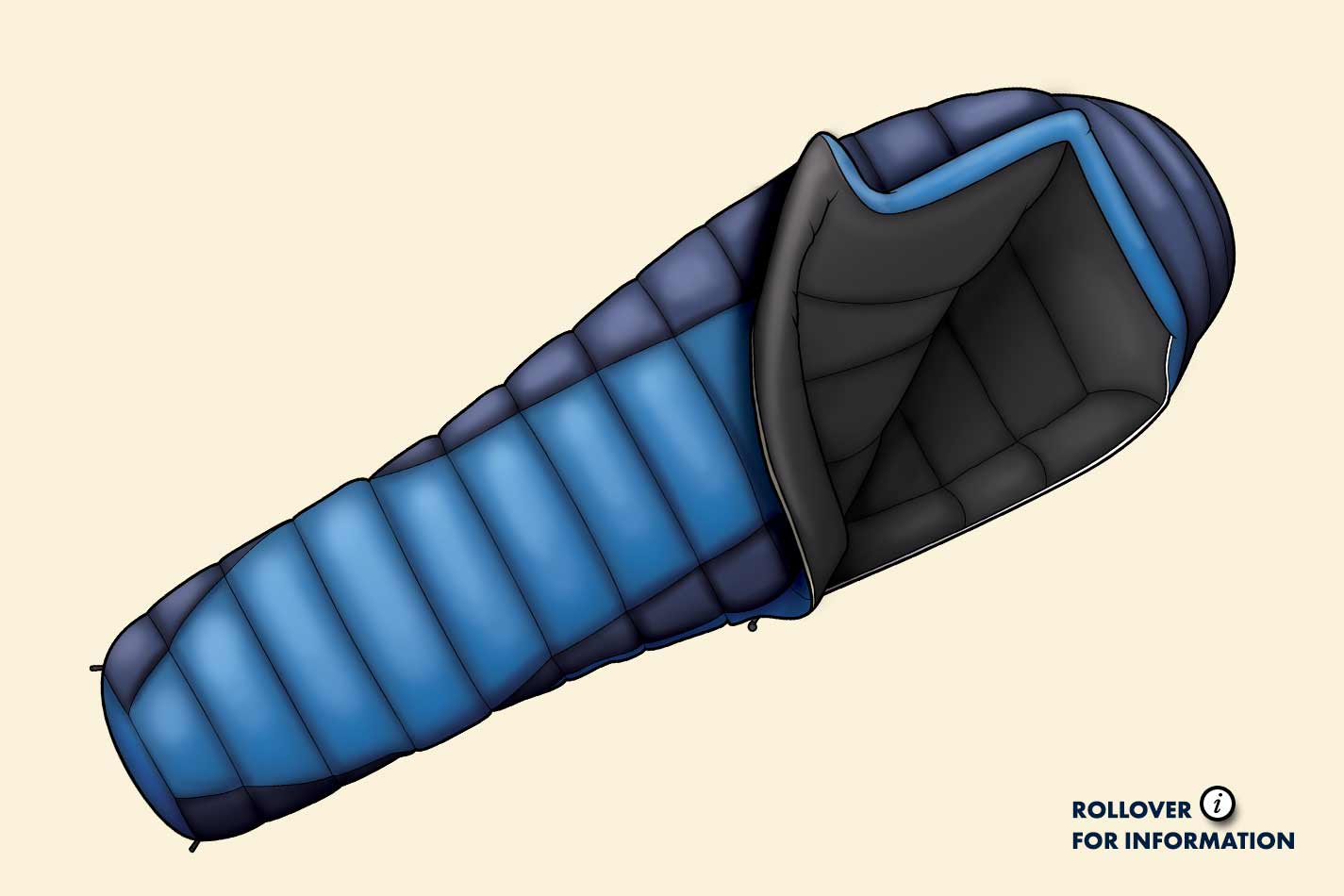 Hood
Extends warmth all the way around your head. Some include a pillow pocket where you can stuff your sweater or jacket.

Draft Tube
Sits on the inside of your sleeping bag right next to the zipper to stop cold air from seeping in between the zipper's teeth.

Zipper
Two-way zippers let you vent your feet or your torso separately. Many zippers are also designed to let you hook two sleeping bags together.

Pad Loops
Webbing or elastic loops that attach to your sleeping pad and prevent your sleeping bag from sliding off your pad.

Baffles
Prevent insulation from shifting and determine the way insulation will lie within the bag.

Foot Box
Ergonomic, three-dimensional shape that increases the amount of insulation around your feet. Some have extra baffles, layered baffles, and more insulation.