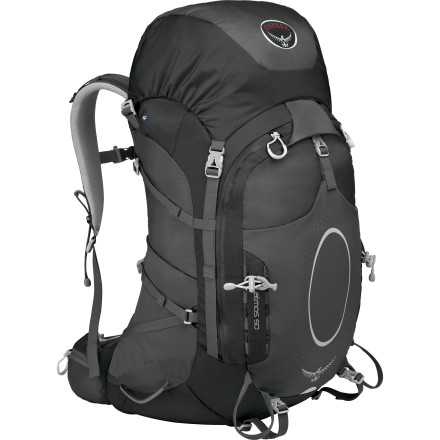 Community Images
Description
Award-winning and upgraded.
Even though the Atmos 50 Backpack already won Outside Magazine's Gear of the Year Award, Osprey updated it with a new low-profile back panel. This Airspeed design places the pack closer to your back for better support and greater long-distance comfort, without sacrificing breathability. Several pockets and a large front flap help you keep everything well organized.
Updated Airspeed suspension lets you adjust the torso length 3 inches and and hip-belt 6 inches
LightWire alloy frame allows room for air to circulate without destabilizing the load
Shoulder harness and hip-belt feature mesh and ventilated foam for breathable cushioning
Lightweight nylon fabrics resists abrasion and stand up to years of use
Side compression straps stabilize your load
Multiple pockets, including convenient front stretch and hip-belt pockets, organize your gear and put it in easy reach
Trekking pole and multiple gear attachment points let you stow items externally
Detachable lid lets you slim down for side trips
Share your thoughts
What do you think of the
Osprey Packs
Atmos 50 Backpack - 2800-3200cu in
? Share a...
This is a great pack.
Familiarity:

I've put it through the wringer
This is a great pack. Every pocket is handy and functional. It's a perfect size for traveling, and I love the look of it. I have the red. Not too big and not too small. Very comfortable. Not too many straps. I highly recommend it.
I am a woman with small hips. I tried Osprey's Kestrel for women but the belt would not tighten enough. It seems like the Atmos and the Aether are the only ones Osprey makes that comes with a smaller hip belt, although they are for men. Should I try one of those packs? I am having a hard time finding a pack that fits my hips.
Hey, So I have the same problem with the men's packs, tall and skinny. I do know the Ariel\Aether series have removable hipbelts.
So I was able to get a large pack with a small hipbelt.
I do not know if Backcountry can sell them with mixed sizes.
You could wait for the Live Chat to come up to set something like that up.

Loved it!
Familiarity:

I've used it once or twice and have initial impressions
I'm 61 years old and finally decided to buy a pack for my annual wilderness trips...been renting the past three years. What a great pack. Just finished Andrews Glacier in RMNP....4.1 miles 1500 ft gain to 10,500 50 lbs fully loaded. Extremely comfortable fit, hip and shoulder padding fabulous, very stable and light. Had to jury rig a strap on of the girlfriend's 20 lb.pack for the last mile and the Atmos responded like a champ.
I'm looking for a backpack to travel Europe with. Would I be able to stow this in the overhead compartment without any issues? I have some connections in my trip that will require me to do so.
Best Answer
This will be too big. Airlines vary a bit, but you want something around 36-38 liters.
Your much better off getting the far point 55 its the exact dimensions of carryons, i used one on my recent trip
Tech for Function, Not just for Show
Familiarity:

I've put it through the wringer
The Osprey packs we took to Priord Lake definitely have a "high tech" look, but after hiking 25 miles over three days with the packs, I'm convinced that all the tech is for function, not just for show. Osprey has a reputation for the best suspension systems out there, and the AirSpeed system didn't disappoint. I could actually feel the air flow on my back when we were on the trail. With water and booze my kit weighed in at 29 pounds, and the Atmos carried it like a champ. I was also a big fan of the molded rubber pulls on the zippers that you can loop your finger through, and that's just one example of the well-designed details these packs are loaded with. The women's Aura 50 is the same pack as the Atmos, just fitted with a gender-specific hipbelt and harness.
love this pack
Familiarity:

I've used it several times
so far done 4 backpack trips with this (Grand Tetons and Sierras) and 1 10 day Euro trip. My other pack is a Kelty Coyote 80.
As of now this has been my main backpack kit, by layer:
Bottom of pack: Bearvault 450 horizontal and GSI cookkit
Middle: sleeping bag North Face Cat's Meow and pillow
Top: clothes stuff sack, thermarest, platypus 2ishL, 2-3 16oz beer cans

That's a lot of bulk. Especially with the bear can and Cat's Meow, a lot of bulk, but the Atmos has fit it all, from 2 nighters to 4 nighters. I'm usually probably somewhere 30-35 lbs and the load feels great, carries very well.
Things I love: how well load carries, feels very fluid with my body. Airspeed. My back sweats, but I think the airflow makes a difference in keeping the back relatively cool and the overall body temp from overheating, I always have felt comfortable. Shoulder straps and hip strap also seem very comfortable and breathable
exterior pockets: very nice organization possibilities with minimal yet effective pockets, good for things like camp shoes, rain shells, rope, water filter, coffee mug, whatever.
Adjustable: All the straps etc. adjust very easily on the go, and the adjustments are effective
feel: pack just feels minimal and stremlined on your body, not cumbersome, but so far it seems sturdy enough for a solid load.

I love using this pack, unlike many of my buddies, when we're in the wilderness I look forward to loading it up and putting in some miles. At this point, I have a hard time seeing myself using anything but an Atmos. (it convinced me to just buy a Manta 28 for commuting and day hikes!)
happy trails
Everything I needed, nothing I didn't.
Familiarity:

I've put it through the wringer
I initially bought this pack for my six month trip through Southeast Asia. I was able to bring everything necessary for my travels and still have it be a carry-on for the plane rides.

The airflow system was an invaluable feature while temperatures surged past 100. The adjustable torso length allowed a perfect fit; though it did take me a bit to get all of the straps and such fitted, once I did, this pack was super-comfy.

It is able to expand to the point of carrying an absurd amount of clothing and gear considering its 50 liter rating, yet also able to compress when carrying less without looking shriveled and ridiculous.

I came home after six months of throwing this thing onto the tops of busses and into boats, in the backs of trucks, and often sitting on my lap (rather comfortably) while transiting, and this pack still looked brand new.

Since then, home in the PNW, I've taken it backpacking and on other excursions and it is equally at home in the wilderness.

The curve in the back is a bit of a nuisance for packing deep down, but very worth the airflow on my body.

Nothing has ever dug into me, the pockets are all very usable, it's extremely comfortable, and, most importantly, it looks cool.
Great pack for 3-5 days
Familiarity:

I've used it several times
A fantastic, lightweight, comfortable pack for backpacking. I went on a three day trip on the AT and had plenty of room for a sleeping bag, clothes, ENO hammock, therm-a-rest, food, and stove.
The pack stayed comfortable, secure, and I was able to easily make a couple adjustments to really dial in the fit.
Currently considering the Osprey Atmos 50,...
Currently considering the Osprey Atmos 50, but also saw a North Face Alteo 50. Any suggestions as to which one would be better? The Osprey Atmos 50 or North Face Alteo 50?
Also, does the new iteration of the Atmos 50 have a separate zippered compartment for the sleeping bag, or is that only in the Atmos 65?
Best Answer
I was looking into both of the backpacks that you were interested in first off the Atmos 50 does no come with the separate compartment for your sleeping bag only the Atmos 65 comes with that feature. As for the differences between the Atmos 50 and the North Face Alteo 50 is that the Atmos 50 is going to be a lighter pack by a few ounces and the Atmos pack will have a few more external pockets to organize smaller items. They both have a removable lid for smaller day hikes so you do not have to carry that whole bag around. Overall you will be able to pack more into the Atmos pack and you bill be able to get a more accurate size for the bag since it comes in Small, Medium, and Large where as the North Face pack just comes in a S/M and M/L version. If you have any more specific questions please let me know and I can get them answered for you.
Michael Greer, thanks for the reply! It's nice to know some had the same dilemma as I did. So I guess you got the Osprey right? Currently, what's bugging me about the Atmos is having to pull out everything when I need the tent, and in my case, it always rains when I reach the campsite, so looks like I have to figure out how to pack differently. How did you find the Atmos, and where the factors you mentioned above the reason why you chose the Atmos over the Alteo?
Hans, a viable concern. One of the workarounds I've used is to pack the soft tent material in a compressible stuff sack, making it more like a pancake than a loaf of bread. Then I place it up against the entire back of the pack, rather than the bottom. I then roll up the poles in my ground pad, or lash them to the outside. It's tough either way when it's raining during camp setup!
I'm looking for both backpacking and travel...
I'm looking for both backpacking and travel with this. On the backpacking side it seems perfect, but I haven't seen much on travel. I don't doubt it would be great if I were checking a bag, but sometimes I try not to do that...does anyone have a clue if this could fit in the overhead compartment on a plane?
Best Answer
50 liters is a little big for most airline restrictions. Look for something more like 35 liters.... which of course means it probably will be too small for your backpacking needs....
Hey J,

Most airlines follow the guideline of 45 liner inches (L + W + H) as their maximum dimensions for a carry on. This pack is about 60 linear inches packed out. My suggestions would be to pack it out with the gear you need to fly with and cinch that puppy down. Then when you get to your destination buy the remaining essentials that would be easy to pick up at your destination (food) and you should be set. Or honestly factor into your budget checking a bag, it will really save you the headache.
Whats the biggest water bladder this bag...
Whats the biggest water bladder this bag could take, I've a 4L gravity works filter bag I'd like to use, alternatively a 3L bag also from platypus?

Thank you,

Chris
Chris,

I have this pack and my 3L osprey bladder fits with plenty of room. I imagine a 4L would easily fit.

Seems like an awesome pack.
Familiarity:

I've used it once or twice and have initial impressions
This was my first backpacking backpack, so I don't really have any other gear to compare it to, but here's what I think anyway:
It seems like an extremely durable, heavy duty backpack. I haven't used it on the trail yet, but I am excited to get some dirt on it. It is very adjustable (I ordered a medium and am 6' tall) and feels great on my back. I love having the pockets on the front waist straps for quick access to important pieces.
I have two small complaints with it though. It doesn't sit up on its own, which is pretty annoying when you're loading it. And with the curved back, the inside is curved also, making it a little difficult to stuff things in the bottom of the pack.
Overall, I'm certain this will be an awesome backpack that will last me for years.
Great pack!
Familiarity:

I've used it once or twice and have initial impressions
I purchased the Atmos 50 form the four day hike to Machu Picchu. It's a great, comfortable, and very adjustable pack. ...and a life time warranty. I have no complaints. I also purchased the medium cover, which is too small for just the pack, but was ideal for a full 50L pack with a mat. It kept all of my stuff dry including my SLR.
I am 6' tall, 140 lbs, and my torso length...
I am 6' tall, 140 lbs, and my torso length is 17.5". Would size small be best for me?
Hey Dan,

According to the sizing chart, you'd probably want a small. I would recommend however going into a store and trying the pack on first, with weight in it. The store should have weighted sandbags, which are no means perfect for replicating the weight distribution of a full load out, however it'll give you a better sense of what the pack is going to do when you're out on the trail. A 40 lb pack that doesn't fit is going to be a huge pain. Hope this helps.
Pretty good, but not great
Familiarity:

I've used it several times
I had been waiting for Osprey to update the Atmos line so when they did I finally purchased this one in early 2012.

The good: I love the packbag design with stretch side pockets, front pocket, and dual-zppered front pockets. I can easily get a week's worth of gear and food inside, with pretty good organization. I really like the back panel that offers good ventilation, and Osprey is smart to keep exposed thread/stitching to a very minimum. In my experience, exposed thread lines (especially on the backpanel and straps) get full of sweat and trail dust, then get abraded until they fall apart. The hipbelt is comfy and nicely adjustable, and the pockets are a nice size and easy to get into.

The 'could be better': As a former long-distance hiker, I never use the top lid. Took that off right away and am really disappointed there is no strap to tighten down over the top of the storm collar. This is a real pain not to be able to cinch that down, bring the weight closer to your back and keep things up there from wobbling. Every pack I've ever owned has had one of these but for some reason Osprey left it off this one. Major minus.
Also, when the pack is fully stuffed and I go to cinch the side compression straps, often times it pulls apart the zipper on the top of the dual front pockets. I have to be real careful about how tight I cinch them so that the zippers don't pull open as I'm hiking down the trail and have everything fall out.

Other than that it's pretty well made. I appreciate that Osprey uses higher stitch-counts than most pack manufacturers nowadays. That really helps hold everything together over the long haul. I'd hoped to keep this one awhile but am keeping my eye out for possible replacements due to the issues above.
I loved everything about this pack, except the hip belt. My waist was too narrow in the medium size, and my torso too long for the small. Sad for me.
Hello , Im 5-11 175lbs would a medium...
Hello , Im 5-11 175lbs would a medium work for me since it is an adjustable torso section ? or should I just go for a large?
Best Answer
Medium will do better for you. For the large to fit, by the listed torso length, you'd need to be 6'2" or taller. I'm 6'0" and my torso is 19.5"
I agree with Pat. I'm 5'11", 160lbs with a 19.5" torso. I own the Osprey Talon 22 and now the Aether 60 in a medium. They fit great