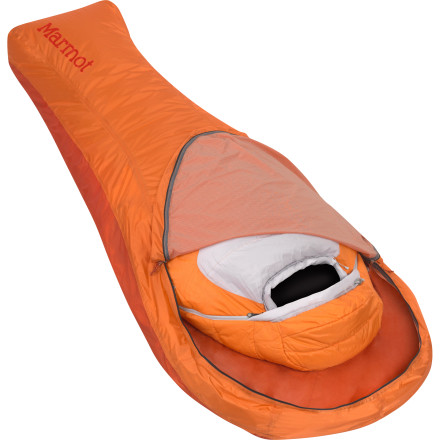 Your kit is ultralight, you move fast, and you have to be ready to sleep anywhere from soggy snow caves to drippy granite slabs. Sounds like you're the perfect candidate for the Marmot Alpinist Bivy. Weighing in at just 14-ounces and packing down to about the size of a water bottle, this bivy offers serious light-and-fast advantages over your tent. Marmot's own waterproof breathable fabric fends off foul weather without leaving you sweating underneath when the skies clear. All you really need is your sleeping bag, a bivy, and a flat place to rest your weary bones.
Marmot's proprietary MemBrain waterproof breathable fabric offers supreme weatherproofing in a 2.5-layer package that does away with heavy 3-layer constructions and internal linings
Despite its feathery-light weight, MemBrain is highly abrasion resistant
Fully taped seams offer additional protection against precipitation and wetness
The 40D nylon floor protects against abrasive sleeping surfaces and offers high-end water-resistance
Storm flap lets you seal yourself inside; leave it open when extra ventilation is preferable
Highly compressible for easy storage in your pack
Light and Fast!
Gender:

Male

Familiarity:

I've put it through the wringer
This is my go-to bivy for fast packing and "banzai" elk hunting. It weighs in at just under a pound and is completely reliable. I have used it and found that Marmot's Membrain fabric breathes well and is totally waterproof.

I have not had problems with the condensation that plagues many other bivy bags. The zipper arrangement makes it easy to stay tied into your anchor, and it's easy to rig a "drip" loop.

This bivy enhances the warmth of your sleeping bag by a few degrees and has been warm enough to sleep well.

Good bivy for alpine and big wall routes, as well as just camping out. I highly recommend it.
Does any one have a comparison of this...
Does any one have a comparison of this bivy compared to the OR bivys ?
Best Answer
I actually returned my OR Alpine in favor of this bivy. This one is lighter, breathes better, and packs down smaller. I do missthe integrated bug net on the OR though. I had originally planned to use a bivy exclusively, but a 5 hour rain storm in the morning revealed the reality of a bivy only setup. Now I use the marmot under a cuben fiber tarp. The 2 together weigh about half of the OR Alpine.

As far as condensation issues, I havent had any except on the fabric directly in front of my mouth if I close the lid and dont turn on my side to face a small zipper opening. A few times with the OR I had dripping condensation from the head area down to my chest, but that was after an extended stay during a rain storm.

The OR alpine had a much thicker floor that I wouldnt hesitate to throw down on slabs or pavement. After a year of use, the Marmot still looks new, so maybe the lightness of the fabric is tricking me into treating it with too much care.



I havent seen these in stock anywhere lately. I guess I got lucky buying one when I did. This bivy performs extremely well with respect to waterproofness/breathability and is one of those pieces of gear that is super light AND durable for a good price. If Marmot starts making these again, I say jump on it.
I always worry about condensation with...
I always worry about condensation with bivys. I plan to use this with a tarp in summer or some kind of shelter in winter. Greg doesn't mention condensation issues...great! anyone else have experience?



I'm considering a 100% event bivy instead...
you shouldn't have condensation issues. maybe between you and the pad. thats the only place I get condensation
Is there any insulation on the back in...
Is there any insulation on the back in this bivy? If not, is there enough room for a pad inside?
Best Answer
There is no insulation in there. It is a bivy only. You can indeed get a bag and a pad inside though.
I have a 25F sleeping bag can I use it...
I have a 25F sleeping bag can I use it with this and go camping in the snow and be fine on a cold night or this bivy only works to protect from rain but not from cold?
Best Answer
I personally have a 15F and I do just fine. It isn't designed to keep out the cold but the properties of the fabric do help in heat retention. The key to sleeping warm in the snow is a quality sleeping pad.
I have spent over 50 nights in this bivy bag and loved it. But there are no bells or whistles, no hoop or anything over the face. You have to be someone who doesn't mind being uncomfortable. But the simplicity and minimalism of this set up is awesome. I did a twenty one day ski traverse and slept well every night in this baby, except for one crazy snowstorm night where I curled in with the boys.

Its super effective at what it does, weighs nothing but is not comfy when stuck in for 30 hours... no hoop is for the hardcores, since the fabric always falls into your face...
does the zipper go all the way down the...
does the zipper go all the way down the side? Double zipper for venting purposes?
Hey zle4731224,

I did some checking and the zipper for the Marmot Alpinist Bivy zippers to half way down, and it is a single zipper only.
Thanks, I ordered one last year and there was no mesh window. I returned it. It seems like you have to choose between mesh and "waterproof" unless you want a hoop. REI does a nice simple one like this that has mesh but you can't cover up the mesh! Nice if these things came in different lengths/women's models. Could save a lot of weight and get less tangled up in the extra material. This thing is huge.