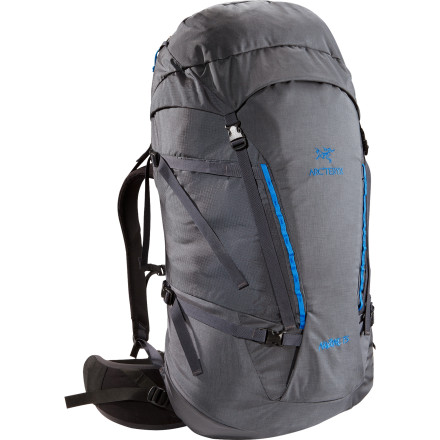 Detail Images
Description
Premium pack for the long haul.
The professional-caliber Arc'teryx Nozone 75 Backpack caters to the serious mountaineer. Designed to haul heavy loads over long distances, the Nozone 75 is built with burly but lightweight ballistic fabrics to withstand abuses suffered above the treeline.

New rigid but lightweight Arc'on suspension system features high-density PE foam as well as two lightweight stays that channel the weight of the load to your hips
Stays can be removed for shorter treks or when you need more flexibility
Laminated design cuts the number of layers in the suspension by more than half so as to decrease weight
Dual-density, anatomically shaped shoulder straps with a modular sternum strap eliminate hot spots
Removable, thermo-formed triple-density hip-belt maintains comfort with more weight over longer distances
Main compartment accessed by top drawcord that's easy and intuitive to use and allows you to expand the capacity
Tough but lightweight fabrics stand up to demanding use and shed precipitation in heavy weather; reinforced high-wear areas add resilience
Four side compression straps help manage load and bulk
Removable and extendable top lid features two zippered compartments to keep small items accessible
P'ax ice-axe holder keeps this important tool safely contained but in easy reach
Dual daisy chains work with included bungee to lash on extra gear
Dual haul loops reinforced for extra durability
Share your thoughts
What do you think of the
Arc'teryx
Nozone 75 Backpack - 4210-4576cu in
? Share a...
Posted on
Hey,

If I buy this pack through...
Hey,

If I buy this pack through backcountry, do I still get arcteryx lifetime warranty?
Best Answer
Responded on
Hey Hannah,

Purchased through Backcountry.com you do get the Arc'teryx guarantee on their products. The limited lifetime warranty according to Arc'teryx is as follows:

Defects in materials or workmanship are covered for the practical lifetime of the product. Material refers to zippers, buckles and fabrics. Workmanship refers to seams, seam tape and construction. Damage due to wear and tears such as rips, tears, abrasion or UV degradation, misuse or neglect is not covered under our warranty policy but may be repairable for a fee.
Responded on
Yes thank you!
Posted on
Bombproof, comfortable, spacious
I'll preface this review with my cut and paste statement that I work as a backcountry backpacking guide in Yosemite National Park. Nearly all of the products I take the time to review have seen at least a half a season, if not more, of use... and I'm committed to not bothering to write a review until I feel like I've really gotten to know a product. *This review is an exception. I've had the pack on a couple short hikes (4 miles) to kick the tires and form a relatively informed opinion since my season in Yosemite doesn't start for another month or so. I wanted to get a solid review up to help out people looking for a nice, lightweight pack.* I never thought I'd bother to write reviews, but I've recently decided that since I've spent so much time over these last many years reading reviews, and finding a tremendous amount of value in articulate and well-informed opinions, that I wanted to give back to the community. So, with that being said, here we go...

Unlike the reviewer below, I found this pack to be supremely comfortable. This pack uses a clone of the famous Bora hipbelt, which is a burly, cushy belt with a ton of padding. Probably a quarter of the pack weight is in the hipbelt... which is fine by me. I'm 6'2" and 165, so I don't have much padding of my own. One quick warning though... the stock hipbelt at its tightest accommodates about a 32" waist.

Let me address a few things the previous reviewer mentioned. The pack is not terrible. It is very intelligently designed and is far and away the most durable pack I've ever owned. The fabric on this pack is amazing. I hoist and lower my pack onto Yosemite's granite hundreds of times a season. This pack has already seen several trip's worth of use, and its flawless. I've seen other packs heavily scarred after one trip. Not this one. It looks brand new, minus some dirt.

The previous reviewer also mentions that this pack is not adjustable. Umm, huh? No, the backpanel itself has no adjustments. That's why the pack comes in multiple sizes. Other than that the pack is highly adjustable.

No support? Lousy execution? Again, I'm lost. I have no idea what pack the previous reviewer was addressing. They're totally off base. The backpanel and stays on this pack are amazing. Granted the backpanel has minimal padding, but that's how you save weight. A properly loaded pack that is fitted well doesn't need padding against your back. 90% to 100% of the weight should be bearing on your hips, not your back or shoulders.

I have two minor qualms with this pack. First, since the hipbelt is not physically attached to the pack via stitching Arcteryx came up with a mediocre solution. The hipbelt slides under the lumbar panel of the backpanel and two small pockets on the hipbelt are designed to be receptacles for the bottom of the two vertical, aluminum stays. There's a measely, joke of a velcro strap that's designed to hold this in place, which doesn't work. Because of this its relatively easy for the hipbelt to slip off the bottom of the stays. The good thing is that it doesn't a make a ton of difference in the comfort of the pack. I didn't even notice this 'feature' till I had worn the pack on a trip, took it off, and noticed that the hipbelt seemed to have a lot of movement to it. Upon removing it I noticed the intention of the design, properly fit it, put it on, and didn't notice any difference in comfort... though maybe a little in stability.

The other downside to the pack, which is close to knocking it down to four stars, is that the shoulder straps are sewn into two pads at the shoulder blades that are a little too large and firm. I had a few friends try on the pack and a couple of them mentioned that they didn't like how those two pads were poking into their shoulder blades. However, for how I fit the pack and how it fits me, I barely feel them... so its almost a non-issue for me. If I'm off trail or traversing and have the pack high and tight then I do feel them a bit.

What do I like about the pack? Its absolutely no-frills. One small side pocket (I would have liked two, one on each side), one zipper on the entire pack, which is on the lid (I'm not a big fan of zippers and compartments on packs. They are the weakest link on any pack. They break and leak and add weight. One on the lid is great.) The pack is absolutely bomb-proof, has a huge, comfortable hipbelt, is under 4 pounds (which is my weight limit on packs), and is very intelligently designed.

Its said that a great item is designed well if nothing can be taken away. This pack meets that definition in every regard. If they tweaked the way the hipbelt attaches to the pack, and the design of the padding at the shoulder blades, then I wouldn't hesitate to say that this is one of the greatest packs ever made.