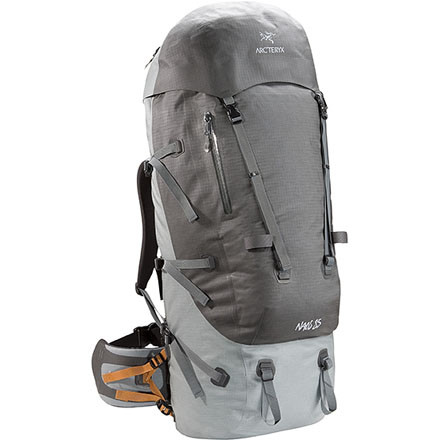 Detail Images
The Naos 85 Backpack represents the obvious choice for carrying big loads in extremely wet environments. This heavy-duty hauler features durable, weather-resistant fabric, fully taped seams, and a roll-top closure to ensure you gear stays as dry as possible no matter the weather. With more than 5,000 cubic inches of cargo capacity, the Naos 85 Backpack easily holds enough gear to keep you going for a week or more.
AC² composite construction features a durable, weather-resistant fabric, and fully taped seams to stand up to brutal conditions
Roll-top closure keeps out the weather; side zip lends full access to pack's contents without having to unpack and repack everything
Fully adjustable Thermoformed suspension and 7075 aluminum stays support your giant load of gear so you can hike in comfort
Pivoting hip-belt transfers the load to your hips, rotates with your body's movements, and features side-mounted cinch straps for added stability over rugged terrain
Laminated attachment points are seam-sealed for extra weather protection
Removable top lid gives you carry options
Six external compression straps let you adjust the pack's volume to accommodate varying load sizes
HydroPort opening lets you route your water-bladder hose through to the outside of the pack (water bladder not included)
Water-resistant outer zips prevent melting snow and rain from dripping down the pack and sneaking in
I want this backpack, but i need regular...
I want this backpack, but i need regular size
Regular size is out of stock right now, unfortunately. Keep checking back.
What is the best backpack for expeditions...
What is the best backpack for expeditions (80-120 L)?



perfect in your opinion, comfortable, thoughtful, strong, reliable, functional, technological


Best Answer
Hey,



That's one hell of a list. I've worn a few of them, checked out a few others. I started out with a Bora 80 for just mountaineering, but it's since become my go-to pack for just about everything for about 6 years now. I also have a few of the similar counterparts for the Ospreys. The Gregory and Kelty packs are functional, strong and tough, really similar in weight and fit as the Argon 110, but boy are they huge. Checked out the TNF Conness and Matthes Crest (climbed both mountains in Yosemite), but have nothing but first impressions of the packs from trying them on in the store weighted up. Not bad, and we've been using a few older models from North Face with good experiences. That's about it for my input as to what I've tried personally. You ought to narrow it down and order a few, keep the best for you, return what's left. Or, find a really well stocked local store and try some on. I'll tell you a little as to specifically why, but packs being so subjective in function and carry to the individual user, I would have to honestly tell you that I'm not planning on giving up my Bora any time soon. It's a little heavier, incredibly comfortable and functional, without a load of feel-good extra crap, and it's been excellent for big loads (a bottomless pit of capacity). Hope this helps.
Hi, I have used the Naos 85 for a year, mostly in snow, on mountains snowshoeing. I has been great. It's heavy (duty). It roomy, I need that for winter gear. I would definitive recommend it to others. I'm 6' 2" 150Ib and the Tall version is perfect for me. I wish there was a mesh net on the outside for drying stuff during the day, like a tent fly. I have a Gregory pack that has a thick rubber coating at the bottom to protect the fabric against the ground when putting down the bag. I think this should be added to all bags. Again, this is not a lightweight backpack but I'm more into secure equipment like the Hilleberg tents etc. especially in the winter. I am sometimes hiking solo and find it even more important that my gear works.

Unfortunately, I think Arc'teryx has discontinued this series of bags. If you find your size then I'd suggest to buy it asap, you will love it.
Worth the sacrifices!
Familiarity:

I've put it through the wringer
I have a Naos 45 that is essentially the same pack but smaller and with a less burly waistbelt to accommodate smaller loads. The material and features are otherwise identical. I also own a larger Deuter pack. I can say that I consistently reach for this pack over the Deuter for several reasons. Knowing how unpredictable weather can be in the mountains (and anywhere for that matter), it's good peace of mind knowing that all your gear including your sleeping bag are warm and dry regardless of what you may encounter. I've crossed chest deep flooding rivers in Yosemite in late spring with this pack on and it kept everything bone dry. Any other pack would have taken on heavy water and drenched the contents if they were not themselves in waterproof stuffsacks. The rolltop closure and plug-able hydration port essentially make the main compartment a dry bag. The other waterproof zippers work well but during longer rainstorms I've had some moisture make its way into the top zippered compartment because there is a small gap adjacent to the zipper, even when closed (largely due to the fact that it's a heavy duty zipper and does not have the small tolerances that a lighter duty zipper would afford). In addition to being incredibly waterproof, the AC2 material is utterly bombproof. It's seen more than it's fair share of abrasive rock, thorns, branches, and even embers from the fire and has yet to fail. All-in-all, I love having a pack that I can abuse to no end and still feel confident that my gear is safe and dry. Criticisms I have are similar to what others have mentioned. The outside pockets are hard to use when the main compartment is already full, but I've had no trouble storing a small first aid kit, rain jacket, map and compass in them. The suspension system on my bag is not as comfortable as others I have tried, but after numerous 30-40mi backpacking trips I have never had a blister, bruise, or felt that it was truly uncomfortable - it's simply not luxurious.
What you don't want in a girlfriend.
The stuff you want to get at sure isn't going to be wet with this pack. It is burly and doesn't have a ton of features, but it has the great features you need. I like the disk or puck feature for the waist belt and the shoulder straps are top notch with great adjustability. The one thing that perplexed me at first was the hole plug if you want to put a water bladder and drinking tube in it, I haven't used it and I'm not sure I ever will.

The cost is as shocking as finding out your girlfriend was once a dude, but that would explain why things don't get wet.
Unanswered Question
Under the support section there is an...
Under the support section there is an error, on Arc'teryx site it says the supports are made of 7075 aluminum vs 6061. 7075 has a yield strength of about 503MPa vs 276MPa and it is about only 4%more dense, FYI.
I'm a firm believer in you get what you pay for…the NAOS 85 is a great example. Sure it's expensive but the quality surpasses any pack out there. The only drawback I see is no available accessories. For starters, a detachable storage system would be a great option considering the pack design and lack of outer storage pockets with easy access. An Arc'teryx (pressurized) hydration system might be another good addition.

This pack isn't waterproof but it sure beats anything on the market. If you are looking for something beyond the rain protection capabilities offered here, I suggest you invest in scuba gear. Take some time tweaking the suspension before heading into the backcountry to truly enjoy the pack design. Outer storage is the only issue for me but considering the comparison with alternative pack manufacturers…I'll stick with the 85 cuz this F'n pack rocks!!!
Great bag! Excellente quality
Awesome capacity, total waterproof and all my stuff is dry. the right bag for walk in the feet of mountain mckinley in beatiful alaska! The only bad is the price
Help! on the Arcteryx site this is listed...
Help! on the Arcteryx site this is listed as women's. If i'm 5'2 and 110 pounds will this work for me? i don't see measurements, but my torso is 15.5 inches.
Thanks!!
If your a man then probably won't be as comfortable as on a woman's body...
Hi izzi, based on the arcteryx site, the naos 85 follows a unisex sizing guide. If you do you have 15.5" torso, you may have a problem with this back, the naos starts at a 16" torso, here is the chart, make sure you are looking at the one appropriate for the naos 85 (which i believe is the top one) http://www.arcteryx.com/sizing-chart.aspx?EN/pack-sizing-chart
Izzi, lets take a few steps back. How many days trip do you need this for? What type of packing are you doing? Have you actually had your torso measured from a pro shop? And at 110lbs are you planning on carrying 1/2 to 3/4 your own body weight? This pack & size is designed to carry 50-100lbs for even multiple weeks packing. I just hate to see people buy the product, that is not best for the need. These packs are amazing (all Ac2 packs), but get what's best for you and usage! Also, I would highly recommend looking into women specific packs! Especially if you have typical female body shape(hips, etc...). Also, please go try it on with similar weight that you will be carrying (same goes for boots too!) For at least 15 minutes, if not 30-45. These are some safe guidelines to go by. I hope you find this helpful, its at least long.
ive had the bora 80 for 6 yrs and never had any type of problems.Its the toughest pack ive found (backpacking over 30 yrs)in all types of weather -30 to 110 degs.I absolutly recomend the Naos 85 for thoughs who demand high quality and performance
(1) suspension sucks: my hips got super bruised by these and I've spent 100s of days backpacking. the suspension is really pretty poor, i don't really know why but it didn't work. I have the Muira for climbing and love that pack.
(2) outside pockets suck: the pockets are part of the total structure so when you pack the main pocket tight the outside pockets are really difficult to get stuff in and out of
(3) no water bottle pockets: there is no easy access pocket on the side for hat, water bottle, anything. i use a hat to temp control and there is absolutely no way to store it with this pack

super strong construction, legitimately waterproof, high quality.

I wanted to fall in love - but no dice
Everyone's seems to be going on about how...
Everyone's seems to be going on about how waterproof this pack is but what about its durability? I want know if i can through is pack around. Get it dirty, have it brush past jagged rocks and all that kind of stuff. If i take it out for a 10 day hike and have all 4 seasons in the 10 days will the pack last a long time all up with its waterproofness still at 100%. How much does it leak through that giant side zip? if my canoe capsizes and my pack falls out and is fully submerged will it leak then.
I know this is 100 questions but i am camp leader from Australia taking school groups out 1 week at a time almost year round except for school holidays. There's no doubt i have fallen in love with this pack and reading the reviews looks great as well, it's just a lot of money, however i love owning top quality gear. Just want to make sure that this pack really is the bees knees
The Naos fabric is about the toughest stuff out there. Sharp rocks and rough care will barely faze it. The waterproofness comes from laminating urethane to both faces of the fabric (every other pack uses coated urethane) and this stuff is super durable. Since it does have the zipper up the side to access the inside pocket it's not submersibly waterproof. It will keep the contents dry in heavy downpours, but not if it's totally underwater. the very top of the zipper has a small hole where the two sides of the zipper meet.
Tom, simple put, if Ac2 packs are not one of the top 3 toughest packs on every account that have been made to date on earth, then please tell what is! As far as h2o goes they are highly water resistant not totally water proof, contrary to many reviews I've read. I can say you will never need a rain cover. But, it is the best there is, period. If anyone knows/thinks differently then please inform me otherwise, so I can check it out myself. Thanks
Naos 85 DWR? Hi guys, I just bought a one...
Naos 85 DWR?

Hi guys, I just bought a one year old Naos 85. My old Bora was DWR treated but the Naos doesn'nt seem to. Is it something I should attend to or not needed?

Regards Mike
Best Answer
The Naos fabric has urethane laminated to both sides of the fabric, and this is way more durable and waterproof than a DWR. You don't need to retreat it and even if the face fabric looks a bit "wet out" water will not seep through. It is a good idea to clean the pack with a mild soap and brush and that will help water bead off the pack, because dirt acts as an attractant.
Do you have the Arc'teryx Naos 85 Backpack...
Do you have the Arc'teryx Naos 85 Backpack

SIZE ---REGULAR--.?

Thanks alot!
yaniv
Use the live chat feature to ask the question...you'll get a faster and more accurate response.
this is the pack, if you are looking for absolute waterproof protection get this pack. i only used it a few times this winter, but the side zipper access is the best, you can access everything you need from this one zipper. also took it for an overnight ski tour, was able to drop off a lot of gear at our camp then cinch this pack down to a good size and carry skis a-frame. got the gold rush color and love it. it is well worth the money.
I've had this bag for almost 4 years now in the 55L version and it has never let me done yet. this thing is totally worth the money. Better then any pack with a rain cover over it in rain. I've tossed this bag over my kayak for the fun of it for almost 5min and nothing was wet (I didn't have anything in the zippered pockets however). Haven't had any problems with the glued on attachements (nothing is stitched on on this pack). Arcteryx rep told me that each attachment has been rated to support over 400lb! The only feature lacking on my pack is a side zipper into the main compartment, but then you lose waterproofness. Can't have your cake and eat it to! Get this bag, you won't regret it! Also, the hip belt disc is amazing. The hip belt moves with you. I'll never go back to the traditional fixed hip belt style.
Here's a preliminary review. More to come as the this season surges on. I've owned this pack now since about 02/2009. I love this pack for one simple reason, it has a "load transfer disk" between the hip belt and the pack that swivels the hip belt on your hips as you hike that essentially alleviates most of the load from your back. I've loaded gear into this back each trip with a total weight greater than 50 lbs. and have felt like I can get a trail run in immediately after removing the pack after a good days hike. I have never felt so relieved of weight on my back from any other pack! Prior to the Naos 85 purchased I purchased and returned an Osprey Argon 110 as this load transfer disc of the Arcteryx rivals over the suspension system offered on the Osprey, in my opinion.
With that said, the Naos is a stuff sack. Pack wisely or everything is coming out to get a wanted/needed item from the bottom. It does have the side access zipper, however, it seems to me as if my gear would burst from the opening if I opened it, I pack tight. As far as the element of being waterproof, I have no experience with any of my gear getting wet although my excursions, thus far, have been relatively dry (review pending). I do have a bit of an issue with the hydration storage capability. You will not be able to remove your hydration bladder and get it back in unless you remove most of the contents of your pack first. Consider pumping water directly through the hydration tube and into the bladder without removing it from the pack if you're thinking about owning a Naos, this is actually a good suggestion for most packs.
Otherwise, the 420 ACT material seems bombproof and, thus far, I'm a very satisfied Naos 85 owner.
Great pack! This pack is awesome in the fact that it is basically waterproof and you don't have to carry a rain cover. I say basically because when things get really bad water can find its way into anything. I do think it is a little over priced for the quality, and you could find packs (Osprey) that are much more form fitting and hug the body better. Overall it is a good pack, and probably the best for areas such as ice climbing when putting a pack cover on is not an option.
So, assuming I do not intend to submerge...
So, assuming I do not intend to submerge my Naos 85, do I need a separate pack cover, or is the waterproof-ness of the pack sufficient without a cover?
Best Answer
You should be fine. When i had my bag in Chile, it was outside my tent for 6 days in straight rain. The tarp and tent that we had started to leak. My bag was perfectly fine. I had it with the zipper side on the ground. The material is def waterproof. The top (brain) compartment might leak a little though after a lot of rain. ... I guess the bottom line is that the bag's waterproof rating is far superior to any bag cover that you would put over a non-water proof bag.
User "G" commented on a side zipper that...
User "G" commented on a side zipper that leaks when submerged in water, but that it can't be seen in any of the views of the pack. Is this zipper also found on the Naos 70?
The zipper which i am refering to is the very large one on the main pouch. As far as i know it is only on the 85. I had a friend with the 70 and it was not on his. I also own the 55, which does not have the zipper. You should be good to go with the 70. However, all the zippers will leak when submerged.... the 85 though is the only one with the zipper on the main "waterproof" bag.
See my review of the Naos 85. I also own the Naos 70, as I really love the load transfer disc. The main compartment side access zipper which you are referring to on the Naos 85 does NOT exist on my Naos 70!
I hike in the winter and winter gear can be bulky. This large pack is 5370 cu.in. and 6 lb. 4 oz. That's not heavy for a large waterproof pack. I have had it out in light rain and snow and it does well. I have not been out in a bad storm such as the one that convinced me to buy this pack, but I think it will be waterproof. A waterproof pack gives you options in bad weather that save weight. You can sleep in a bivy, store your stuff in the pack while you sleep, and not worry about it getting wet. The more I use it, the more I like it.