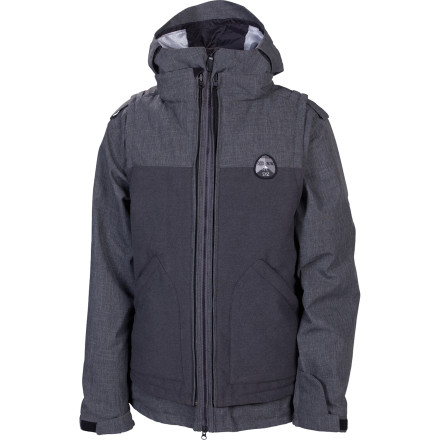 The three-in-one 686 Smarty Satellite Insulated Jacket includes a removable quilted insulted vest you can rock with your favorite flannel during park laps, or together with the separate poly shell for tons of cold-weather insulating power.
Infidry-15 waterproof/breathable membrane keeps you dry in the gnarliest snowstorms
Includes removable insulated vest for 3-in-1 functionality
Air-Flo vents with Smooth Operator mesh gussets to prevent annoying zipper snags
Hand Panties stretch wrist gaiters prevent snow from creeping up in your sleeves
PJ-Connect system easily attaches your pants to any 686 snowboard jacket for a complete snow seal
Unanswered Question
I'm 6'4 and 170. What would be a good size...
I'm 6'4 and 170. What would be a good size for me?
This jacket is very versitile. Very warm. Just used it for the first time at Breckenridge Colorado when we were getting snow all day everyday April 5-14, 2013. Was super cold for spring boarding. Temps were around 0-10 degrees with wind chill. Very good quality material. On really cold days you may need a sweatshirt underneath cause your arms will get cold. The vest keeps your core warm but not much insulation in the arms. Other than that sweet jacket and awsome color.
Its a very simple and adaptable jacket, easy to remove and replace vest. Zip away powder skirt is easily done. Pockets are good enough.
I think it's a bit over priced but I am very happy with it, I replaced an 8 year old smarty jacket, and this one is quite similar, other than a few nice upgrades.
I wouldn't hesitate to buy this jacket, especially if its on SALE!
Very cool looking jacket! This jacket is a 3-in-1 piece. This chest part of the jacket zips off, and can be worn together or seperately from the rest of the jacket. This jacket overall is very warm, and sewn very well. This is a great looking and unique jacket!