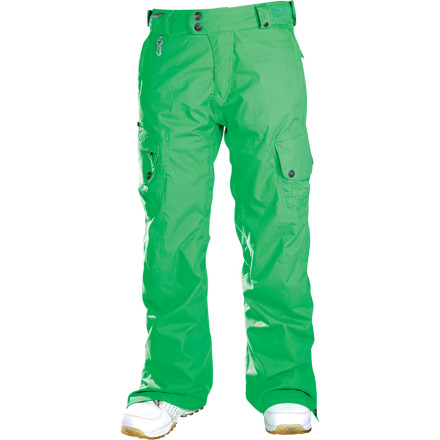 Detail Images
Dial in the perfect degree of warmth and bagginess for your mountain slaying mayhem when you pull on the waterproof breathable 686 Women's Smarty Original Cargo Pant. With a removable fleece capri liner, your colder, lower half is insulated and warm on cold storm days without feeling bulky at the ankle, and once you get off the hill you can wear the fleece capri pant for chilling around the house.
Infidry-15 shell fabric features fully taped seams and seals out the moisture of snow-puking storms as well as breathes on the days between
Removable fleece liner adds an extra layer to keep your cheeks toasty and features a ribbon-tie belt and pockets to give it a casual look back at the hostel or condo
The Smarty Original Cargo Pant without the liner is a weatherproof shell for riding milder days well into spring
Inseam vents with mesh let in cool air while you hike above the lifts or hike the park
Longer pant legs fit over your boots while the snow gaiters with boot hooks seal out the fresh snow as you surf through it and ghetto slits on the ankles allow quick boot adjustments
Reinforcement on the curved back ankle hem guards against wear as you shred the icy park or stroll through a gravel parking lot
Hook-and-loop waist tabs and belt loops secure the pant where you want them
these pants will keep you dry and warm for sure, but they're way too bulky looking for me. the cargo pockets aren't flattering either, i looked like a guy.
i love love love these, they are so comfortable the lining is baby blanket soft & you could sit in a puddle and not get wet. totally recommend.
I love these pants, they really make all the difference. I LOVE the removable liner. It makes the pants perfect for all kinds of weather. I've ridden in these through the warmest, sunny days to white out weather at Heavenly. Always keeps me warm, breathing, and looking flossy. The pockets are awesome I usually keep my keys, cell phone, camera, girly products, and id/debit cards without feeling them weighing me down. Get these!!
the perfect pants. perfect in every way, perfect soft lining, breathable yet toasty... you could sit in water and stay dry.
BEST snowboarding pants for women
I got these on sale and I'm a beginner, but these smarty cargo pants are the best. There's something weird about the liner, I can't explain it, but know how snowboard boots are obsessive about their liners? it's like, these pants are obsessive about it too. they attach at the top, which is really really really helpful.

they are really nice for any bus rides in like the snowbomb bus to Tahoe, you can just zip out of them after riding. Other nice touches are the little cute wrench that comes in the ankle pocket. and i appreciated that they didn't insult my intelligence by scarfing on the cool details like that for the XS size, which I bought last winter. usually when you're a chick, you are scrambling for sloppy seconds. you expect less than the best.

I dunno if this version has it, but it was soooooooooo cool to have the boa feature in the pants. now i have double boas though but still. i'm weird. these are product design masterpieces.
Unanswered Question
Are these warm enough for canadian winters...
Are these warm enough for canadian winters when its -40 degrees celcius outside? I love the slime!!