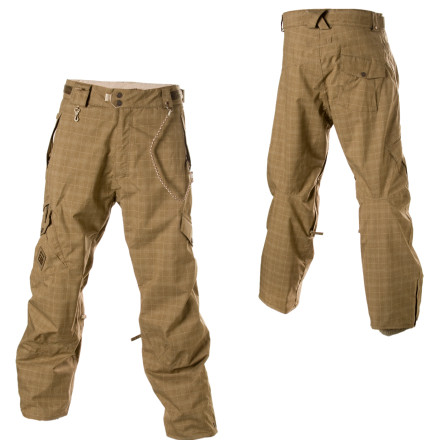 Detail Images

Community Images
Just rode in Snowbird early January. Temp was anywhere between -15 degrees to 25 degrees. Kept me dry and warm. Ended up unzipping the inner liner after first day of skiing. The DC AMO Jacket in the aegean/lichen/shadow black color matches up perfectly with the 686 smarty pants in the black yarn dye plaid color.
Unanswered Question
I have been looking all over the web and...
I have been looking all over the web and I can't find these paint in a medium. So I a would like to know if it comes in that size? Or dose it just come in large and x-large?
these pants are ssiiiiicccckkkk ! just spent 2 weeks in New Zealand and lived in em the whole time, if anything they are to warm
Im 5'8" and 157. I don't like them too...
Im 5'8" and 157. I don't like them too buggy but I like the relaxed fit. what size do you think I should go for?

Thanx

Tim.
hey, Im 5'8" and 175 lbs. i bought these in a medium and they fit perfectly. it's a relaxed fit, but not too baggy by any means. also i tighten the waist adjustment half way, so it won't sag (i have a 34 in waist). hope this helps, budddy.
it certainly does!
I have a 31-32 waist so I think I ll go for a size S.

Thanx for the help!
Skiied both the east and the west this season, held up perfectly in both conditiions, getting overheated in CO just meant zipping the vents open then they were perfect; as for Vermont they held up perfectly in the ten degree weather, vents closed. no need for hot chillys or any of that underneath, this snowpant is solid as hell, bought it at 220, definately worth it.
These pants are the BEE's KNEE's!! I was all BURTON until I woke up and found 686!! I like the removable liner for those not so cold days
i'm with snowmaniac. great pant and worth the price. it was about 30 on the mountain and i had the liner in with the vents open and it was perfect. loose fit but not super baggy. just a great pant all the way around.
Do these run baggy or a bit slim?
Do these run baggy or a bit slim?
depends on how you are built. for the normal joe, they are more on the baggy side. i'm 5'10" and 188lbs, so i'm not skinny. about avg or a little more and they are still baggy on me.
matt, what size do you have? could you tell us some of your measurements cus i'm looking into some 686 pants as well! I'm right at the same height/weight, and wear a 32-34 inch waisted jean. Thanks!
Only 2 days on them so far this season but they seem as they will hold the test of time. Great idea with the inner liner and who does not like fleece??? Little pricey but you get what you pay for.
just got them in the mail! real comfortable. i totally forgot about the removable liner, which rocks. just need some more steez to go with them...