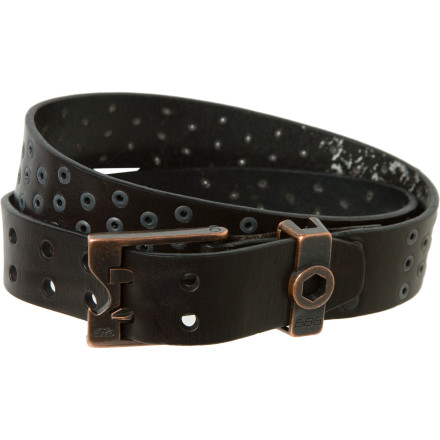 Detail Images
Avoid post-holing all the way back to the lodge because you blew up your gear without repair tools. When you ride with the 686 Rivet Toolbelt, you ride prepared. The clever engineers at 686 gave this belt 8, 10 and 11mm bolt drivers, standard- and phillips-head screw drivers, and a bottle opener in the buckle. Unless you're attacked by a Yeti who can only be defeated with a hex driver, the Rivet Toolbelt will have you made in the shade.
Unanswered Question
Is it worth buying this, tossing the leather...
Is it worth buying this, tossing the leather belt and attaching the buckle to a nicer leather belt?
Can i just buy the buckle
Can i just buy the buckle
nope. the leather for the belt is cheap so you will want to replace it anyway. hope this helps
Cheap piece of garbage
Gender:

Male

Familiarity:

I've used it several times
Cons:1) Made in China. 2) Leather is of the cheapest quality (probably not cowhide). 3) The cheap leather smellsmlike rotten fish. 4) You and your clothes smell like rotten fish after you wear it. 5) Multiple cleanings with leather cleaner cannot remove the stench. 6) threw the belt away, and now I am stuck with a $45 buckle. 7) This site is a douchebag for even selling this.
This belt is made for those days, when you loose a part, or need to tighten down something, and you have no tools around. This is also a great alternative if you always carry a mini tool kit when you snowboard. Now you can just wear your belt, and take it off when you need to tighten a screw or bolt.
I have had one of these belts for over 8 years now and love it. Mine's the older studded punk rawk type tho. The best part is when someone asks for a tool and you say "Here, I have that" and then everybody gets this uncomfortable look as I seem to be about to drop trou...
Hi tool geeks! My brother is a diesel...
Hi tool geeks! My brother is a diesel mechanic and wants a new tool belt for Xmas. . .actually he just asked for a belt. But he's a great guy and I want him to have the kind of belt that will help him at his job best--and I HAVE NO CLUE! Any advice out there for us nonmechanics who love our mechanics and want what they wont actually ask for? Thanks:)
This is a pretty nifty idea, I think a mechanic would dig it. As for tool belt, a thicker and wider leather belt would be better if he's planning on using it to carry a tool holster on it.
This is a great belt, He would love it! Everything works on it like real tools are supposed too. The only thing is he, would have to take off the belt, if he actually needs to use a tool, during work.