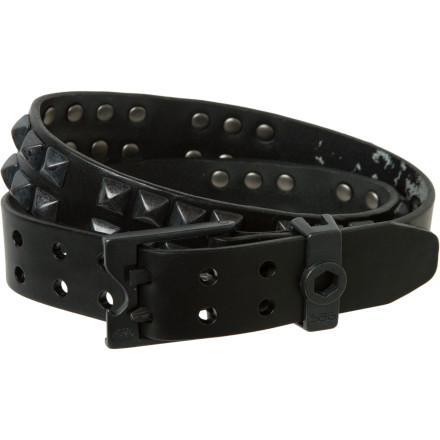 Detail Images
When your disgust with system boils over, unclip the 686 Onyx Toolbelt and use its flat and Philips head screwdrivers to start dismantling society one screw at a time. It might not do much at first, but you'll eventually get to use the nut wrench to really do some damage, and as the dust settles you can use the bottle opener to crack a cold one as the sirens creep closer.
What do you think about this product?
Have questions about this product?
Handy gadgets AND it holds yer pants up!
This belt is beyond badass! It's got the feel, the look and all the tools you're gear-minded heart could desire. The only issue I've found is that the flathead bit is just a touch too big for the holes so you'll want to "screw" it in rather than force it or you could split the leather. Still a sick accessory for any bad boy look!
I saw this belt on either wired or make magazine and i had to look it up. And upon looking over the different options I went with the onyx studded one.
The metal finish seems to scratch when you use the screwdrivers and the bottle opener, but it really adds character and Personally I think that it makes it looks great, adding to that rough distressed look.
The bottle opener gave me a bit of trouble, but it did work. the only thing I wasn't too happy about is that it seems a bit short, i got the one that went up to 34, and I feel like if you are a size 34 you might have to suck in to buckle. I'm only a 32 and I only have the last two holes left to fill.
The leather is thick and firm, seems like it will last quite a bit. Solid build and great design.
If t had been just a little longer I would have given it 5 stars, that way I know i could wear it till i die