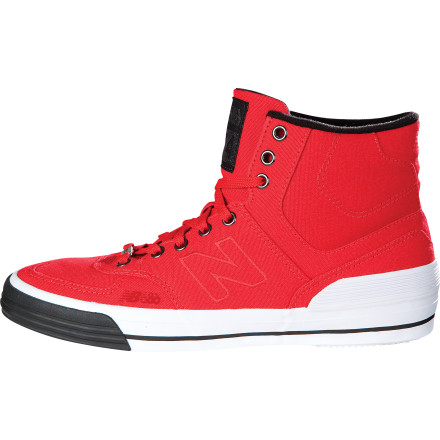 Lace up the limited edition 686 Men's New Balance V74 Skate Shoe, brush your shoulders off, and claim something outrageous because you're rocking a throwback shoe that's more gangster than a low rider full of apple bottom gym shorts. In case that's not enough there's a 200g lining to keep your twinkle toes warm and a tongue insert cover to block out deep powder.
Designed from the silhouette of the very first NB686 shoe New Balance ever created so you're all throwback... and stuff
A padded heel protector provides ample cushioning when you come down hard on your snowskate
Dual logo lace keepers lock down your threads so you won't have to chase soggy laces during a winter skate session
Share your thoughts
What do you think of the
686
New Balance V74 Skate Shoe - Men's
? Share a...
Posted on
Are these shoes okay to use year round?
Are these shoes okay to use year round?
Responded on
Well that really depends on where you're using them.
Responded on
i would, i live in a snow climate but am good at stepping in other people's footprints, which i find to be efficient and stylish.
Responded on
Says right in the description the shoe has 200g insulation. This is a healthy amount of insulation, but the description makes no mention of waterproofing.

So- your call.
Posted on
couldn't have made a better collab
This shoe is sick, way more durable and quality made than supra. and for $65 bucks.. wayy more affordable as well. I hope 686 continues this line next season and makes bigger sizes as well. If you've never had a pair of New Balance shoes, all you need to experience them with this shoe. They deserve their place in the skate / snow community way more than Nike ever could.