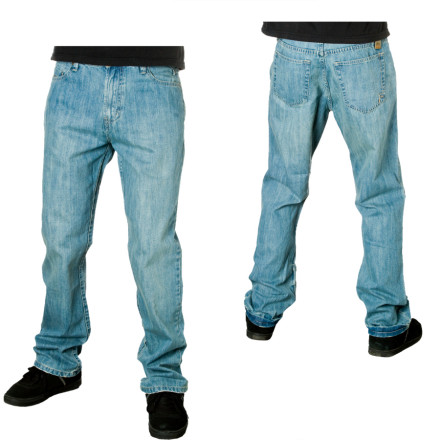 Detail Images
A good pair of pants can be empowering. 'How so?' you ask. Well for one thing, the the 686 National Denim Pant will give you the confidence to jump over fences and run through brick walls. Ok, that's not true. However, the National's regular fit, heavy-duty denim, and exquisite wash options will inspire you to reject incoming phone calls, delete emails before reading them, and sleep in when you're supposed to be at work.
I bought these on a whim, and boy am I glad I did! These are seriously the best fitting and most comfortable jeans I have ever owned. 686 has made a believer out of me, both in their quality, and their comfort. These things are so cozy, I'm buying a second pair. Seriuosly, if you're on the fence about these, get off of it and buy some. Better yet, don't, that way there's more for me. :D
Great fit, stylish without being overstyled
I ordered two pair of 686 jeans through Backcountry.com a few weeks back... kind of a gamble, as I had never SEEN a pair of 686 jeans in person, and I was unsure of the styling and fit. This time, it was a good bet.

Because the Backcountry sizing doesn't offer inseam lengths (I am 6' 1" with medium-long legs), I went through the site's chat feature to check, and was told that the jeans come through in a "33 inch" inseam. Based upon that and other users' reviews, I felt safe ordering. When I opened the package and saw that they are labeled as a 32" inseam, I was a little concerned -- but they fit fine and look good (on my nominal 34" inseam -- a lot less "break" than the picture in the product description, but I don't like walking on my cuffs anyway). I wouldn't mind them an inch longer, but I don't look like I am ready to board Noah's Ark either.

The fit is "regular" -- straight legs, neither skinny nor loose, and very comfortable / free-moving. Materials are very high quality and there are nice, understated touches including one leather, wide belt loop and a hidden stash pocket inside of the left calf.

Bottom line: Good jeans for grown-ups. Stylish, well-made, but not fussy or overly trendy. I will look for more 686 goods on Backcountry in the future.
Comfy, look good and run true to size. The quality is good too. I expect these to last a while.
Jeans are great quality, ready for work or play. I've been a fan of 686 for years. My only problem is the sizing is way off. I wear a 32 waist in all my pants, but these are HUGE. I would recommend ordering a size down for both waist and length. Backcountry has a great return policy, but unfortunately mine got washed before I could try 'em on. I'll keep 'em for when I get a beer belly during a dry snow season...
Perfect. Not baggy, not slim.
Anyone know the inseam of a size 30? I'm...
Anyone know the inseam of a size 30? I'm a tad tall, and often find jeans too short for comfort.
These're some nice pants here- My first piece of clothing from 686 National, and I'm quite happy with the quality of craftsmanship: Solid stitching all-around, good zip/fly button, and plenty of pocket rivets. Even with my cyclist's legs, the 30x32's are on the comfortable side of a slim fit. So no complaints there.
Some quaint little touches (Like the paisly pocket liners?! Who will ever see that? A stash pocket in the leg?! Well, alright.) make you feel kinda pimped out, yet without any metro-overstatement going on.
That being said, I won't be chopping wood or working in the garage with these on, but that's more than made up for by the amount of compliments I've received when out on the town!
Worth the money if this sounds like it's up your alley.
Stay incognito with these jeans
I like jeans that last and don't look too scenic. Biggest problems with jeans is soo many guys these days are spending money on jeans with designer pockets and stupid shit. Cut the bullshit and go straight and simple classic style jeans. Great style with a great price tag.
These are the best fitting jean
These are the most comfortable jean i have worn in a long time. and the wash is really good too