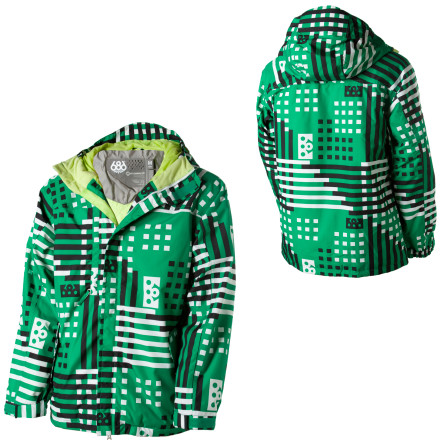 Detail Images
it was good while it lasted
i bought this jacket last sean the look is wicked nice and it definately kept me warm but i did catch an edge in the glades trail one day and there was a pricker bush and my jacket ripped in the back about 5 times an on the sleeve twice. this jacket is nice but it wont last you very long if your not too careful the material is very week find a jacket with better material and pay the extra bucks
it was good while it lasted
i bought this jacket last sean the look is wicked nice and it definately kept me warm but i did catch an edge in the glades trail one day and there was a pricker bush and my jacket ripped in the back about 5 times an on the sleeve twice. this jacket is nice but it wont last you very long if your not too careful the material is very week find a jacket with better material and pay the extra bucks
Too much $ for what little you get
seems like cheap material and way too thin. for what i paid i was expecting something better. it was returned
This jacket is Amazing I love all the features to it, it has great pocket locations Season pass Holder, Powder Strap, Light Weight and Very Durable Also Great Ventilations 2 on the sides 1 in the middle, The only Cons about this jacket is for smaller people like my self it is a little to Long Length Wise, and the Zipper "sometimes" gets stuck but I figured it out. But all in All its a GREAT JACKET!! and the Price is Cheap for all the Features n Benifits it has.
One warm and slick jacket that won't get you sick
Put on this jacket...instantly started heating up in room temp. pair this with a good fleece or boarding sweatshirt and you'll be just fine for the season. It's a little baggy but don't fear, it still is perfectly sized just with a bit of hang so it can go over ur pants and keep snow out when u tighten the drawlstrings located in the hand/side pockets. Their are also and abundant amount of pockets for you to stash your good stuff, just don't tell your mom.
is this gona keep me warm and dry? the...
is this gona keep me warm and dry? the insulation doesn't seem very good
Jacket is surprisingly warm. Alone it is warm enough for most weather, but the cut is generous enough that you can layer when it gets really cold.

As far as dry- it isn't GoreTex good, but as long as the hill isn't all slush, you shouldn't have a problem.
Well - the jacket looks really sweet, I'll give it that. A good enough range of features and pockets given the price. Cons are that the fabric felt really cheap compared to my indestructible Sessions jacket, I felt like I could tear it with my hands. I think it was a bad sign that it came with a patch of fabric for when it ripped.Im 6'1, 205lbs, but not a fatass - this jacket in a L had a perfect sleeve length, and was longer at the waist than I was used to - I really liked the fit in that regard, but once zipped up, I didn't have a ton of room inside for layering, and the XL was just way too big.
is 686 baggy? I'm wondering if size S would...
is 686 baggy? I'm wondering if size S would be just a perfect fit If i where a size M for burton jacket?
Kinda want the baggy look
YEAH BRO IT IS DEFINETLY BAGGY, I USE ALL THEIR SMARTY GEAR BUT BELIEVE ME GOING UP A SIZE IS WORTH IT. IT ROCKS!! BUT I ALSO LIKE MY GEAR A LITTLE ROOMY
Ya they do run baggy but keepin it ur regular size will be fine. I normally wear a medium too and when i put this on i was like "wait...this isn't that much bigger". It'll be fine for you, especially if you're like me and still have a little growing to do, otherwise it's still good cuz its got drawlstrings in the pockets to help secure it, which is why 686 makes it baggy; so it can go over ur pants and keep snow out.