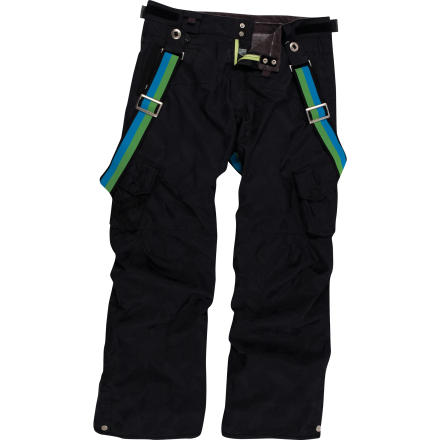 Im 6'1" 150lbs, and i dont know what size...
Im 6'1" 150lbs, and i dont know what size to get. If somebody could help me out that would be awesome! Thanks!!
You want a large for sure. We're out of mediums.
Ok but i have a dark teal jacket and thats the only larges you have.. i dont want the same color.
They do run big; I am 6'2" with a 34 inseam and a 31 waist, and I purchased a medium, which is perfect in terms of length.

They are not baggy, but not skin tight, either. They are waterproof and are clearly a high-quality snow pant.
Got these pants and used em for a two day trip in Durango it was snowing the whole day and I wasn't cold once in these bad boys! Their great pants, and super warm! If its a really cold day maybe wear some thermal, but if its sunny youll be fine with just the pants they are that warm!!
These pants are sick. Super warm and comfortable. do run a little big but nothing a belt cant fix. Wouldn't go a size smaller cause the bagy look of these makes these pants.
Super comfty. Super warm. They definitely run big so go with one size smaller.
best snow pants ive ever had. super warm, super waterproof, super durable, super steezy, nuff said.
Awesome snowboarding pants!
Awesome pants - like them a lot.
Had 14 days of park and powder on them now. Very comfortable - great fit and the suspenders make them look even more rad!
Unanswered Question
yo, lookin for a similar style special...
yo, lookin for a similar style special blend snow pants. Have the o.g. (3 years ago) pair and they have removable baggy sweats in them. Long story short, they got thrashed. I know you cant just get the sweats to put back in ( unless goin getto custom) but is there a pant out there that are comp. to those, super baggy sweats inside and dope to boot?