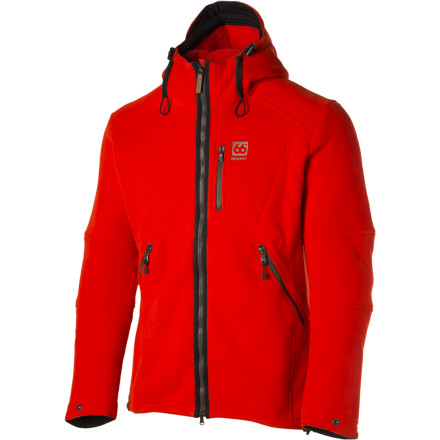 Detail Images
What do you think about this product?
Have questions about this product?
This fleece jacket is a slim athletic fit, and a bit different then most US fits/styles. Im 6 ft 165# usually get a M in brands such as TNF, Patagucci, OR, but based on other reviews I got a Large. I probably could have gone XL. I like the contoured fit of the large but not much room for more than a t-shirt or base layer. The pit areas ride a bit high and do not have extra fabric so at times the sleeves ride up a little when really reaching out. I use this as a around town and campus as a casual hoody. It does not block 100% wind but a light breeze will go unnoticed. The lowest temp I used this in was 20F and was still plenty warm. I got this on SAC and would not have payed full retail price. Oh, and yes european zippers, nice furry soft inside that gets a little static; still I kept the jacket.
Just got my dark green Stormur in a size large, which I expected to be a little big on me at 5'9"/168 lbs. Isn't big at all, in fact it's almost too small - the sizing is certainly meant for skinny guys. The articulated sleeve length is perfect (I wear a 16.5/32 dress shirt), which is odd becuase large jackets are usually too long in the sleeve for me. The length is great, but the jacket could be bigger across the upper back - it's a big tight if I hold my arms out straight in front of me. The color is fantastic and the design is very trick (Euro reverse zipper), though I wouldn't take it on a hiking trip due to the suprising weight. It's definitely not a lightweight fleece, and is indeed a jacket. The Polartec WindPro Highloft fleece is a new one for me; it's a tight weave on the outside but like a shag carpet on the inside. Lots of static putting it on and taking it off, but a static spray may take care of that. Will probably keep it.
Picked up a red M and blue L from SAC. Deciding whether to keep. In the meantime, I've noticed a couple things worth sharing. The Red is more of an orange; I am reminded of that "safety" orange working-man color. Not a bad look, just not red per-se...Feels more like "boating orange" than "hunter orange" but those could well be one and the same.

Several things are rather kooky:

The snap sleeves are rather annoying. They cinch down ok although I have rather thin wrists so it might be annoying for some folks but the thing I dislike most about them is that the maker rather stupidly left the metal snap part on the inside so that it touches your exposed skin, creating two little ice cold metal bits to transmit the outside cold directly to the top of your wrist. Even just standing around in the kitchen trying it on this was noticeable and kind of distracting. You can fold the cuff up though so it's off your skin but I would have expected better for such a pricey jacket. A soft flexible elastic cuff would have been ideal.

Also they made a really strange choice of material for the last inch or so of the inside cuff and a 3 in square on either side of the zipper part of the collar around your mouth and throat. It's a crinkly, loud, coarse nylon that feels really cheap and is really out of step with the softness of the rest of the jacket and with the way almost every other brand makes sure this part of any new coat is some kind of microfleece. It's the same material that provides the stiffness to the hood brim if that helps. Again, annoying but not a deal breaker. If I keep it I might well cut or rip it out.

Finally, the zipper is on the LEFT side, which is the orientation commonly used on women's clothing. The only reason this bothers me is that I've been programmed by a lifetime of wearing men's jackets to try to pull the zipper tab free on the right side. This is a stupid and annoying problem.

The fit is pretty decent, a bit athletic and a little tight across the shoulders (could just be me: 5'9" 170, relatively fit but with some extra around the middle).

The fleece is quite heavy and warm. I haven't tested it in the wind but I suspect it would do well by itself, esp if you were on your way to somewhere warm and wanted to peel down to a shirt when you got there. Seems like it could be easy to overheat in this thing if you are moving around a lot but standing at a bus stop you should be toasty. Nicely placed and angled pockets. The hood is heavy duty lined with the same fleece as the jacket, the sort you wouldn't need a hat with most likely.

One last thing, that might be a defect with one of the jackets I got - the interior fleece on the red jacket is really rough, and nothing like that in the blue one. I'm in contact with SAC about this and will see if it's some issue with the reds or just this jacket. It's a serious difference though, enough to make me want to return the red. I'll post a follow-up when I figure it out.

Made in Latvia. No idea what year model. Felt like it was worth a C note not much more. Can't imagine feeling like full price would make sense here.