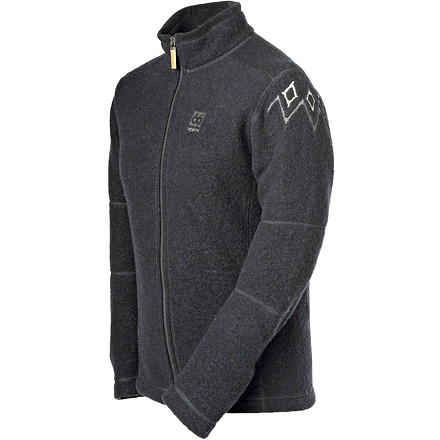 Wow..best purchase this year!
This light weight wool is a wonderful sweater to wear in terms of comfort and looks--The cut is athletic, because they put fleece liner on the inside of the collar the wool is very comfy under a softshell in even sub zero weather.The zipper could be of higher quality. Highly recommended!
This is a very nice looking sweater from the Icelandic company. It is made of fairly good quality wool so the itch was tolerable. I usually don't wear anything made of wool because I have sensitive skin, but this sweater seems alright on top of just a short sleeve shirt. Part of it might be because they put fleece liner on the inside of the collar.
The weight of it is minimum. It is lighter than most fleece jackets, but of course, it doesn't have any pockets. I speculate the suitable wearing temperature range of it is about 40~60F in no wind or in town situations. I would say this is the kind of piece you wear for the look, not the functionality. But it can be worn as a mid layer under a shell, which obviously defeat the propose of such a stylish sweater. The cut is good around the shoulder but a little bit wide at the bottom. The zipper can and should be of higher quality. And like other people suggested, the pull of the zipper is on the left hand side.
Stylish, warm, and well-made
My Kaldi zip sweater is worth every penny. The thick wool is as warm as any of my fleece jackets, and way cooler. The embroidery on the shoulders is a nice touch.
I bought this sweater for my boyfriend's birthday this year. We are planning a trip to Iceland this summer and I thought this would be a nice present - both for symbolism as well as useful in the chilly Icelandic weather. I wasn't sure if I'd like the color - (or if he would for that matter!) it was the only one available in his size since it was on clearance. I was pleasantly surprised by how good looking it was though. He wears it all the time and says that it is very warm and comfortable (he is VERY picky about fit and texture). And it looks great!