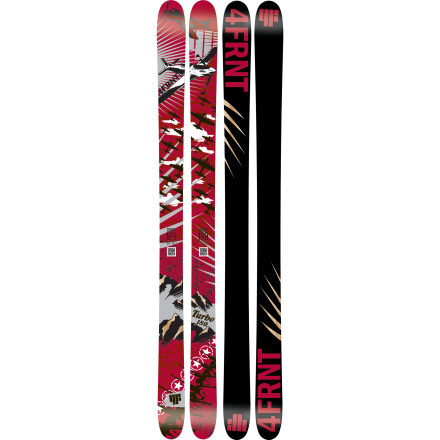 Whether you start your day off with avalanche work, lift maintenance, snow-pack research, or a cup of coffee with your ski posse, the 4FRNT Turbo Ski is ready for all-mountain domination. The Turbo could care less about what the weather report says because its early-rise profile and classic camber underfoot redline no matter the snow conditions. This true one-quiver ski gives you confidence in variable off-trail conditions, but still has solid stability when you want to mach down corduroy or lap it up in the back bowls.
The early-rise tip boosts float in soft snow, busts through crud, and helps with turn initiation
Classic camber features a traditional ski shape that gives the ski maximum performance in groomed conditions
Twintip shape incorporates an upturned tail that enables switch skiing and landing
Traditional Contact shape means that the two contact points of the ski are at the tip and tail for increased control
Hi-Lite core incorporates a blend of poplar and beech wood to ensure a snappy, lightweight core with enough substance to drive wider skis in soft snow
Sandwich construction consists of layers of wood and fiberglass sandwiched together to create a high-performance ski
Sandwich construction offers incredible feel, more desirable flex characteristics, durability, and longevity
A mid-fat waist provides a versatile ski that serves as your one-ski-quiver in soft snow, crud, groomers, tight techy terrain, and steep lines
An asymmetrical sidecut supplies a directional shape that gives the ski a more consistent feel
Graphics by artist Mark J
ace skis
Familiarity:

I've used it once or twice and have initial impressions
Great all rounder skis. Hold strong through crud. Put them on their edge and the long carve feels great. And on shorter radius, more aggressive turns they feel even better. Very responsive skis.

I am 180cm tall and purchased the 175cm length skis, but with the early rise in the tips I probably should have gone the next size up. They do feel a tad too short, so this will make them better in the trees/bumps and not so good for big mountain for me.
I live in Australia. Mostly ice and hardpack...
I live in Australia. Mostly ice and hardpack here. I'm an advanced skier, I also ski ocasionally in Japan. Would this ski be okay on the ice and hardpack. As in, could I go fast on hardpack, and it'll hold its edge and not flap about? Thanks
Best Answer
Hey Nick,

This ski will kills it on hard conditions. Those are the conditions I first skies this ski in and it held an edge much better than I expected. It really is a true all mountain ski and can handle any conditions you throw at it. For skiing anything from crud, to ice, to corn I would recommend this ski. Get them while they are hot since 4FRNT is not making this ski any longer and has replaced it with the Devastator. The Devastator is also an excellent all around ski.
Hi Nick I am also in Australia and they have been great in Mt Buller's varied conditions. Highly recommended and a great price right now.
Good to hear Chris. I ski stuff like "the maze" at falls creek and "lindsay's" and "marrys slide". Only go to bullet every now and then. What runs are you doing there, just so I get an idea of what style/level these skis are good for. Thanks
I'm in between these, the Moment PB&J's,...
I'm in between these, the Moment PB&J's, the Line SFB's, and Liberty Helix's. Help a brother out?
Best Answer
Hey Josh,



Depends on your ability level and how you ski. The Sir Francis Bacon and PBJ are on the slightly softer side while the Helix and Turbo are a little stiffer. So, if you like a hard charging ski and put a lot of power into your technique, go with the Helix or Turbo. If you are more of a finesse skier, stick with the PBJ or Francis Bacons. If you want a true middle of the road flex, PBJ will be closest.
I have heard good things about these skis over the years, I believe it was originally designed by founding member of the New Canadian Air Force Vincent Dorian. I also would check out the new 4Frnt Cody as well.
I just thought the Fujas were real soft....
I just thought the Fujas were real soft. Which is perfect because this seems like it will solve that problem easily! I do tend to venture into the trees more lately than I ever have before. Would I have any issues driving these in the trees?
Best Answer
You should not have a problem with these skis in the trees but you have to be careful about sizing as the larger the ski, the harder it becomes to make tight turns in the trees.
I had a quick question about these skis....
I had a quick question about these skis. I am from the North East and I am looking for a new pair of skis. I was leaning a toward these turbos because I do take trips out west and I heard they are decent on groomers. I am a former racer and have become more of an all mountain skier since I am done racing but I still love to charge my groomers when I can. I was out at Steamboat early this year for some decent spring skiing and I tried out the K2 Fujas. I liked them but I was not in love. I was wondering if these ride similar to the Fujas? I want something that will charge well and hold an edge on groomers and I also want to be able to take these on some back country and tree runs in the North East. Any help is much appreciated!
Best Answer
Hey Kud,



If you are a former racer I think you'll prefer these to the Fujas. Similar dimensions, but less rocker (it's nearly zero) and MUCH stiffer. I don't love the Fujas (thought I often recommend them to intermediate skiers looking for an all-mountain option out west b/c they are a softer flex and they can do it all pretty well). The turbos are probably my favorite all-around ski and the only drawback to me is that they aren't suited for people who don't want to drive the shovel like a race ski. That being said, the feel will vary with the mounting point and I've got mine pretty far back since I only go forward. I'm sure they would suit the jibby crowd if you mounted them center.



What did you NOT like about the Fujas? Maybe I can provide a better answer as to whether you'll like these based on that.
Looking at an older model (unchanged except for topsheets). I just love hearing Matt talk about one of his best skis in his underwear.
Look no further for an all-around quiver
Gender:

Male

Familiarity:

I've used it several times
This is my favorite ski I've ever been on. It can be used for anything. High speeds, crud, ice, powder. Note that these aren't going to be the best on each condition, but dang they're just too good overall to pass up. Oh and the graphic makes you feel like your leading a bombing raid that's gonna turn the tide of the war.



I'm 5'8" and got the 175cm
great skis
Gender:

Male

Familiarity:

I've put it through the wringer
This ski is a great one ski quiver, although i use it mainly as a hard pack ski.



Moguls: It gets it done. Its not absolutely amazing in moguls, but it works.



Park: It works pretty well, the extra width gives it better stability on landings, and there is no problem skiing switch on these.



Powder: despite the small amount of rocker, if you can ski fast, these will ski powder very well. it can handle all but the deepest of powder.



Crud: This isn't the best ski for crud, because it doesnt have as wide of a shovel, or as much rocker as a lot of other skis out there. I have had a little bit of problems with deflection on chopped up conditions, but if you can absorb it with your knees you wont have any problems.



All in all, this is a great one ski quiver. It works well on every thing. Its super stable and can ski very fast.


Unreal all-mountain ski
Gender:

Male

Familiarity:

I've put it through the wringer
This is the best all mountain ski that I have ever owned. If you are searching for a great all around ski, your search has ended. This ski is extremely playful, but stiff enough to handle anything I throw at it. It performs in every condition that you can think of. Needless to say, I'm very thankful that I invested in the Turbo.....worth every penny.
A quiver of one
Gender:

Male

Familiarity:

I've put it through the wringer
A great all around quiver of one! Great for pretty much everything except the super deep sub-8% powder!



Charges, slashes, stomps, and does pretty much anything you want it to! In denser power, it floats just fine. In light power, it does sink in (as do 90% of the supposed "powder" skis on the market.



Go get you some!



If you ski switch and/or like the slarvy carvy, mount at +1 or +2.



The only reason I did not give it five stars is the lack of float in light powder. Still, I would not keep that fact from driving me to buy a pair of these sick ass sticks!
I have last years model of this ski in a 189 (i'm 6-2 @200lbs) and use it everyday for work and then play. It's the perfect patrol ski as it can handle everything from wind buffed to thigh deep pow and still rips GS turns on piste. It blows me away how simple the ski looks compared to how rad it feels. I hardly ever use anything else anymore. Have put it through the wringer and beached it on rocks and it's held up incredibly well. The truest one quiver ski.
How do these ski compare with an Armada...
How do these ski compare with an Armada TST? comparable? or different
Best Answer
Fanatix - the Turbo is a more traditional shape and it is stiffer than then TST. The TST will perhaps be a bit less hooky in soft snow, but it will not carve up a groomer quite as well in my opinion and it has a bit of a floppy tip. The Turbo is pretty much my favorite ski ever for all-mountain use, so I have to admit some bias.
Thank you mark, what about the turn radius on the groomers? Does it feel like you are riding a mid-fat, or is it still comfortable? I'm still in doubt between TST and turbo. The TST has a small radius which is nice for moguls etc.
Yeah - if you're looking for a small radius then you may prefer the TST. The Turbo is a medium radius ski and would be more work in the bumps. For groomers, however, it will lay a trench with ease due to the stiffness. Feels like a mid fat for sure - but it seems like everything is a mid fat now. If you are on the east coast the Turbo would be a great fat ski, if out west then a great daily driver. If you ask the same question over on the TST page perhaps you can get more insight from someone who has spent more time on that ski than I have.
I'm a 5'11 170lbs fast/fluid/aggressive...
I'm a 5'11 170lbs fast/fluid/aggressive skier looking for a new daily driver "do everything but pow" ski. I have dedicated pow skis, so I'm looking for these to be able to do everything else (steep bumps, trees, booters, groomers, etc). I'm thinking of going 182 instead of 189 for the maneuverability factor, especially since these are a more traditionally cambered ski compared to a lot of other skis on the market today. Seems to me like the 189 would be a lot to handle in tight spots and bumps, would I be missing out by getting the 182?
I am a little heavier than you and I ride the 189 exclusively at Alta and Snowbird. With the early rise in the tip and tail they are super nimble but at the same time super stable at high speeds. I would only go with the 182 if you were planning on spinning and weigth was a factor
189 these dont run long like a k2 and you get a fatter waist. if you're good and you're 5'11'' go with the longer
Best Answer
I'm your height and 10 lbs heavier and I love the 182. I almost never feel like I am outrunning the shorter ski. It's pretty stiff so I feel like I can still charge but the shorter ski is so easy to maneuver that I find myself playing much more than on a longer pair of skis. Both sizes have benefits but don't count the 182 out.
I just bought a pair over the moment belefonte. Haven't been on them yet, not for a few mre days. Did I make the right choice or should I have gone with the belafonte