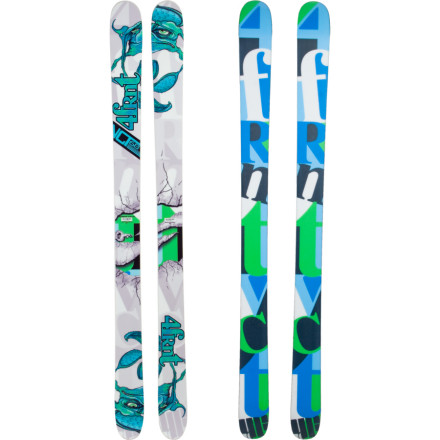 Detail Images
I own both VCTs and VCT turbos in a 182. After my VCTs were 3 years old or so, and were getting pretty beat, I picked up the turbo. Honestly both the VCT and VCT turbo ski very similarly. The Turbo feels maybe slightly shorter, and you can notice a little less tip-dive in soft snow. That said, next to the turbo, the VCT is my favorite all mountain ski ever.

Stiff enough to hold it down at speed, with a little bit of forgiveness in the tip and tail, with enough versatility for a couple laps in the park as well. This ski is great
I bought a pair of these and blew out the sidewall on day 4. however I bought them on tramdock a Backcountry company and they told me they will not warrenty them and to call 4frnt> which I did then 4frnt said send them in pay for shipping and"if" we deem it to be manufacting defect we will do something however we dont have any more of them in stock. if we deem it to be impact caused you will have to pay shipping and storage fees to get them back. 4days still leaves a few scratches. so I guess I will be having my local ski shop fill them with apoxy and ride them to the ground as I need them for my upcoming trip out west. the girl at 4frnt was nice enough but that stiuation dosent work for me and I will not be buying anything from them again. nor BC

Not happy at all
I am in a serious debate on two skis. The...
I am in a serious debate on two skis. The VCT and the VCT Turbos. I see the normal VCTs are a little stiffer and also do not have early riser tips on them. I do only 20 days a year out west, mainly side country. I look for good snow like everyone else, but am lucky to find a fresh foot. For that reason, I do a lot of groomers, bumps, in the trees, etc. I want a ski that floats in pow well, but can still rip it on the groomers since a lot of my time is spent there. Any recommendations? Also, I am have been snowboarding for the past 15 years and just looking to get back into skiing. I am an aggressive snowboarder, but skiing will take a little to get back. I don't want a pair that will kill my legs, but also something with enough edge. I am almost 6 foot and 170lbs. Would you go with 175's or 182's?
Best Answer
I ski on the vct 182 and am 5'8" and 145# so yeah i would definetly go with the 182. It is a great all around ski, it does well in all types of snow conditions and is super fun. I have never skied the turbo but according to others who have, really the only place it does not do as well as the regular vct is on absolute boilerplate ice. Really it comes down to whether you want to sacrifice the complete ice performance for a little more fun in the powder. In my opinion i think you should go with the Turbo since this will be your quiver of one and it sounds like you will be doing your best to stay away from the hard stuff and in the pow. Just my 2c hope it helped!
By far the best ski in 4Frnt's lineup, and perhaps one of the best (and most underrated) skis of the last three years. The dimensions have stayed the same, and for good reason, this ski is a perfect, do-it-all, mountain ripper. I have had my 2008's for two seasons now and couldn't be happier! They tour great, and very durable, are very good for the size on groomers, great in the crud, and stiff enough for most anything but with enough flex to float wonderfully in the powder. I also enjoy seeing a company making a ski in the 182-184 range. They float very well and can make long arc turns or short touring turns.

If you are looking for one ski to do it all, trust in the VCT.
how does these perform on the hardpack,...
how does these perform on the hardpack, groomers? im 6 foot and weight 150 pounds. i need a ski that carves very well but yet floats in pow. before i usually skied a thinner ski on the foot but i want to go bigger. is this a good ski? any other good skis on the market...
check out obsethed its wide for the pow but has camber for the grommers it also has rocker for maximum flotation in the deep stuff it awesome ski
Camber, Zero Camber. Early Rise, Reverse camber? There are Many Options out there?
A Versatile, Manageable All Mountain Ski
4frnt hasn't done much to change the VCT, because it's about perfect. If you're looking for something like the older Gotamas, or the ANT, these are a stick to consider, too. They're a little softer than the ANT, but still charge hard and seem to have a little more resiliency in their turns. If you're out in the West, go for the 182 or 189. The length of these skis will compensate for the relatively narrow waist (for a powder ski) and you'll still be able to rip in the deep.The VCT hold well on groomed runs as well. It's not a super turny ski, but you can carve it if you want, and it won't wash out unless you let it.Buttery smooth turns and low swing weight. These things are great for backcountry freestyle/jib runs, and versatile enough to be a one ski quiver. You won't even blink when transitioning from powder, to crud, to groomer. Sintered bases are excellent for wax retention and scratch resistance.The shorter models turn easier, so if you won't be skiing a lot of deep snow, shorter is ok.Represent a SLC company, and you got to know that Slovenian skis are well made.These things are awesome with Hammerhead telemark bindings, too.
I have to recommend though, the VCT Turbo as a slightly more versatile ski, because it favors powder skiing more, but doesn't lose any performance on groomers, unless it's ice.
I've skied 6 days on the 4FRNT VCT so far this year and was totally shocked at its performance on the groomers. Clearly that isn't where the ski is meant to live but it holds an edge and is surprisingly quick edge to edge. I ski the 182 and it's about perfect for a daily driver here in Utah - 104mm at the waist floats fine unless it's a huge day. The coolest thing about this ski is that it is a mid fat that could handle east coast conditions no prob and still rip on a blower day in Utah.
I absolutly love the VCT 189. It absolutly rips on the groomers, no matter how icy they may be. They are even fun in the park, although it takes some work to do bigger spins (540+). Overall, a very fun ski that can rail on the groom or float in the pow