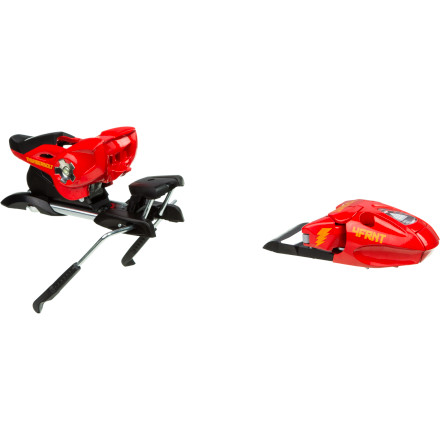 If your wicked drops and exposed lines lend no room for error, clamp down into the 4FRNT Thunderbolt Ski Binding to keep your ski secured and your head in the game. In no-fall zones, a lost ski could mean the end of you, so this binding has an 8-18 DIN to give you the confidence to go big and recover when things don't work out. A dynamic toe features 108-degree, wide-angle release vertically and horizontally for safe exit. And forward pressure from the full-metal heel keeps you nice and tight. The Zero Ramp Angle keeps your boot in a neutral position, handy when riding switch or smearing. And this bad-boy binding has metal and steel housing and components for added durability. Because when you take a beating, so does your binding.

DIN range 8 to 18
Diagonal toe piece with four rollers and gliding inserts
Toe piece with 180-degree release vertically and horizontally
Full metal heel piece
Oversized anti-friction device
BoilerPlate forward pressure
Zero Ramp Angle neutral position
Metal and steel housing and components
What do you think about this product?
Have questions about this product?
bomber
Familiarity:

I've put it through the wringer
I skied these really hard last season, and I was very impressed. I felt super comfortable on them on all kinds of terrain. They handle speed very well, they could stomp anything, and I never really had any problems with pre release. The full steel construction and 18 din make these super reliable, so you can really push these as much as you can on any other binding. I would definitely buy these before I bought any marker binding, but the FKS is arguably a better choice. I love how easy these are to get in and out of, and how low to the ski they are. Theres no butt hole killer tail pieces, which is kind of nice on backslaps. I dont know why more people dont use these, they're really great big mountain bindings.



ALso, i dont know why these are in the touring section, but you guys might want to change that.
Are these bindings adjustable at all?...
Are these bindings adjustable at all? Looking to mount them on new 4FRNT Devastator, but may get new boots next year ...



If not, other recommendations for alpine bindings for Devastator?
Best Answer
These bindings will be able to adjust a little bit to a bigger boot but it mainly depends on how much bigger of a boot you are going too. I would suggest having the bindings mounted at the smallest setting so that the binding will only be able to adjust to a bigger boot. This way when you size up you should be good to go just as long as you are not going more than a full shell size bigger next year.
I'd like to mount these on a pair of 4FRNT...
I'd like to mount these on a pair of 4FRNT Turbos that have a width of 104. Will a 97mm brake width work or do I need to bump up to a 115mm?
Best Answer
A 7mm bend is on the edge of what I'd do. It certainly would be easier to make it happen with a bigger brake, 105 would be optimal if you can find an aftermarket brake somewhere.
Ditto what Arthur said. A bigger bend not only weakens the brake, but it means the brake doesn't dig in as well due to the wider angle. I know 4FRNT sells spare brakes on their website, but I couldn't find the exact model you need here. Worth a closer look though.