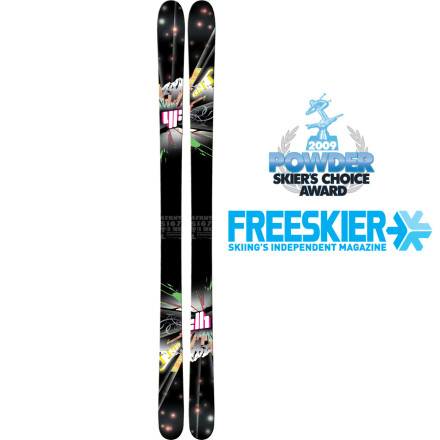 Detail Images
How far should you mount your bindings...
How far should you mount your bindings back if ya ski 50/50 park and all mtn.
I would say that a mounting around +3 from trad would be decent, maybe +4. Doesn't affect forward carving too much, and is better switch than just trad stance.
Alright, Not the greatest.
The more dramatic sidecut and stability of the STL made the ski very popular when it came to riding all-mountain. I found it to be a bit heavy for park riding, though, so this one is best suited for shredding everywhere and is not a park-specific tool like some of the other park skis on the market.
I wouldn't classify myself as a park skier, but theses skis are great. I had them center mounted and love them. Lots of pop off the jumps and still solid rocking the groomers at high speed. Much lighter than my other skis too. Bonus point: the graphics won't look ridiculous in a few years and don't make me wanna hurl.
hey are these skis semmetrical, they probly...
hey are these skis semmetrical, they probly are but i just wanna make sure.
I have only ridden them as demo's but heres what i think. i have last years STL's
Pro's
No swing weight, lighter than last year, slay the park, great flex. although there advertised as a park ski i have taken them on double blacks, and some extreme. and once in a waist deep pow stash i found, they ski awesome

cons-
only have one (mildly unjustified) con, last year the topsheet chipped alot. supposidly they have new material.
These are pretty dope skis for the first few weeks. they will last you maybe two or three urban trips, and some good laps in the park, but don't get too attached. The edges and base are extremely ginger, and will easily rip out if not taken care of properly. bring them inside everytime you leave the hill, because water will get under your edges and freeze and do some major damage to your boards. All in all, they are nice in the park, but dont expect them to last too long.
What are a good type of binding to get...
What are a good type of binding to get with this ski for under 250$? and lots of revews say that this ski has bad duribilty is that true?
Agreed on the PX 12s. Good bindings so far and the colors even match the skis.
Good ski by 4FRNT. Handles the groomers, and the choppy stuffy great and it kills it in the park. Not recommended for pow. Thats what the fattys are for. I have experienced some top sheet wear and tear. Scratching and chipping. That would be my only gripe about the ski. But it rides excellent.
These ski's are sooo bomb proof. they are super stable at high speeds, no chatter. They kill the park, and the rest of the mountain. super fun to cruise groomers.