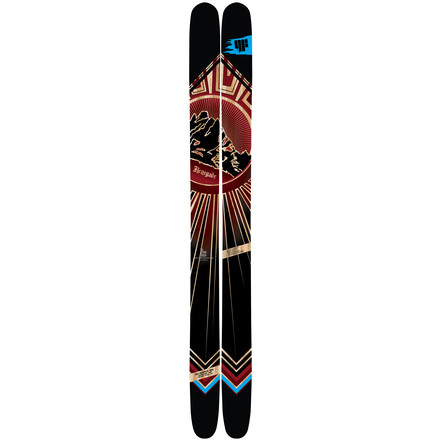 Community Images
Description
Ski like you're on the run from the law.
Every year, Eric Hjorleifson pushes himself into bigger, gnarlier, and deeper terrain, so it's not surprising that he's become known for designing his own gear, the better to handle his demanding riding. His newest creation is the 4FRNT Renegade Ski, which is the fattest board in 4FRNT's line, making it Hoji's tool of choice on ultra-deep, ultra-fluffy days when his namesake ski just won't cut it. You won't find Eric riding the resort groomers, so the Renegade's designed with a full rocker profile to take advantage of all the untracked cold smoke you find, and has a tapered tip and tail to allow for easy smearing and gigantic power slides.

Sliding's great, but Hoji gets up on edge better than pretty much anyone in the game, so it's only logical that the Renegade uses Reflect Tech to match the sidecut and camber profiles, offering smooth, hook-free carving and more effective edge than a fully rockered ski has any right to. The wood core's sandwiched between two fiberglass laminates for a stiff, powerful ride that's not super heavy, and 4FRNT's unique Hals semi-cap construction foregoes sidewalls for a full wrap that transmits silly amounts of energy to the ski's edges for power and control. The new Renegade even has a special tail block, which supports the skis when you're using them as walking sticks to help you pick your way through rocks, up ridges, and over rough terrain, so you won't have any more excuses for not lining up the biggest, baddest, and deepest line on the mountain.

Full rocker profile
Wood core with fiberglass laminates
Reflect Tech matching sidecut and camber profile
Hals semi-cap construction
Tapered tip and tail
Tail block
Asymmetrical design
Share your thoughts
What do you think of the
4FRNT Skis
Renegade Ski
? Share a...
Super quick yet stable eastern tree ski.
Gender:

Male

Familiarity:

I've put it through the wringer
I have been out on this ski about 15 days this season and its by far one of the most confidence inspiring skis in 3d snow, especially weird 3d snow that I have been on. I swear the worse the snow is the better this ski gets. Not ice though, not even close to be being good on ice.

The renegade is surprising quick and tree skiing in any sort of non packed snow and just float, pivots, slarves or heck high edge angle carves in deep snow better than any other ski I have ever owned. Its adapt at any angle of skiing from 40-50 degree mud slides in Smuggler Notch, to the steep trees of hell brook, or to low angle meadow skipping.

Pros - extremely easy to ski in weird snow type like wind slab, heavy cement, upside down snow, sun crusted snow, spring mank, or any combo of the above. bases seem to shrugg off rock hits pretty easily. Stable and nimble in any sort of 3d snow situation.

Cons - awful on skied out resort run and bumps once you can find the hard under layer. Would be hard to be an only powder ski anywhere let alone the east. In REALLY light snow its does not plane up as easily as a softer powder ski like a Patron.
This ski deserves a review
Never written a review before but this ski deserves one. I was heading back to AK this year after skiing Haines in 2010. This time it was the Northern Chugach with Silverton Mountain Guides. I grew up in the Alps, so I am more used to ski steep alpine lines but I live and skied in the US/Canada for the past few years. My typical weapon of choice is the JJ. when I hit BC for cat skiing or something I take a Magic J. The latter I brought to AK but I wanted to bring a second ski just in case. Something a little stiffer, more directional, long radius. So my buddy recommended the Renegades. He sells them in his shop (sells JJ etc too).

Initially I was skeptical due to the full rocker profile. I haven't skied a full rockered ski since the Armada ARG which skied like a banana (a fun one though but ski technology definitely moved on since). First thing you notice, the ski is beautiful. Just having it in your hands tells you instantly that this is a piece of craftsmanship. It's stiff for sure but not a plank. It looks and feels heavy but we put it on a scale in the shop and it was actually lighter than the 2014/2015 JJ.

The season started slow for me. No pow on Christmas in the alps. So the only time I could take the Rens out was for two days in Jackson in January with questionable snowpack. First day was sidecountry with high avi risk. They skied fun but couldn't open them up really. But it was instantly clear that the full rocker profile didn't feel odd as I initially feared. Second day was touring the Teton pass (yes I know, heavy setup, I have beasts on them). Avi risk increased to high so again, very mellow runs and not much vert. Again, they felt good, surfy feel, but couldn't tell much other than they seem to work in the trees as well. I like the JJs for tree skiing and woudl probably still prefer tehm at this point but need to spend more time on the Rens to say.

Then I took them to AK. And boy are they good!

The Chugach isn't particularly blessed with snow this year. Snowpack is variable, mostly firm pow with rare deep pow and also occasional hardpack. I skied the Rens on the first day and man were they fun. Then I took the magic Js out the next and instantly regretted. The magic Js where chattery and I got pushed around, skiable but definitely more work. But the rens were just fun. Tight couloirs, check. Dropping the occasional cliff into a 45 degree chute and the need for a quick turn, check. Going Mach 1 on long steep lines, check. Most importantly, they are confidence inspiring. I injured my ankle this year and thus couldn't drop anything big. I don't know how the Renegades would perform in this case but can't wait to find out.

I plan to go again next year and I might just get a second pair of renegades and leave everything else at home.
Holy bananas!!!
Familiarity:

I've put it through the wringer
Definitely the best ski I've ever ridden. I ride the 196. I'm 6'4" and weigh around 220. Former racer from MI (who isn't?). I can shred full speed through every condition imaginable and lay trenches on groomers.

I have seen reviews that they aren't great in tight spots, but I've found them to be nimble enough for any of the tight stuff off Gad 2 and Wildcat. The only time they aren't nimble enough is when it's a question of how a long ski fits in a tight spot, not a question of whether it will turn.
This is Mike.
He is my #1 fav person to ski with in the universe.
He typically skis over 100 days a year. I would estimate he spends approximately 75 of those days skiing at snowbird on these skis.
In terms of skier type: Mike is aggressive, smoother than butter, and he's got the flows. He adores this ski and I think they love him back in return.
He had a major blowout on his last pair, but 4FRNT gave him no guff about getting a replacement.
Magnificent ski
Familiarity:

I've used it several times
I skied the 196 renegade last year and it was a bit of a brute for resort skiing. I had the opportunity to let them run when the rope dropped on mineral basin at snowbird, and I realized how fun a tool these skis can be in untracked snow. I'm not sure I've ever skied that fast and felt so at home. However, I'm 6'0, 210lb, and strong, and they were really difficult to thrown around in tight spots. They demanded constant physical input. The 196 is not what I wanted for a daily driver.
So this year I purchased the 186 thinking the shorter length would be more practical. I could not have been more spot-on. So far I've skied about 10 days in varying conditions. These skis will go as fast as you can take them. I was a little afraid that the full rocker + shorter (186) length would not be able to handle high speed through rough run-outs, but they've handled everything I've thrown at them. For a ski with a long turn radius, they also make short turns very well and they have a very comfortable sweet spot. I took alternating runs with the Rossi Super 7, which likes a similar riding stance, and the renegades were worlds more stable in all conditions. The Rens still reward physical input and deliberate effort, but with the 186 you can get away with being lazy after a few laps. If you have room to let them run, though....sweet baby Jesus this is a really fun ski.
Here's the breakdown. If you're considering the renegade, you've probably done your homework and you know they're an infinitely capable surfy charger. I just want to say they are much more than that. They are not for skiing boiler-plate, but every other day, you will grab the renegades. They make you a better skier. I wont tell you exactly how, but anyone who's skied them knows exactly what I'm talking about.
Big Sticks for Big Days
Gender:

Male

Familiarity:

I've used it several times
The team at 4FRNT has nailed it when it comes to producing versatile, hard charging skis. The Renegade is their flagship White Room ski and has been tested and toyed with right here in the Wasatch. It is a no-punches pulled type of ski that demands attention and respect. Don't get lazy with these boards or they will ski you right off the mountain. At 5'5"/120 lbs, the 186 is more than enough ski for me. I have had these out in the deepest of days and have never felt more confident rallying these in the steep pow fields of Snowbird's High Baldy. Yet they are nimble enough to still have fun in the trees down low. If you like to go fast and take chances, this is the ski for you.
This is the best version of the Renegade ever! The new topsheet is super durable and cuts down on chipping and delaming. Along with the semi cap sidewalls and full rocker this ski is a must for the hard charging skiers out there. Do yourself a favor and buy these now!
Finally, a real powder ski
The Renegade revolutionized what people thought a powder ski was supposed to be. This ski is wide, stiff, yet nimble and responsive. 4FRNT changed the game by bringing us this unicorn. If you've ridden it then you know, if not what are you waiting for? On a pow day there isn't anything I'd rather be standing on. It's basically cloud 9.