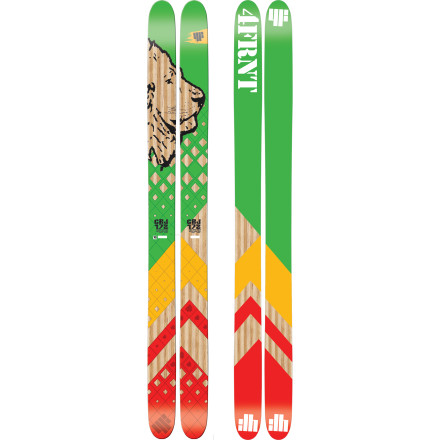 Detail Images

Community Images
Description
Turn the deep and steep into your playground.
It's hard to forget a ski legend like CR Johnson anyway, but stomping a big backcountry 3 on his meticulously designed 4FRNT CRJ Ski could be the best way to make sure you don't forget. This ski has seen very little change since he poured his soul into it, and for good reason. The wood core and pro-perfected profile dish out buttery flex in pow and gorilla-strength grip in the chalky chop so you can make the whole mountain your playground just as CR intended.
The Hi-Lite Woodcore Block uses poplar and beech to provide a playful platform with lots of rebound for spinning, slarving, and buttering up fat pillows
Handmade sandwich construction fuses the core, fiberglass, base, and top sheet between the sidewalls for strength and stability during face-melting speeds
The raised tip and tail are tapered to bring the edge contact closer to your boot for better control and float in everything from deep pow to manky crud
Traditional camber and sidecut grab old snow and cat tracks so you can still get rowdy weeks after a storm
X4 Dampening system features rubber foil between the edge and core to silence chatter during high-speed turns, without giving up CR's engineered flex
Long-lasting Q45 fiberglass sheets add longitudinal and torsional stiffness for sustained raging on crud and hardpack between righteous Tahoe dumps
Deflect ABS sidewalls and a 360 full wrap metal edge channel the power from your ski-bum legs directly to the snow for controlling your downhill destiny
Share your thoughts
What do you think of the
4FRNT Skis
CRJ Ski
? Share a...
Would these skis be good in wood trails?...
Would these skis be good in wood trails? I live on the east coast and do a lot of woods trails and not much back country or powder but would probably be heading out west at some point. Do you think they'd perform well in tight spaces?
Hey Eric,

Thanks for the question. The 4FRNT Skis CRJ Ski does have some wide dimensions for the East Coast, but its flex pattern which is more playful along the length with a bit of stiffness underfoot makes it more nimble than the size may show. Even still, I would still size down slightly in length as I've done my fair amount of time in woods trails and the shorter size will benefit in the super tight spaces without losing stability.
Could the 4frnt CRJ be used as a one ski...
Could the 4frnt CRJ be used as a one ski quiver? I live out west and ski wolf creek. Im 5'11" and 140lbs. and consider myself an advanced skier so i was thinking the 188. I have Rossignol Phantoms that work good for the icey days. Thanks for the input!
I think you're going to find these too wide for a one ski quiver. I think 95-100mm is a great underfoot dimension for a one do-it-all ski. At your height and weight, 100mm is going to provide tons of float on deep days, and something with more sidecut is going to rip the groomer a bit better.
Then what would you reccomend as a one ski quiver. I am open to all companies, not just 4frnt.
I think Andrew missed where you said you actually have another ski (Rossi Phantom SC80?) for firm days. I understand his misunderstanding you since you did say you want a "one ski quiver" and you are really talking about a two-ski quiver (CRJ and Phantoms). Correct me if I misunderstood that myself. Anyway, CRJ is going to be an awesome ski to *complement* your Phantoms and will be a ton of fun on the deep days at the creek or hiking the pass. If you plan to only have one ski in your quiver, I would go with the Atomic Access if you like to ski switch or the K2 Hardside if not.
I would go for the 4Frnt Cody (102mm underfoot) as skis for one ski to do it all
I am 5'8 and 125. want the skis to last...
I am 5'8 and 125. want the skis to last me for 2-3 years. What size?
I would go for the 180 if I were you. How long they last will depend on how mean you are to your skis.
Unanswered Question
looking at these or 4 frnt EHP.............
looking at these or 4 frnt EHP............thoughts?
what size? iam 5 8 190 but ski the East...
what size? iam 5 8 190 but ski the East on resort and in backcountry of maine and NH. 180 or 188?
Best Answer
I'd go 188 since they ski a bit shorter but were easy to handle am I'm only 5'10 155lb.
Keep in mind that while these are slightly more versatile than the standard 'fun shape' skis, they're still meant to be playful. They're too soft to be crud busters, and if you're expecting to pressure the front of your boots and mach down bowls or other alpine terrain, forget about it. But if you want to make lots of powder turns in trees, look no further.
How do they compare to the armada JJs
How do they compare to the armada JJs
The CRJs are similar to the JJ, but they are going to be a little more stable, and a little more versatile in variable snow, my experience.
I am 5'10'' and 130 lbs and want to ski...
I am 5'10'' and 130 lbs and want to ski lots of trees, i currently have some 179 silencers and am getting used to the length of the ski, but I am wondering what length of the CRJ's you would recommend for me.
I would go with the 180's if you're a "good" skier, 184s will be too much for you in the trees
Go with the 188's! They ski super short!
these have pretty straight sidecut and ski short. i'm 5'10 and 155 riding the 180cm's. i don't think i would want to go longer if slashing turns in trees was my goal. that straight edge wants to gun and never look back.... fyi the 180's are as long as my 188 s7's but don't waste as much legnth in the tips.
This ski performs well in all conditions especially powder and is super easy to turn! The reverse sidecut in the tip and tail make slashing turns so much more fun than your normal sidecut ski. Skiing is sooo much more fun on these guys! Very lightweight as well so you can really throwdown on whatever your into. I bought a pair for my girlfriend too and her skiing has improved significantly! My favorite ski for sure! 4FRNT has their skis dialed! Thanks C.R. and Matt for designing such an amazing ride! RIP CRJ
Hey guys if ur from the east I'm sure a lot of your local shops don't carry this bad boy on the racks and your thinking about ordering it... but its hard to pick a ski with out feeling it out first. Thats where i was. I took the risk of ordering it and couldn't be more happy. Backcountry had the lowest price best guarantee and quick delivery. The ski is flexy tip and tail and the spring back isn't harsh. ski has a thick underfoot which makes it stable and stiff under your boot. Real wood core showing in the ski its not a picture like most companies do. With saying that remember that every ski is not going to look like the one above every core is different. Has a rocker tip and tail more in the tip less in the tail. Due to conditions right now I've been holding off on riding it. I mounted on some marker barons so i can still ski the mountain and skin when we get the sleds out on the trails. Looking forward to the season bring on the snow. ~ Mike.
The CR mends the divide between what we think an all mountain ski should do nd what one is capable of. There comes those days when you are not quite sure if the mountain is socked in or just simply ski'd out. The CRJ is a go-to ski for any day. It utilizes a traditional ski geometry and feel under foot with a sidecut and camber profile suitable for low speed, cross fall-line orientation as well high speed scrubs (not sure the terminology there, all the more reason to buy them). When in soft snow, the exaggerated rocker tip and tail profile enable the skier to stay in the aggressive posture driving the tips. CR left us a couple years ago but this ski is one hell of a momento. Sincerely, Matt Sterbenz. CR's friend, ski partner and owner of 4FRNT.
I'm 5'9, 145 lbs. I'm 23, a good skier,...
I'm 5'9, 145 lbs. I'm 23, a good skier, and I prefer to ski tree runs in CO. Do you think the 172 would be ok, or do I need to size up?

Thanks!
Dylan
172 sounds good but that is as small as you should go.
Sweet thanks. So does that mean you think I'm kinda in between a 172 and 180? I was thinking that too, but leaning towards the 172 for better maneuverability in the trees.
Go with the 180 or 188 for sure! They ski very short. The 172 is way too short for you. My girlfriend is 5'6" 125 lbs and she can throw the 172's around just fine!
Matt Talks About The CRJ SKi
Matt why am I uploading vidoes for you?
Does this ski work on Ice or grommers ?
Does this ski work on Ice or grommers ?
Best Answer
With slight standard camber and slight standard side cut . . . yes! Very fun.
They work great on groomers once you get used to them! Wicked amounts of fun!
Size help.

I'm 5'10, 180 pounds. I want...
Size help.

I'm 5'10, 180 pounds. I want either the 180 or 188.

I'm a good skier, I love the long gs turns but want to be in control in tight spaces as well.
I'm 6'2"/195lbs. and skied the 188's last season and didn't have a problem with them. They don't have as much rocker in the tip and tails as others but you don't notice, cause they are still really nimble in the trees and tight spots and surf the pow with the best of them. Also having less rocker in the t&t they have more edge contact for those GS turns.
Im your same size and am more of a pillow/tight tree skier than open bowl skier, I have last years 188 and wouldn't want it shorter.
Because of the early rise this ski rides short. 188 for Sure