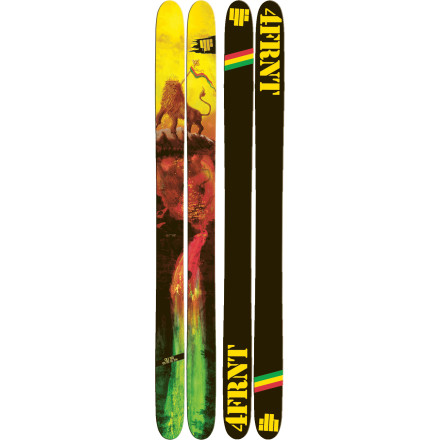 Videos
The legend of Charles Russel Johnson reminds the skiing world why we do what what do: because it's damn good fun. The 4FRNT CRJ Ski furthers that notion by putting the emphasis on slashing through backcountry pow, hitting gaps, and all-around living it up in a snowy playground. If you never knew CR, luckily there are his sick movie segments, photos, and this ski, which he conceived of and sketched out on a napkin: a lively, go-anywhere powder ski that's as happy on the hill as CR was.
A pioneer when it debuted, the CRJ ski was an anomalous combo of rocker and traditional camber. Now that profile is almost standard where the snow gets deep. Asymmetric, directional shape charges it forward with natural consistency. And a Hi-Lite wood core produces poppy rebound and stability with its fiberglass laminate. Sandwich construction creates powerful sidewall edge power, and a full wrap edge adds to that grippy security on firm snow. All this techno mumbo-jumbo means one thing: this ski rips all over the mountain, so there's no squandering of fun.

All-around backcountry powder ski
Tapered rocker lengthens tip shape where rocker meets traditional camber
Tip and tail tapered sidecut
Asymmetrical directional shape, twin tip
Sandwich construction
Hi-Lite wood core with fiberglass laminate
Full wrap edge
Graphic by artist Jacob Van Leeuwen
DVD documentary included
CRJ vs AK JJ



This is more of a question of sidecut and stiffness than anything. TGR and NS forums point out that the AK JJ will be more of a charging ski than the CRJ, though the CRJ is a blast in softer stuff because of its semi-reverse sidecut geometry and poppyness. I have been on AK JJs for a few years now and love them; the small sidecut sometimes makes me feel like the ski is letting me get lazy. I want a charger of a ski for resort mobbing, jibbing, and drops. I'll keep the AK JJs for my touring and deep day setup. How does the CRJ fare in terms of chargeability, and how does it perform on ice or in spring corn? I'm 190lbs, 6'4" and am planning on mounting the 188cm at +1cm. I have skied 182 Bacons, 186 EP Pros, 186 Prophet 100s, 192 ARVs and 195 AK JJ for reference.
Best Answer
The CRJ can definitely charge, I think the Hoji can charge a bit harder though. After skiing both I just felt like the Hoji had a way stiffer tail and would never let you be lazy on them. The CRJ is a full twin so it will be more playful but, the tail tends to wash out when you are really making a powerful exit on a turn. I would mount them at manufacturer recommendation unless you want to land or ski switch often. That will ensure you have enough tip to plow through whatever the resort wants to give you. On ice, its 118mm underfoot, probably not going to carve or slay the ice, definitely going to be more of a side slip. Spring corn though would be a blast as this ski will definitely be able to slarve around and have fun.
Gonna get these in a 180 length. I want to mount them +1 or +1.5 from recommended so i don't have such an awkward swing weight feel. Is this a good idea? I land switch sometimes and spin a lot. I know it will sacrifice some soft snow performance but how much? Please help!
I just saw an old comment from the previous model that says people mount these as far as 3cm forward. So, I'd say you're good with +1 with very little/no sacrifice. Especially if you're landing switch and spinning a lot, I think you'll appreciate being slightly more forward! Plus there's still lots of tip rocker to keep you afloat.
super ski
Familiarity:

I've put it through the wringer
this ski is absolutely killer. from groomers to the deep stuff this ski totally rips. i even go touring on this ski and it still excels. This ski is SUPER poppy, even more poppy than my fully cambered skis. it has just enough camber to hold an edge on crud/ hardpack. on first impressions of this ski on crud i wasnt to happy. it really got thrown around (because of the soft noses and wide profile). but what i learned, is that the faster you go, the better this ski performs. you really have to lay this ski down a little more on crud, but when you do lay it down, it busts through anything. This ski is lightweight and performs very well. This ski does chatter a little bit, but i can still charge hard. I would highly recomend this ski to anyone who wants a SUPER poppy and playful ski that wants to ski 70% powder and 30% all mountain. don't get me wrong, this ski still kills it inside the resort also. The tails on these skis are perfect. they are quite stiff, which helps immensely when dropping cliffs and landing back seat. the only con of this ski is that it chips every once in a while on the topsheet ( this is just like all other sandwich construction skis) . and the other con is that people want to steal my skis;) Overall i would give this ski a 5/5 . If you want a super poppy (it boosts you SUPER high) super playful, and just a powder/ all mountain killer, get this ski. hurry and buy this why you can, because this is the last year they are making the CRJ. Rip CRJ
What is the differences (if any) in the...
What is the differences (if any) in the different production years of the CRJ?
im pretty sure there havent been any changes in dimensions. just different graffics.
Hi I'd like to buy this ski as my bc...
Hi

I'd like to buy this ski as my bc touring ski (for powder) but i dunno which length would be the best for me.

I am 162 cm and i consider myself as an advanced skier. In the past 3 years i've ridden a 163cm K2 Public enemy as a resort ski.
Best Answer
i would go with the 172. i normally ski on a 170 length ski, but i purchased the 188, and i am also an advanced skier. this ski turns on a time for me and it should do the same for you. it is very light, and would make a good bc setup. ive seen people tour with this ski, and i also plan on doing a little skinning myself (with these skis). so get the 172, you should be fine
Fun all the time.
Familiarity:

I've put it through the wringer
Skied these almost every day last season, mostly Colorado and a few days in Washington. Most fun ski I've ever had. Definitely floats on powder days, super quick turning and maneuverable in soft snow. Fantastic in tight trees. The rockered/tapered tip and tail allow you to move wherever you want with no effort. Also lets them charge through bump lines much easier than you would expect for a ski that's 118 underfoot. Has amazing pop. I could air of of anything, anywhere, and could always pop just the right amount to land in the sweet spot. Made me much more aggressive knowing the skis would never let me down.

Holds an edge surprisingly well on hardpack. Better than some non-rockered skis I've been on. Nice long turn radius and no chatter just carving high-speed. Even took them through the halfpipe once in a while, honestly boosted me higher than any park skis I've used.


Fun for an AT/inbounds setup.
Familiarity:

I've used it once or twice and have initial impressions
I demoed these briefly last year, got a 188 CRJ for a good deal & gonna make them as my Dynafit setup this winter. They have camber with slight rocker in tip/tail. They are really lightweight (why I'm doing them as a Dynafit setup) but still got some stiffness, but not overly stiff, but very playful in powder.



I can't wait to do days on Teton Pass, Grand Teton National Park & other WY/MY/UT touring zones this winter putting them through the wringer.



I think I heard the CRJ is in final year of production, get them now before they are gone for good.