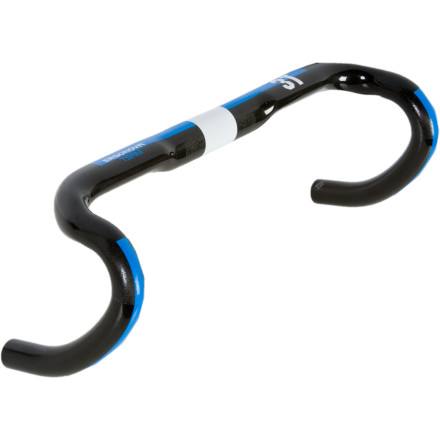 Detail Images

Community Images
Description
Pro level - for less.
The 3T Team Ergonova handlebars mimic the LTD version at a price that will make any rider smile.
The 3T Team Team Ergonova handlebars were designed to handle the rigors of pro-level competition at a price that allows even the die-hard amateur to afford them. And while they are not quite as top-tier in materials as the LTD version, they feature the same design and functionality.
The Ergonova bars were constructed from carbon fiber. The top of the bars were given the same tear-drop shape that graces the LTD bars. This shape gives your hands a flatter, more comfortable surface to hold on to. At the same time, 3T's engineers designed the bars in an array of widths from 38 to 44cm (c-c). This means that they are able to be used by a variety of riders, unlike many "ergo" bars. The reach is 77mm and the drop is 123mm. This differs from other bars such as the FSA Wing Pro which features a 145mm drop and aligns it closer with a shallow, classic bar. This makes it easier to reach comfortably for riders with small hands. The slight flare of the drops means that your forearms won't get bruised when you stand to sprint.
The bar is designed to fit a 31.8mm stem and is often paired with the Arx stem by professional-level riders. The bars flare out slightly at the drops so a set of 42cm c-c bars are actually 40cm c-c at the hoods.
The 3T Team Ergonova bars are available in One color in sizes from 38cm to 44cm center to center.
Share your thoughts
What do you think of the
3T
Ergonova Team Carbon Handlebar
? Share a...
Stiff, but compliant and comfortable.
Familiarity:

I've put it through the wringer
I replaced my stock Seven aluminum bars with these. Initially, I wasn't sure that the 46cm would be correct (I usually ride a 44), but after riding on them for several months, I can say that it is a perfect fit, and I love how the drops curve outward by about 1cm on each side. It makes for a very comfortable and easy to ride drop position. Highly recommended!
Great Bars
Familiarity:

I've put it through the wringer
I have the red and black bars on my blue, white and black bike. I wrapped them in blue Lizard Skin tape and they actually look really good. From a ride standpoint they are great. My left hand used to go numb with my old bars after 10 or so miles. The amount of vibration reduction from these bars is phenomenal. I can ride for several hours without issue. I highly recommend!
Do these have internal cable routing, or are they old ones without? I also is the color all black, or black with the red stripe?
3t ergonova team handlebar
goodbye shoulder pains hello 3t
I ride a 44cm Easton EC70 Aero and EA 70. What size would I go with here to have the feel on the hoods be similar?
Best Answer
John, these 44's will actually be 42's at the hoods. So to get the same size as the Easton you'll want 46's. Hit me up directly with any other questions. btowery@backcountry.com
Great compact bar
Familiarity:

I've put it through the wringer
After a couple decades on standard bars, I'm a convert to compact bars. The Ergonova has a great drop/reach combo that works well for my average 5'-8" body, and I now spend more time in the drops than I used to. These replaced a similar aluminum handlebar and the carbon takes out some road buzz providing a slightly nicer ride, yet are stiff when torquing during sprinting or climbing. The flattened tops provide a comfortable and stable perch and feel more natural than a standard round bar.
Great Bars!!!
Gender:

Male

Familiarity:

I've used it several times
Have these bars in stealth black. They look awesome and have great feel. Coming off a OEM Bontrager Alloy bar and these are no joke. The egg shape top tube is extremely comfortable. Makes it - almost - feel like a new bike!
Best Answer
Daniel, The model we have above is correct. The gloss black has the red accents and the black has the white lettering. The screenshot you have posted is the Ergonova Team Stealth model, which is different than the Ergonova Team.

Hit me up directly with any other questions if you'd like. btowery@backcountry.com
The stock handlebars on my Fuji Altamira are 40cm, what measurement of the 3T Ergonova handlebar would you recommend given the 2cm flare of the drops?
Hey Peter-

If you prefer the 40cm, with a flared bar I would recommend sticking with the 40cm. You would then see the wider stance in the drops.

If you have any additional questions feel free to contact me at slukas@backcountry.com
Incredibly Comfortable
Familiarity:

I've put it through the wringer
With the variety of bikes I'm lucky enough to try, I've had a chance to try a lot of different bars. I love the Zipp Contour SL Carbon for being super compact and stiff, great for sprinters or crit racers. The ENVE bars are a great all around mix of comfort and stiffness as well, but my favorite bar when I'm riding my bike long distances comes from 3T.

Though this is still a compact and stiff bar great for road racing like conditions, the Ergonova is incredibly comfortable for the long haul. The drops flare out 2mm and provide a very comfortable aggressive position. But my favorite design aspect is the oversized ergo tops. Big enough to provide an ultra comfortable climbing position, without being over bulky or in the way. It's a position you can hang out in all day on a long climb.

Added bonus, they come in feathery light at 203 g and the internal cable routing completes a sleeked look.


Stiff, light and the perfect shape, I am very pleased and highly recommend.
Good choice
Familiarity:

I've put it through the wringer
If you're looking for a comfortable, compact bar, it is hard to go wrong with this one. I ran mine for roughly a year and was very satisfied with it. Ultimately I decided to try a narrower and classic shaped bar, (3t Rotundo) but I would still be happily running these if I didn't come across a great deal. The stealth model looks great in person too, which is what really matters, right?
Awesome Awesome Bars
Familiarity:

I've used it several times
I was shocked the difference by bike felt after upgrading to these handlebars. Beautifully designed a plus.
The 3T Ergonova Team doesn't transmit as much of the road vibration. The reach is perfect and allows me much better control of the bike as I scream down the long twisty mountain road. It seems pricey but is actually a great buy and great piece of equipment.
the 2nd thumbnail pic is wrong. That's a...
the 2nd thumbnail pic is wrong. That's a ergonova Pro, which is made of aluminum
Best Answer
The second picture here is the new black option and not the Pro model in alloy. The pro has a horizontal white strip. The Black and Red option is the sale model and is listed as Gloss Black in color. The Blue is no longer available.