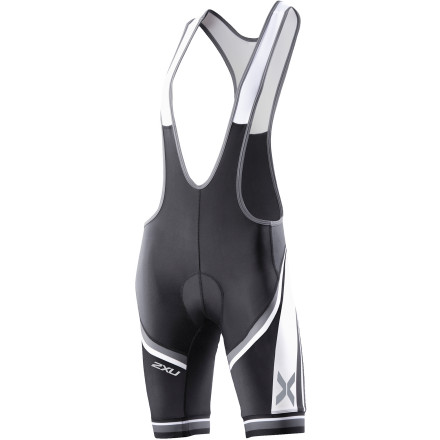 Detail Images
If there was a line in the sand with 'form' on one side and 'function' on the other, we would be standing with function. However, there are rare occasions where the two interact harmoniously. Case in point are the 2XU Sublimated Women's Bib Shorts.
To construct the Sublimated bib shorts, 2XU used its Kinetic Sub fabric. This material features many of the same characteristics found in 2XU's Kinetic Speed, only with the ability to undergo the sublimation process. So, you still receive a lightly focused graduated compression, but the most direct gains are still made through limiting muscle oscillation. Accordingly, with the fabric's enhanced level of muscle support, road vibration and jarring are controlled in order to minimize fatigue. Additionally, this material utilizes 2XU's turbulent airflow technology in order to minimize drag while you're in the saddle. And of course, the shorts' material will rapidly pull moisture away from the skin, leaving you dry, cool, and comfortable during intense aerobic outputs.
For the fit, the Sublimated bib shorts features a multi-panel construction in order to complement the female form. In fact, you'll find that 2XU actually constructed the cut of the bib shorts on a contour. So, the Sublimated bib shorts' shape is predicated on your body in the cycling position. This way, when you move in and out of the saddle, the jersey will move with you, not against you. Additionally, 2XU incorporated a flatlock stitch construction, as to eliminate abrasion. And even further along these lines, the bib shorts feature seamless leg grippers that perform the aforementioned, as well as evenly distributing pressure.
At the chamois, the top-tier characteristics of the Sublimated bib shorts continue with the use of 2XU's Fusion Pro 2 insert. Utilizing a variable density support pattern, the Fusion Pro 2 focuses support where your body needs it, not where it doesn't. Accordingly, chafing is reduced, while pressure is evenly distributed away from the nerves. In fact, you'll find that the chamois density is graduated from 120 at the rear to 40 at the nose. And while pressure is sorted through this design, abrasion is further dealt with through the insert's membrane technology. This system not only provides a soft interface between your body and the chamois, but it also regulates moisture buildup and evaporation.
The 2XU Sublimated Women's Bib Shorts are available in five sizes from X-Small to X-Large and in the colors Black/charcoal, Black/ultra violet, and Midnight/spectrum green.