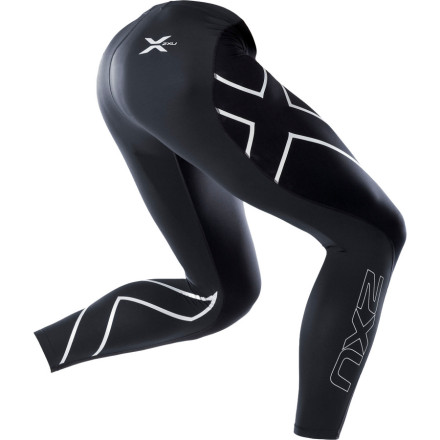 Community Images
Description
Recover faster from the most intense training session.
2XU is the bike industry leader in compression wear, thanks both to their R&D and their close association with the Cerv??lo Test Team and Team Garmin-Transitions. Of the dozens of pieces they produce, the Elite Compression Tights is the crown jewel of their entire line. What makes them stand apart? It mainly boils down to one fact: It offers more of what you want, namely, more compression. Unlike the 50 Denier High Power fabric they use in their other tights, the Elite Compression Tights uses 70 Denier fabric in key areas, providing 15% more support and 25% more power for superior muscle stability and blood flow. These key area are the calves and hamstrings -- areas 2XU identified as particularly prone to fatigue, injury, and soreness.
In case you were wondering, a "Denier" is a unit of measure for the linear mass density of fibers. It is defined as the mass in grams per 9,000 meters of a single yarn, where 1 Denier = 1 gram per 9,000 meters. Trivia aside, the Elite Compression Tights don't put aside comfort in the pursuit of performance. They have flat lock stitching to prevent seams from abrading your skin, and the graduated fit at the calves give you the perfect amount of compression without over-squeezing your legs as they taper down to the ankle.
Just as you'll down a huge glass of First Endurance Ultragen immediately after a hard ride to maximize your recovery, right after you shower you'll be laying the groundwork for soreness-free training tomorrow by slipping on these tights. Some folks wear them for an hour or two. Others sleep all night in them. They enhance circulation in your legs to get more oxygenated blood into them and to more rapidly flush out lactic acid.
Share your thoughts
What do you think of the
2XU
Elite Compression Tights
? Share a...