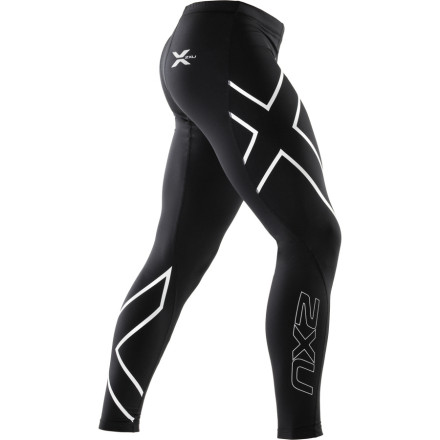 Detail Images
Description
Minimize recovery to maximize training and race performance.
The 2XU Compression Tights are identical in every regard to their higher-dollar Elite Compression Tights with only one difference: The Elite version is made with 70 Denier fabric at the calves and hamstrings, and 50 Denier everywhere else. In comparison, the standard Compression Tights use 50 Denier fabric throughout. Given that most cyclists have their worst soreness in their quadriceps muscles, paying more for extra compression in areas of secondary consequence might not make sense, and for those folks these Compression Tights are a great choice.
Just like the Elite, the Compression Tights have flat lock stitching to prevent seams from abrading your skin, and the graduated fit at the calves give you the perfect amount of compression without over-squeezing your legs as they taper down to the ankle. Thanks to the way in which 2XU's circular knit provides compression in all directions of the fabric (not just in the up-and-down and side-to-side manner of most 4-way stretch fabrics), you'll get increased blood circulation, improved venous return, and decreased muscle damage and fatigue done by intense training.
Awesome for Recovery!
Familiarity:

I've used it once or twice and have initial impressions

Fit:

True to size
I really liked these compression tights from the moment I tried them on. Running & Compression tights are almost always way too long on me (I'm 5'3") and I'm happy to say that I think these are a perfect length for anyone between 5'-5'7". These are perfect for recovery and I look forward to using them at my first Ragnar next weekend!
These are great for recovery.
I like these for recovery from long rides or wearing on runs. The fabric quality is top notch and though I was skeptical at first, I'm a believer in the use of compression clothing for recovery
Do these pants have a drawstring?
Do these pants have a drawstring?
I am 6' 1" and 160 162 pounds what size I...
I am 6' 1" and 160 162 pounds what size I need for 2xu elite compretion tight
I am 6'4" 180 and I wear a large. If you are that much smaller at 6'1" I would recommend the mediums.
I am 6' and around 160lbs. I got the M and they are a good tightness for compression pants but they are a little short- I would get MT next time.
187cm, weight 72.5-74.5kg. I went with the chart and got ST. Compression works.
I am 6'2" and 185 lb. with a 34> waist...
I am 6'2" and 185 lb. with a 34> waist - should I order the tall medium or large?
I am 6'4" 180 and I wear large 2XU bottoms. That size will give you the right amount of compression with out being to tight.
Winter is coming to upstate New York! ...
Winter is coming to upstate New York! So, some heavier attire is needed. How are these 2XU Compression Tight for the cold? And how do they run in size? True to size? Small for size? Etc.???
Hi Jim

I realize this posting is a little late relative to when you asked it, but since you are interested, I feel I should point out that these tights are not what you are looking for as cold weather riding gear...

True, you CAN ride in them, and in fact they are made to increase performance as well as recovery, but these are not designed to be warm clothes.

I myself am from Connecticut and so understand fully the need for appropriate attire. I would recommend something along these lines:

http://www.realcyclist.com/louis-garneau-gemini-chamois-2-bib-tight-mens

Hope this helps, and don't forget to use your compression tights for recovery!

-Matt
These are not for cold- they are not for hot weather but I'd prefer them in hot weather as the fabric breaths well and stays cool. Also these are better for recovery than riding. For riding in Denver winters I like a pair of cold weather tights I got at Performance with built in chamois.
These babies are the reason I can do a 2.5 hour hills workout on a Saturday, and hammer with a group on Sunday. I'm known by my friends as a true believer in compression wear, and have been known to wear these for extended periods (during a 22hr road trip to a race, for example). I am not 100% sure on the science for these things, but they work. REALLY WELL. They feel absolutely incredible after a hard workout. I would not recommend wearing them while working out; I tried doing that, and it felt like I had to work against the compression. I've never paid the full price for a pair, but they are worth it if you are serious about recovery and being able to work out at your best.
I am 6'3, 32 waist. Will the mediums fit...
I am 6'3, 32 waist. Will the mediums fit me the way they should, and will they be long enough? Or will I look like I am wearing man-capri's, and not provide optimal compression benefits?
Hey J Weiss,
I know its been a while since you asked, but I think I can help you out with your question or for anyone else with the same one. I'm about 6'1 with a 32 inch waist and I would definitely go for the mediums, mainly because I have pretty skinny little legs and the goal here is to get the tights, well, nice and tight. Don't worry as much about the length - you look silly in them no matter what. It is probably best to pair these with a pair of socks or, even better, some compression calf high socks, so that will take care of any problems with being a bit short.
Effective, but oddly sized
The 2XU Compression Tights are surprisingly effective at reducing muscle fatigue. Calibrating against how I usually feel at various speed/heartrate/cadence combinations, my legs felt stronger during and after the ride. Though they feel like a lightweight tight out of the box, they insulate more like a mid-weight. Felt perfect while riding in upper 40 degree temps with a 10-15 mph wind.

My only complaint is that despite the cycling logos and branding, the cut seems more tailored to runners. The rear of the tights kept sliding down throughout my ride. Since they are unpadded, I wear them over my cycling shorts – the only thing that prevented a drafty situation and plumber's crack. Never had that problem with any of my other tights. The drawstring is helpful, but a little more fabric or a grippy waist band would be useful
Got these going into this year's cross season. Seem to me working after the first two races. My legs feel much better on Mondays this year then they did last year. Make sure to actually check the 2XU website for the correct sizing.