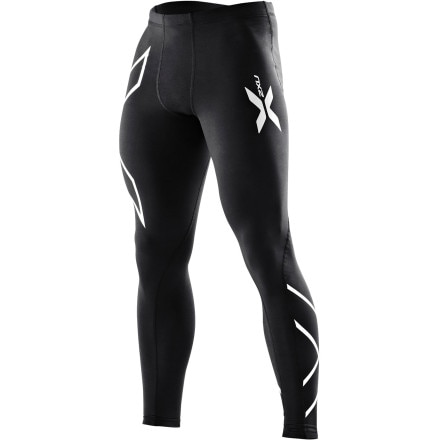 Detail Images
Description
Train harder, recover faster.
Just because you train hard doesn't mean that you want to spend every last dollar on recovery pieces. Thankfully, though, 2XU understands that your training shouldn't be compromised by cost, which is why it its Compression Tights provide a dependable level of compression without breaking the bank.
The 2XU Compression tights are nearly identical in every regard to the higher-dollar Elite Compression tights, only with one difference real difference: The Elite version is made with 70 Denier fabric at the calves and hamstrings, and 50 Denier everywhere else. In comparison, the standard Compression tights use 50 Denier fabric throughout. And given that most cyclists have their worst soreness in their quadriceps, paying more for extra compression in areas of secondary consequence might not make sense.
Just like the Elite, these Compression tights feature flatlock stitching throughout their construction in order to prevent seams from abrading your skin. Additionally, the graduated fit at the calves give you the perfect amount of compression without over-squeezing your legs as they taper down to the ankle. You'll also find that 2XU's circular knit construction method provides compression in all directions of the fabric (not just in the up-and-down and side-to-side manner of most four-way stretch fabrics). As a result, you'll receive increased blood circulation, improved venous return, and decreased muscle damage and fatigue caused by intense training.
The 2XU Compression Tights are available in the color Black and in seven sizes from X-Small to XXX-Large. There are also Small/tall, Medium/tall, and Large/tall fit options.