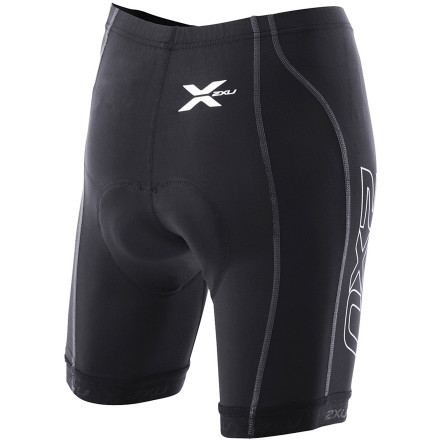 Detail Images
You need the best? 2XU has the best. We're not going to waste your time with any marketing pitch. Instead, read ahead and find out why.
2XU constructed the main body from its 105D/CK fabric. We know, we're not fans of titles filled with seemingly arbitrary numbers and letters, either. So, let's make some sense of this fabric. Basically, the '105D' stands for 105 denier. What's a denier? Simply put, a denier is a unit of measure for the weight of a fabric. Technically speaking, it measures a fabric's grams-per-9000-meters. And while a typical recovery compression piece features a material choice around 200 deniers and up, the shorts use a lighter, less constricting 105 denier fabric. This means that you still receive a focused, graduated compression, but the most direct gains are made through limiting muscle oscillation. So, whether you're getting slapped by wakes, getting rattled in the saddle, or pummeled by your pounding on the pavement, the 105D/CK fabric provides an enhanced level of muscle support that will minimize fatigue.
And on the subject of fatigue, we'll jump into the main draw of the shorts, their compressive qualities. You hear the term 'compression' thrown out there often. However, its true meaning, especially for race-day applications, is typically shrouded in ubiquity. So, forget what you've heard about lactic acid suppression, and enter into the world of enhanced blood circulation. Without getting too scientific, 2XU designed the shorts to have different strengths of compression in accordance to a position's distance from the heart. So, the further from the heart, the stronger the fabric compression, and the closer to the heart, the lower the compression. Basically, this design places a pressure on the veins and arteries that forces the circulatory system to work faster. Accordingly, your muscles receive more oxygen, and thus muscle fatigue is thoroughly reduced, while power outputs and thresholds are increased.
At the chamois, the top-tier characteristics of the Compression shorts continue with the use of 2XU's Fusion 2 insert. Utilizing a variable density support pattern, the Fusion 2 focuses support where your body needs it, not where it doesn't. Accordingly, chafing is reduced, while pressure is evenly distributed away from the nerves. In fact, you'll find that the chamois density is graduated from 120 at the rear to 40 at the nose. And while pressure is sorted through this design, abrasion is further dealt with through the insert's membrane technology. This system not only provides a soft interface between your body and the chamois, but it also regulates moisture buildup and evaporation.
The 2XU Compression Women's Shorts are available in the color Black/black and in five sizes from X-Small to X-Large.