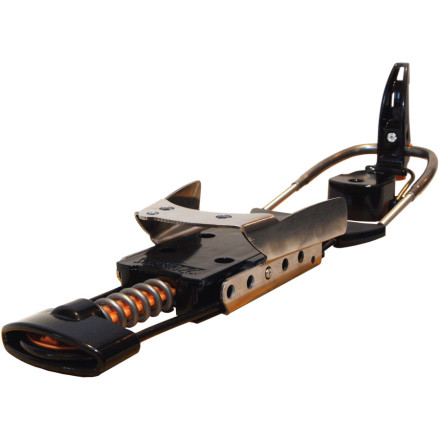 Community Images
Trying to control today???s fat, burly skis with a wimpy little telemark binding is like trying to lasso a dinosaur. 22 Designs developed the Hammerhead with enough lateral stiffness to bully the biggest skis out there. And with five different pivot point settings, you can customize the Hammerheads for your style and terrain.
Improved lateral stiffness gives the skier more power and control
Underfoot cable routing provides maximum control and allows boots to flex at the bellows, not at the toes
Five different pivot point settings allow the skier to cutomize the feel of the binding
2000lb Test cable, 6 point mounting pattern, and beefy construction prevent breakdowns
Spring-loaded HammerHeel makes flipping your climbing bar up and down a breeze (no more bent-over slide-slipping and cursing)
Has the Powder Magazine Skier???s Choice 2010 award in its pocket
With only one season on these bindings and only 3 seasons of tele sking I still feel confidant saying that these bindings have made for huge improvements in my telemark turning skills and my enjoyment. They really facilitate keeping that back ski weighted and the whole forefoot on the ski for far better control of that ski than the other tele bindings I have tried. Their stiffness also better allows me to apply my lifetime of alpine skiing skills to learning freeheel techniques. After using them for some long, steep skin tracks in the backcountry I have found that they work fine for uphill. Even for this I have not been tempted to move the cable pivots to less than the stiffest position, #5, where I always ski these bindings, but I could. I had been planning to get 22 Designs Axls for my next skis, but the HHs seem to work fine for the uphill, and I love them for the downhill, so am installing some new HHs on my new Liberty Helix skis. Too bad 22 Designs is discontinuing this masterpiece of Russell Rainey's design. Don't think tele skiing needs a strictly lift-served binding like the Vice, meant to replace the HH.
I gave up tele for a few years because of my old flimsy bindings and skis, but this season grabbed these bindings and some traditional skis (as far as that goes - past years Elan 999) and now I love it again. The spring and directional true-ness are sweet. They do what your feet do. Just right to me anyway. In the groomed or crud, I wish there had been deep powder, but alas, it was all good turning at the resorts. i didn't tour on them but I would guess they are worth the extra weight in more extreme terrain, but not extensive XC touring. Just a guess on that one.
Great Binding, Get these!
Familiarity:

I've used it several times
This are the first tele bindings that I have bought. I really like them. Through them on to an old pair of skiis and tehy seem to work very well. They are easy to put on and adjust. Plus they appear to allow for some tweeking as i get better. I would highly recommend these!!
I cannot get over how amazing these binders are. I've been on the BD 02's for years now, and these blow em out of the water. I was impressed from the moment I hopped on! To start, the Hammis are SUPER versatile. I mounted them up for a yurt trip and put them through the wringer- touring, pow turns, backountry jump sesh, and even a jib sesh at base camp. They handled anything and everything with ease, and you can switch between the settings without any problems.

They do come with the mounting instructions, which are easy enough to use if you read them about five times. In the end, they mounted up well- so if you want to do it yourself, you definitely can. Just make sure to measure your skis about twenty different times before you drill.

I have these on a pair of Fischer Big Stix 120's, and they drive them like nobody's business. Their responsiveness is unmatched. I cannot believe that I sat on my heels in regards to getting these for so long- if you are even remotely thinking about getting a pair, DO IT.
Heel throws break routinely
Second failed heel throw this season. "Happens every day" according to three shops in steamboat where I've been searching all afternoon for a replacement. No thanks
Awesome!!
Gender:

Male

Familiarity:

I've put it through the wringer
These are by far the best bindings I have ever owned. I have been shredding with these for 2 years now and love every moment. They are extremely adjustable, deliver very responsive control over massive twin tip pow skis and are totally indestructable! What more do you need... buy a set!
Shralp enabling crud crusher
Gender:

Male

Familiarity:

I've put it through the wringer
The stiffest, surest big stick driving 75mm compatible bindings you can buy and worth every penny. The pivot pins can ice up on the mountain so have an ice clearing tool of some kind handy.
Nothing Better
Gender:

Male

Familiarity:

I've put it through the wringer
These are simply the best bindings on the market (at least for duckbills). Unbeatable performance and control; Get them!
Love the adjustments on flex underfoot, easy adjustment for boot size and these things are bomb proof!
Just picked up a pair of Rossi S3 (178 cm)...
Just picked up a pair of Rossi S3 (178 cm) at a sweet deal. Thinking about getting a pair of hammerheads for them. The 0" line on the ski seems pretty far back and the +5 line seem right but +5 seems pretty extreme. Any thoughts? If it matters I'm 5'6", 145-150lbs and where a size 25 garmont boot.
see my answer on the S3's page...
Write your question here..Hae jsut bought...
Write your question here..Hae jsut bought Scarpa 2 boots for ladies and
2011 K2 SHE'SBACK TELEMARK / ALPINE TOURING AT SKIS 160 CM. I need to buy some bindings. Do you recomend these 22 designs. I am Aussie and ski once per year in Australia with pretty dodgy conditions. ANd once per year overseas. I have just started out telemark downhill and not sure what is the best binding for me to improve quickly.

Cath
Same situation here...more or less. New to tele. Scarpa T2s in 23.5 and Black Diamond Starlet in !55cm. I'm 5'5" (165 cm) 110lbs (49kg). Need to find a binding! What are my options? I would like to get into touring. I haven't used my gear yet so returning would be no problem if someone has other ideas for a setup! (I have a "low volume" foot.)
@Cath Please let me know what you go with!
Hammerheads are an extremely versatile and responsive binding. I've skied it on 80mm park skis to powering my big 130mm pow skis. With the different positions you can adjust how "stiff" the binding is and how active the flex point it. It is extremely bomb proof and I've never had any problems with it. If your looking into touring then I would suggest springing for the Axl. The tour mode is legit and the binding is way sturdier than say a BD O1. I ski everything from park to big lines on my Axl and it's never failed me.
I agree with Gavin. Since these bindings lack a tour mode I would go for the Axl's if you do tour or are wanting to get into touring. If you ski on piste then you won't find a better binding. The hammerhead is bulletproof (maybe literally) and a suprisingly flexible with its 5 different pin positions which "adjust" the resistance of the spring. Great for any telemarker who stays on piste from beginner to expert.

Wait for em to go on sale though, usually you can get em for well under 200$
I've skied the Rottefella Cobra, the G3 Targa and the BD 02. NOTHING skis like these. By far the burliest tele binding (besides the bishop of course) you can get. And being able to change the "pivot points" is a really nice bonus too, helps you really dial in how your binding feels and reacts. Clamping these onto yours boots is easier than any of the above bindings as well (thanks to the "beaver tail") This is my 3rd season on them and I'm not looking back.
I have skied these bindings on a pair of Fischer Watea in Tahoe and all over the east, both resort and skinning up back country. They are burley. Easy for climbing, solid for hard pack, and can be adjusted for soft powder. All around great bindings.
Hi, I've got a pair of G3 Targas on my...
Hi, I've got a pair of G3 Targas on my skis now and would like to swap to Hammerheads - is the hole pattern the same? Will I be compromising the strength of my ski if I have to drill several new holes for the Hammerheads? Thanks
Most skis are fine to be mounted twice- three times may be pushing it. I'd just be sure that if the hole pattern is the same to utilize that, otherwise make sure the holes are offset by a few mm so they don't overlap.
The 22 Designs Hammerhead, Axl, and Bombshell all use the same six hole mounting pattern. Black Diamond, Voile, and G3 all use a four hole mounting pattern. Mounting 22 Designs bindings on a ski formerly mounted with G3's will not be an issue. If you do put the Hammerheads on your skis, I would recommend mounting them a few centimeters forward of your previous mounting position, because the Hammerheads are much more active and responsive, and you'll probably feel like the carpet is being pulled out from under you if you don't have enough tail. I prefer my 22's mounted with the bellows of the boot at the boot center marking of the ski, or a few cm forward of that.
Enjoy. Hammerheads are the bees knees.