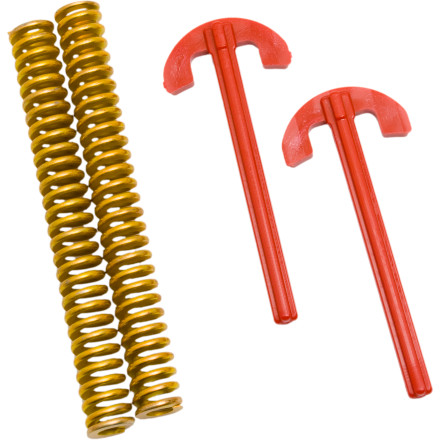 If you???re a hard-charging, tele-thrasher that prefers stiffer springs over stock springs, turn to the 22 Designs Telemark Binding Stiffy Spring Kits. These durable chrome die springs provide extra travel so go ahead and replace your old or stock springs and get ready to tear the mountain a new one.
Axl Kit: 15% Stiffer, for size large Axls only
Hammerhead Kit: 20% Stiffer than hammerhead stock springs
What do you think about this product?
Have questions about this product?
Stiffy is a great upgrade
Swapped out my 2 yr old stock springs with Stiffy's. Took some work but well worth it. Took about 3 runs to get comfy on the Stiffy's. Found them to be more responsive, more secure, more energy out of the ski and bindings. More fun to ski all in all. Using middle pin position on HH with a pair of 4 yr old 3 buckle medium flex garmont boots.

Will buy stiffy's any time I buy a new pair of HH's and install when new. BC seems to have the best prices on Stiffy's. Do yourself a favor and get a pair of Stiffy's.
Added these to my 2yr old HHs as the stock springs were starting to feel pretty mushy. I have these mounted on 178 RMU Diams and T1s on my feet. The power is definitely noticeable right away, and allow you to really get more energy into your ski.
some of 22 designs older (2+year old) hammerheads came with soft short springs that maxed out in position 5 and didn't allow you to really tap into the bindings full potential. After slapping these in it was like an even better hammerhead than before, (which is really good to begin with), you get the picture. Putting these in can be a little trickier than it should be because there are plastic nubs the spring is supposed to screw around to be properly seated but its hard to get the positioning right. Still highly recommended though