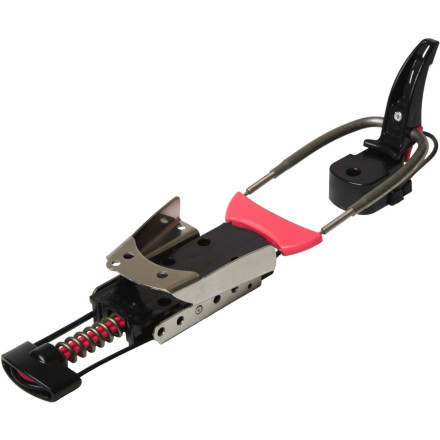 Community Images
The 22 Designs Bombshell Telemark binding borrowed quite a bit from its older brother, the Hammerhead. It borrowed tough construction, legendary adjustability, and unbelievable lateral stiffness to give it the ability to terrorize the fattest skis. But the Bombshell isn???t just a men???s binding in pink.
Softer (than the HammerHead) accommodates agile turns and works well with a gal???s light skis
Narrow heel cup fits women???s boots so you get less slop and better power transfer
Improved lateral stiffness gives the skier more power and control
Underfoot cable routing provides maximum control and allows boots to flex at the bellows, not at the toes
Five different pivot point settings allow the skier to customize the feel of the binding
my first tele binding.... buy the gear for the type of skier that you want to be not the type of skier you are, right? They were too stiff to begin with but by the end of the season I was glad to have them. I think they're pretty nice for touring as well, although I have nothing to compare. I love that they're hot pink!
only binding i use
Gender:

Female

Familiarity:

I've put it through the wringer
when i went from the g3s to the bombshell, the difference was immediate and positive. i don't use any other binding. in 3 years i've had no problems or issues, knock on wood.
Let the girls ski flimsy bindings. If you are a hard charging, strong, inter-advanced skier, this is your binding. My lady was already a strong tele-er, and on flimsy Targas. She definitely was not skiing at her potential on those clamps. We got her a pair of Bombshells this season, and she is no longer doing the 'trailing ski slide- as she was. She is now carving hard turns and has advanced her skills even farther.
Bombshells bring sexy back, sort of
I was absolutely in love with these bindings the first 10 or so days I used them - they are also probably the only bindings on the market (at least that I could find after a few weeks of sleuthing) that actually fit my boots as-is out of the box - sz 21.5. If you have small feet, these bindings are your main option.

For going downhill, they are elegantly simple in how they work: stiff when you want it, flexy when you don't, and keep my feet attached to my planks. The pink doesn't hurt, either!

Uphill, I take the cable guides out for touring, as they suggested, and it works acceptably. The lack of a free pivot means you work a bit extra and going up steep stuff is kind of a hassle. Definitely not the best touring binding, but worth it for the way down if that's more your jam.

Bottom line: buy these if you have small boots, want down-focused bindings, like pink, and/or want to show the boys how it's done.
Will these mount directly to 2009 K2 Schi...
Will these mount directly to 2009 K2 Schi Devils or do I need an adapter?
Best Answer
You need an adapter plate to fit any k2 ski that has inserts. I can't remember how much they are exactly, but I want to say that the plates are 70 bucks or something like that..
Thanks, I checked with 22 Designs and they no longer recommend using or make adapter plates. They now suggest drilling the ski.
do you ship also to italy? thank you
do you ship also to italy?
thank you
Use the chat link for this question, you'll get an answer back from Backcountry much more quickly.
22 Designs Bombshell Bindings in action
On a first ascent/descent in the Wrangle-Saint Elias Mountains!
I am a woman that wears a mens boot, I'm...
I am a woman that wears a mens boot, I'm a womens size 10 (US). Would these bindings still work for me? Or do I need to invest in a womens specific boot to use them..and if I do, will they fit a size 10?
You don't need to get new boots. Just buy the regular Hammerheads if you're worried about it, but I'm pretty sure the Bombshells will work. The only difference between these and the Hammerhead is a shorter cable, and pink parts instead of orange. Just buy the Hammerhead, as those are guaranteed to fit.
The Bombshell has a narrower heel piece to accommodate the narrower heels of women's boots. If you are wearing men's boots, get the regular Hammerhead. Both bindings will fit a women's size 10.
Thanks for the clarification, Alexander. I had forgotten that the Bombshells had a narrower heel cup.
Do these come with stock climbing bails?
Do these come with stock climbing bails?
, ☃bcs_badge_alumni_label☃
Yes, these include a stock bail which is an 1 3/4".

Taller/ Shorter bails are also available at:
http://www.backcountry.com/outdoorgear/22-Designs-HammerHeel-Bail/TTD0018M.html
The Bombshells are the Bomb!!
Some companies' approach to women specific gear is to dumb it down, not 22 Designs. They use the same Beefy construction and materials that they use to make the male/unisex counter parts (hammer head) and just tweak the dimensions for a more woman friendly fit.
They are a super fun and responsive binding whether you ski in resort, slack country, or backcountry. The binding does not have a free pivot tour (like 22designs Axl) but by changing the pivot position and using the touring heal piece touring is still an option with these bindings, and believe me, you will be really happy when you get to the top and have your bombshells for the decent.
Bottom line: These binding rock and 22 Designs makes super reliable gear for any and every adventure.