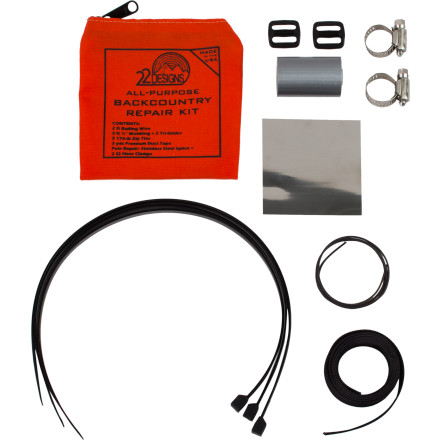 A telemark binding failure in the backcountry can turn a long day tour into an unexpected overnight or worse. The 22 Designs Universal Backcountry Repair Kit can mean the difference between a creative repair or a night of despair. The kit includes everything you need to repair bindings, poles, and other random failures such as backpack straps or boot buckles.

Two feet of steel bailing wire
Three feet of half inch nylon webbing
Two tri-glides for webbing
Three 175lb rated zip ties
Three yards of premium duct tape
1 stainless steel pole splint
2 stainless steel hose clamps
What do you think about this product?
Have questions about this product?
I haven't had to use it yet, but my initial impression after going through the pack is that it has everything I would need in a pinch. Hopefully I won't have to use it; but, if I do, I think I'll be well covered.